LONG CREEK — Just before 8 p.m., Stanley Brewer's pager buzzed.
The 72-year-old volunteer assistant fire chief and apple farmer was alerted to a blaze on March 7, just 4 miles from his home in the rural northwestern corner of South Carolina. The call directed him to U.S. Highway 76 and Academy Road — the intersection where his Blue Haven Orchards has served up fresh-picked produce for many years.
At first, he didn't think much about the location.
But as Brewer drove over a rise, the scene unfolded. Three fire trucks had already arrived, with multiple hoses gushing in the direction of a wooden structure not far from the highway.
His fruit stand was burning.
He parked, got out and stood motionless. Then he shook off the shock and his training kicked in.
"It was a big fire," Brewer said. "Especially when it's yours."
I. Orchards
Every September, orchards in the Upstate experience a fleeting gold rush, popping to life with apples and late-season peaches ready to be picked and purchased.
On the first day of the month, Brewer switched his white GMC pickup into four-wheel drive to navigate the bumpy and uneven road to his orchard in Oconee County. Just 2 miles northeast of his fruit stand, he inched up a slight hill and the view opened up to reveal his trees nestled in the foothills of the Blue Ridge Mountains.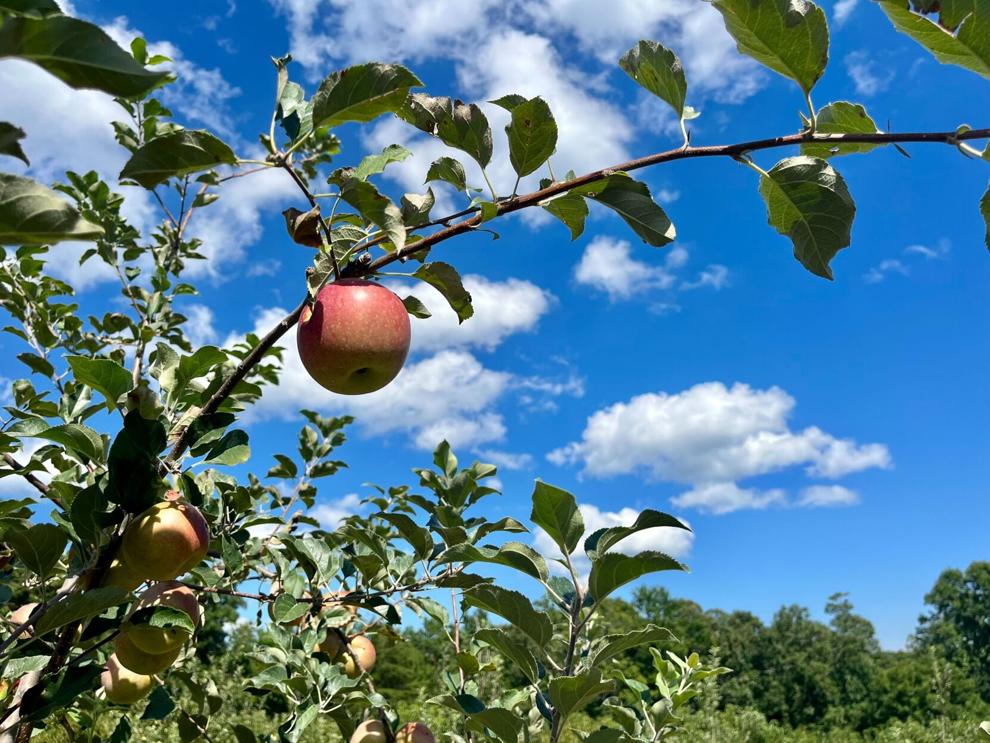 Brewer's life is infused with apples. He is a third-generation orchard owner. He worked on his grandfather's farm as a child doing barn chores after school, and on Saturdays he built apple boxes for another grower at 50 cents an hour.
"I thought I was getting rich," Brewer laughed.
In 1978, he took over his parents' venture. Back then, Long Creek was awash in orchards. Brewer recalled when dozens of growers dotted the area. Those that remain can be counted on two hands.
Until the mid-1990s, Brewer added more and more orchards to his operation. As elder growers passed away or retired, they leased land to him — sometimes for a price and other times for free. At the peak, he managed 150 acres. Most of the orchards were in Long Creek, plus 20 acres to the northeast in Mountain Rest and another 10 acres south near Westminster.
He sold apples wholesale to a farmer's market in Atlanta and the grocery store chain Kroger. His fruit shipped internationally to Panama and Germany. During Blue Haven's best year it packed 100,000 bushels, a total of 4.2 million pounds.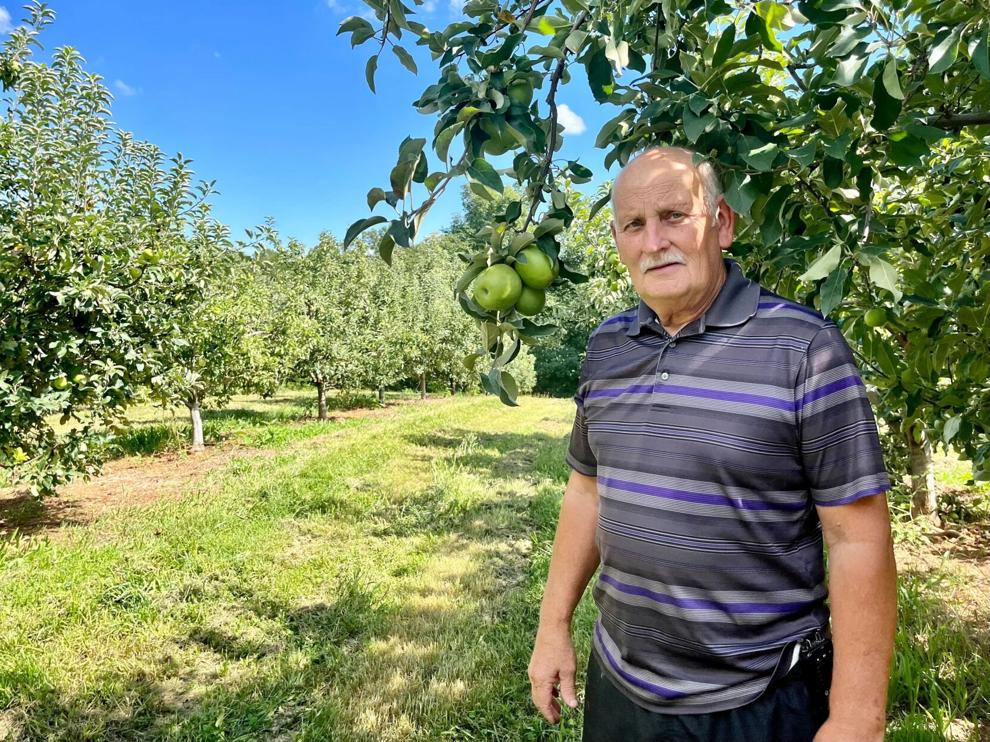 Now there are vacant lots where orchards once stood in Long Creek. Brewer himself has a plot that once grew apples but is now a hay field. Other orchards were sold for timber or purchased for the land.
Blue Haven Orchards has downsized significantly to just 5 acres. Some produce is still shipped but most is sold locally. With the fruit stand burned beyond repair, a former restaurant next door has become a makeshift store. Picking is mostly finished this season.
Brewer parked his truck and walked between rows of fruit trees. He pulled morning glory vines wrapped around the tree trunks, then plucked a peach just a few days from being ripe enough to eat. His favorite traditional apple is golden delicious but he also fancies a newer variety, honey crisp.
He picks fruit during the early morning or late evening to avoid the afternoon sun. It's quiet and peaceful.
"Just me and the birds," Brewer said. "And I like that."
II. Ablaze
From the parking lot of Blue Haven's burned-out stand, the Volunteer Fire Department headquarters is visible in the distance with its red roof. A sign out front reads "Welcome to Long Creek."
Brewer joined the fire department 44 years ago for a simple reason — there was a need. Long Creek is a "neighbor helping neighbor" place, he said. The department has about 14 members, and Brewer is the longest-serving.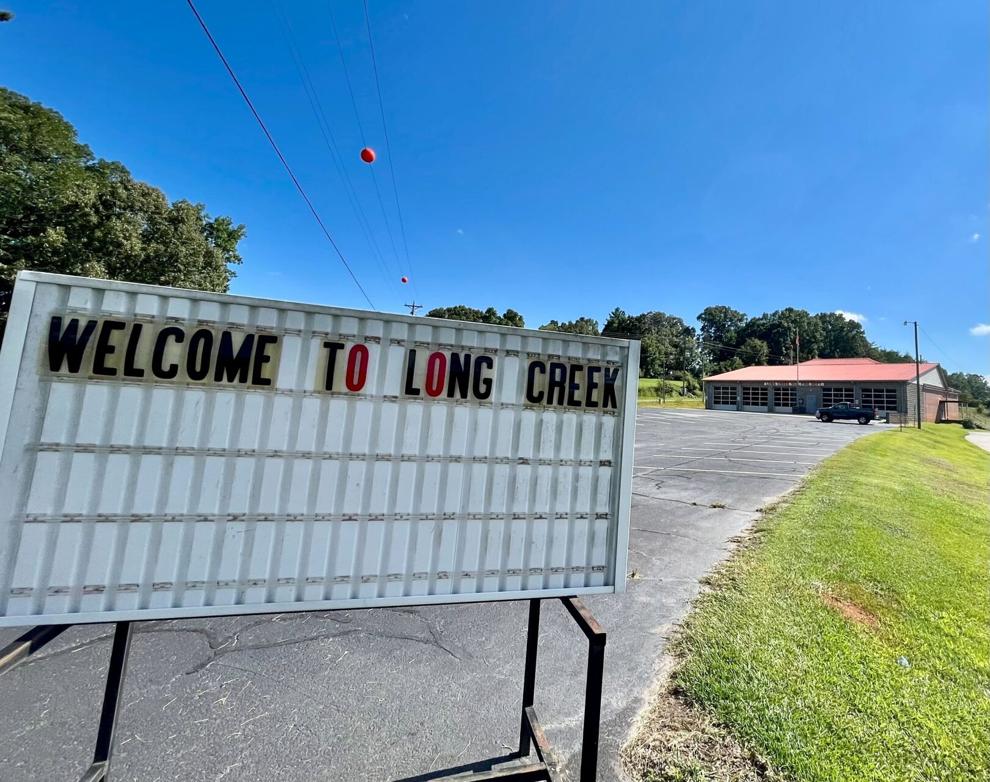 "I just wanted to be a service to the community," Brewer said. "Some people ask, 'When are you gonna get out of the fire department?' And I said, 'Well, as long as I'm still hip, I'm gonna stay.'"
It took six departments, 26 firefighters, 25,000 gallons of water and four hours to extinguish the flames that consumed his fruit stand on March 7. The foundation remained but the building was gutted. Investigators left the cause of the fire undetermined, though they suspected a faulty switchboard. Brewer blamed a thunderstorm that blew through Long Creek the hour before. He speculated that three refrigerators, the only items turned on at the time, caught fire when lightning struck.
A box of peach cider and a few other items survived. Most everything was lost — fridges and freezers, coolers and forklifts, a packing line, slushie machines and much more. It took Brewer a month to find a replacement cash register. He estimated he lost about $100,000 in equipment and merchandise. He did not have insurance on the building.
A little after midnight on March 8, Brewer returned home to his wife.
Babs hadn't heard the news.
"Whose was it?" she asked.
III. Community
Two days after the fire, Long Creek Volunteer Fire Department Chief Tom Stults and Captain Steven Swafford organized an online fundraiser. They raised $5,560. The next month, the department hosted a hot dog plate benefit. Some paid for a $7 plate with a $20 bill and skipped the change. Other fire departments wrote checks. The event raised another $7,000.
Stults said if the tables were turned, Brewer would have done the same.
"You won't ever find him when he's not working at something," Stults said. "Whether he's working with his son doing mechanical work on heavy equipment, or working in his orchard, maintaining the trees, or whether he's growing a vegetable garden, he's not one to be idle."
Ed Land co-owns nearby Chattooga Belle Farm, a 198-acre farm, distillery and event barn a mile away from Blue Haven Orchards. He let Brewer use his packing line this season, and helped him pick his red delicious apples. Land has known Brewer for more than a decade and called him a mentor.
"We're gonna do everything we can to keep them going," Land said of Blue Haven Orchards.
Brewer spent the donations and an additional $10,000 from his savings to buy new equipment and set up the old restaurant to sell his crop.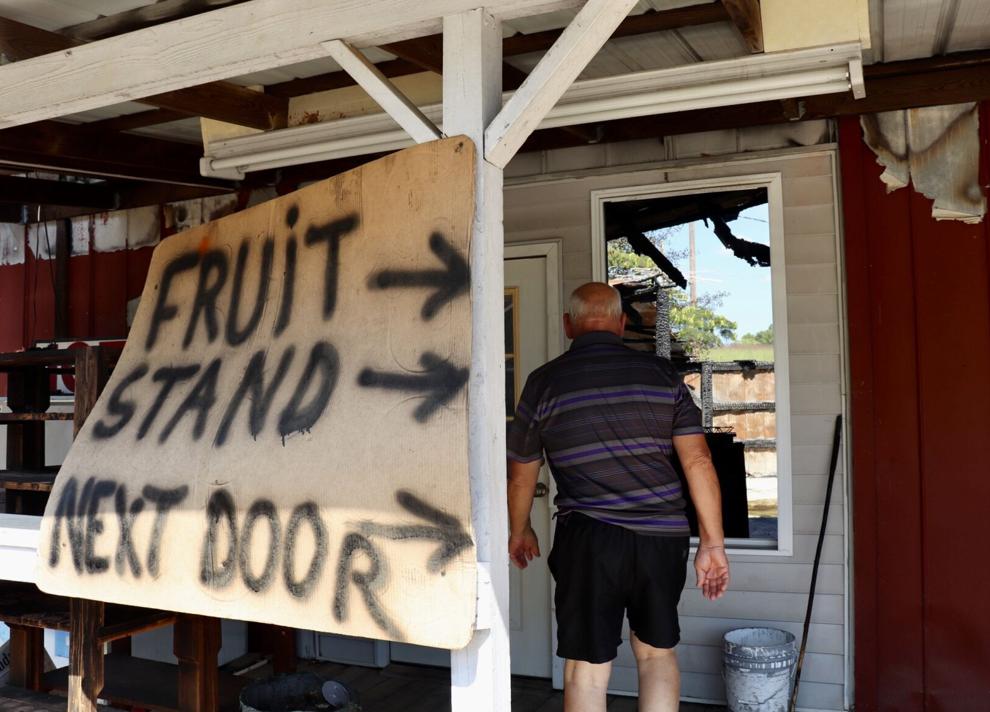 In early September, Brewer pushed through the door of the burned structure. A "fruit stand next door" sign on the front porch pointed customers toward the temporary store. Outside, a heap of scrap metal was piled high. The smell of burned wood wafted through the air inside. The blackened walls once were painted with murals of a forest and a river. He gestured toward a spot where jars of jams and jellies previously sat on the shelves. Water pooled below a gaping hole in the roof, and the sun shined through.
Brewer reminisced. In one corner, a horse-drawn wagon once owned by Babs' uncle was covered in ash and soot. Losing it to the fire is one of Brewer's biggest regrets. The counter where Babs once rang people up was scattered with items picked out of the rubble — cookbooks and loose-leaf recipes, a plastic jack-o'-lantern, a hat with a bow, a set of keys, and damaged family photos with colors bleeding and patchy.
He looked around and suddenly remembered he needs to buy new business cards. He whispered under his breath.
"Too much to do."
IV. Legacy
Brewer's grandfather started farming apples in Long Creek in 1925. John Thrift often traveled east to Seneca to peddle his produce. Thrift eventually gave Brewer's parents Ernst and Audra 5 acres of orchard.
Stanley Brewer was born in 1950 and worked on the farm from a young age. When he got older, he left the Upstate and earned a degree in electrical engineering from Southern Technical Institute in Marietta, Ga. He operated multiple McDonald's franchises in Georgia but eventually returned home after Ernst had a heart attack. Back in Long Creek, he looked at the orchard and thought, "I don't want this to go to nothing."
He took over the farm full-time in 1978 and renamed it Blue Haven, a nod to a part of his grandfather's property nicknamed Blue Heaven.
Growing apples wasn't always easy. Sudden freezes ruined his crop some years. When that happened in 2006, Brewer worked for a construction company to make ends meet, supporting both his family and the hope of future fruit seasons. He worked in construction for the following decade.
His two sons weren't interested in taking over the orchard business, mainly because profit only comes about six weeks of the year. For the other months, the family always managed money. Brewer's sons make more money than him now. He doesn't say much about it.
He was diagnosed with prostate cancer in 2017 and had his prostate removed in 2018. Doctors then found issues with his colon, removing 18 inches. The incision didn't heal properly at first. After a few weeks in the hospital, he was sent home. He still takes chemo medication and shots for bone-density issues.
His life is filled with his loves: the fire department, his family, apples, cooking.
And Gizmo.
When Brewer leaves the house, the tiny, cream-colored, 3-year-old dog waits near the door for his return.
"She is crazy over him," Babs said.
When he returned from the hospital with orders to rest, Gizmo cuddled up beside him and didn't move. 
"I'm still alive," Brewer said. "I'm still doing what I want to do. I'm still healthy. I call it healthy."
IV. Carry on
Brewer doesn't know if his apples will bring a profit this year. Taxes might be a little lower because of the lost building but the cost of resources is higher due to inflation. Social Security makes up much of his income.
He also doesn't know if tourists and passers-by will come to his temporary fruit stand. Blue Haven Orchards is open seven days a week from 9 a.m. to 5 p.m. Brewer joked that even if he or Babs were getting into the truck at the end of the day, the stand was still open.
Just flag them down and they'll come back inside.
If he can make money on the crop, there might be a future for the old fruit stand. He imagined tearing it down and raising up a steel building. It could cost upward of $50,000 and wouldn't be as big as the wooden structure lost to the flames.
Babs from time to time has asked why he won't quit. He sighed and remembered being 6 years old in his grandfather's orchard.
He still loves being among the trees.