GREENVILLE — Kids will soon crawl, climb, scoot and slide at a soft play center slated to open at the Judson Mill redevelopment project.
Play Café will fill 17,000 square feet of the mill west of downtown Greenville and feature two play structures geared towards varying age levels.
The first structure, imagined for kids 2 years old to about 8, will have a 1,400-square-foot ground floor with an attached toddler play area, three slides and space to run. It can hold about 150 kids.
The other structure will have three levels, is right at 3,000 square feet and can fit about 270 kids ages 5 to 12. Air cannons will line the center of the Colosseum-shaped set where kids can shoot foam balls.
There will also be tiny buildings that resemble a princess castle, a veterinary office, and fire and police station. Around the perimeter of the space, 10 birthday rooms will be bookable for parties.
The center is the brainchild of Austin Motes and Daniel Kingsbury, two friends who attended the same church growing up.
When Motes and his family left a bounce house facility one day feeling overwhelmed by the noise and chaos, he sent a message to Kingsbury, who has a background in event rental services, encouraging him to open up his own indoor play center with a calmer environment. It took the duo almost a year to find the Judson Mill location since they needed a place with the proper ceiling height.
Now, they hope to open around back-to-school season this fall. The partners want to make a place that has a cafe feel where parents can sit in comfortable chairs and get a cup of coffee while their children play.
Motes and Kingsbury's research and development process started by letting their kids loose at similar concepts and watching how they play. The duo also engaged their spouses and other parents to better understand what they prioritized. Most parents sought comfort, healthy food, clean sets and quiet, to which Kingsbury quickly added, "to an extent."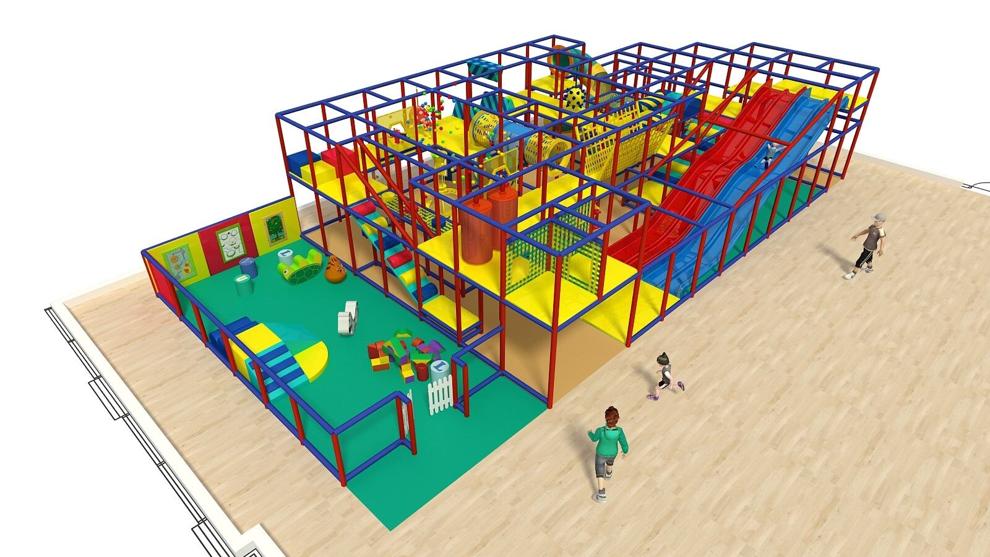 Classic foods like pizza will be served, but there will also be more health-focused foods like salads and sandwiches. The furniture will have power adapters nearby and televisions will be mounted on the walls.
Pricing is subject to change but the partners expect it will cost $15 for one child during the week and about $18 on the weekend. Once parents pay for one, every additional child in a family will be discounted in price.
Kids will wear wristband bracelets with their parents' names on them. The play structures are located behind a locked gate. There will be a minimum of three full-time employees working every weekday, one of which will be dedicated to cleaning and straightening up. On the weekends, the employee count will rise to at least 10 a shift.
Tentatively the plans are to be open daily with hours on weekdays going from 10 a.m. to 6 p.m. and on weekends from 9 a.m. to 8 p.m. The partners want to be flexible with the hours to accommodate having an hour or two on certain days dedicated to reserved groups, like parents with toddlers or children with special needs.
Judson Mill on Easley Bridge Road closed in 2015 when it was only one of two remaining operational textile mills in Greenville County. Two years later, North Carolina-based developer Belmont Sayre Holdings purchased the property. Taft Family Ventures, another North Carolina real estate developer, later signed on to transform the mill into apartments, offices and other retail uses.
People can keep up with Play Café at Judson Mill on Facebook.