The Greenville County Planning Commission rejected a subdivision application for Roberts Farm, the controversial 147-home subdivision proposed along Mountain Creek Church Road in the Pebble Creek communities in Taylors.
It once again cited road safety and other concerns after listening to passionate arguments from residents who turned out en masse to oppose the subdivision.
What the decision means for the future of the mostly undeveloped 42 acres along Stallings Road and State 253 north of Greenville is unclear. The county rezoned the property to a zoning classification that specifically limited its owners to build a plan that has already been submitted to the county. Now that plan has been rejected.
Residents packed into a county conference room much too small to handle the crowd cheered wildly at the commission's 6-1 vote to oppose Roberts Farm.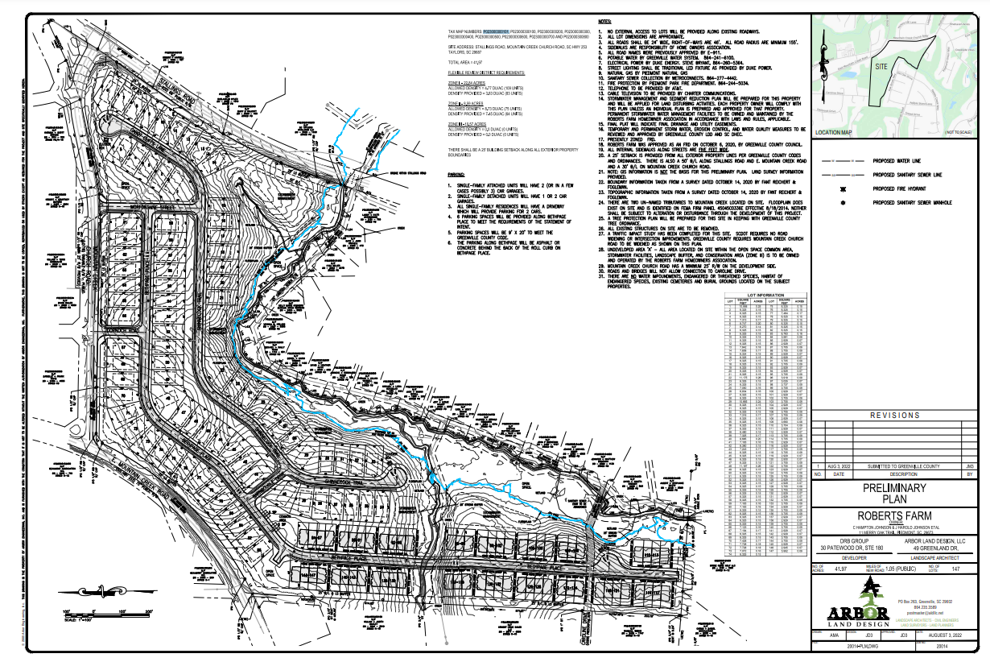 Just minutes earlier the same group of Pebble Creek area residents were met with disappointment as the commission voted 6-1 to approve a different subdivision in the same vicinity, one that could lead to further impacts on the Pebble Creek communities.
Aetna Springs, a 16-home subdivision won approval for its preliminary subdivision application after months of work by its developer, Nikolya Serdyuk, to try to convince residents to back his plans to develop closed portions of the Pebble Creek Golf Club into housing developments.
Aetna Springs marked the first of Serdyuk's proposals to pass. He said he planned to build 2,500-3,500 square foot houses to sell for $800,000 to $1.2 million on 10 acres of closed golf course holes ringed by existing homes in the Linkside subdivision that until now had been located on the side of the golf links.
Serdyuk said he has a long-term contract with property owner Lin Young to buy the closed golf course properties and turn them into subdivisions.
Residents vowed their opposition isn't over.
In all, the commission debated 12 subdivision applications for projects across the county which sought to add hundreds of houses and townhouses from the northern reaches of the county, through Greenville's west side and in greater Simpsonville.
But the ones that drew the most attention centered along the Stallings Road corridor.
The rejection of Roberts Farm came after last-minute input from the state Department of Transportation that "strongly recommended" the developer of the site, Dan Ryan Builders, pay to improve the intersection of Mountain Creek Church Road and State 253, or East Mountain Creek Church Road. That intersection has been key in the residents fight to deny the subdivision since the developer's traffic impact study found the intersection would be rated an "F" level of service once the additional car trips from Roberts Farm were added.
County Planning Director Tee Coker said neither the SCDOT nor the county could require the Roberts Farm developer to add turn lanes or install a traffic light.
"They can't require it but their recommendation is for a light," said Commissioner John Bailey.
The developer's representative, engineer Jay Martin with Arbor Land Design, argued before the commission Sept. 28 that the plan for Roberts Farm "measures up to the final development plan that was previously approved."
Residents — sometimes boisterously speaking out of order — pleaded with commissioners to "do the right thing" and deny the subdivision.
"You quite simply can't carry out your fundamental and foundational charges as planning commissioners while simultaneously approving this plan," said Pebble Creek resident Shane Sevier.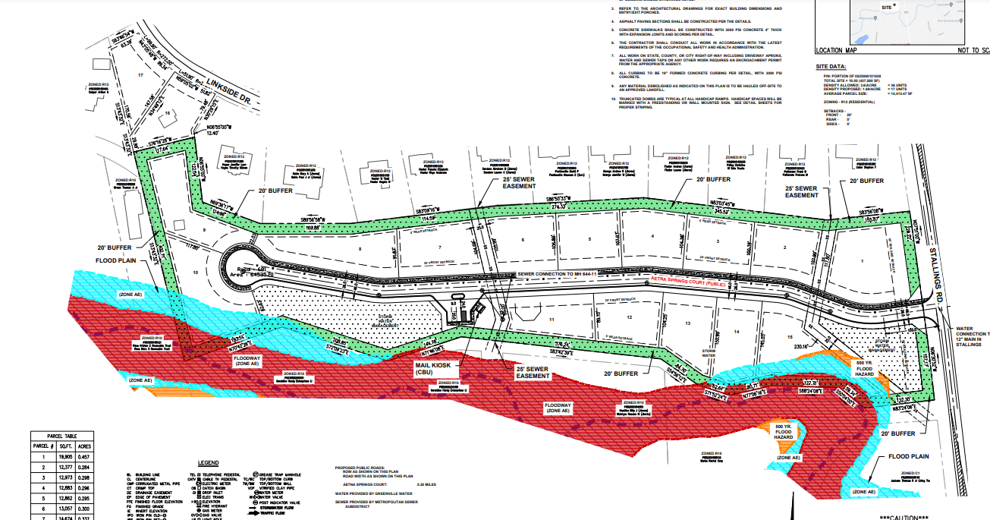 Commission Chair Steve Bichel handed his gavel to vice-chair Bailey and made the recommendation himself to deny the application for Roberts Farm.
Bichel cited a traffic impact study he said was too old, performed in 2020 when the subdivision had previously been known as Shinnecock Hills at Roberts Farm. He said the study contained erroneous information and that County Council had approved the site's rezoning "without ever reviewing the traffic impact study."
Bichel said the additional traffic impact from Roberts Farm would cause "an extreme safety issue" on a county road and that the density of the proposed subdivision didn't match the surrounding area.
400 houses approved on West Georgia Road
Among other notable subdivisions, the commission approved a preliminary plan for Valley Cove Farms, a 410-home subdivision by developer Christian Balsiger along West Georgia and Fork Shoals roads in rural Simpsonville.
The subdivision is slated to build in phases on property owned by the Hawthorne family who have lived and farmed land on West Georgia Road for more than 200 years. Part of the site includes Huff Creek and the Huff Creek Watershed and a reservoir overseen by the Greenville County Soil and Water Conservation District.
The new subdivision covers 303 acres of mostly undeveloped land with entrances on West Georgia and Fork Shoals roads, turn lanes on each road into the development and connections to a neighboring subdivision also planned on Fork Shoals Road.
The subdivision would be built as a cluster-style development with homes closer together in order to keep larger sections of land undeveloped. More than half the site, 173 acres, would remain as open space.
Neely Ferry Road subdivision approved
The commission approved an application for RiverPointe Cottages, a subdivision with 56 homes on 21 acres along Neely Ferry Road in Simpsonville at its intersection with Davenport Road.
RiverPointe would include some road improvements to Neely Ferry, likely with a left-turn lane added at the subdivision's entrance where it intersects with Davenport Road, said Paul Harrison, engineer with Bluewater Civil Design.
Townhomes near Westside Park
The commission approved a townhome project that will border Westside Park near State 253 in Greenville. The development team on the project known as Marion Square includes former University of South Carolina and Major League pitcher Michael Roth.
Marion Square will include 159 townhomes on 30 acres on West Marion Road and Emile Street on land zoned for multifamily residential. Roth agreed to add a multiuse path to connect the property to the nearby park.
Quinn Farms in Travelers Rest
The commission approved a 44-home rural conservation subdivision on 57 acres of unzoned land along West Darby Road near Rainey Road in Travelers Rest.
Quinn Farms will have a narrow entrance about 130 feet from the intersection of Rainey Road where residents opposed to the subdivision said it didn't have good enough line of sight for drivers along West Darby Road to see the subdivision entrance.
That road, said former commissioner Cindy Clark, who resigned last month in frustration at planning staff and the commission, drops off quickly and drivers couldn't be seen by residents pulling out of the subdivision in time to stop.
The developer, David Hazel, agreed to reduce the number of houses in the subdivision from 49 to 44 in order to avoid performing a requested traffic impact study for the subdivision.
Freeman Park in Taylors
The commission approved a subdivision with 47 townhomes on 8 acres along Freeman Drive in Taylors. No one spoke in opposition or in favor of the development but the commission approved the request, though its density of 5.75 units per acre is denser than the county's future land use plan's recommendation of 3-5 units per acre.
Blakely Estates
The commission approved Blakely Estates with 66 homes on 23 acres at 104 Huff Drive in Greenville.
Jupiter and Midgar Townes
The joint subdivisions of Jupiter Towns and Midgar Townes each received approval for projects along Old Piedmont Highway near West Faris Road in Greenville.
Jupiter Townes includes 32 lots on just over 5 acres with a single entrance on Old Piedmont Highway. Midgar Townes includes eight lots along Dempsey Street.