Greenville-based LyonJay is developing a 62-acre site in Boiling Springs, north of Spartanburg.
According to the company, the site will feature two residential developments with units starting at just less than $170,000. One development is townhomes built by D.R. Horton, and the other is single-family homes built by Ryan Homes. The Ryan Homes website touts its project as having single-level homes with all lawn maintenance included.
The mixed-use project, dubbed North Springs, also has a 20-acre retail area. It currently has "two national retail tenants and the remaining is under contract with a large retail and grocer developer," according to the release from LyonJay.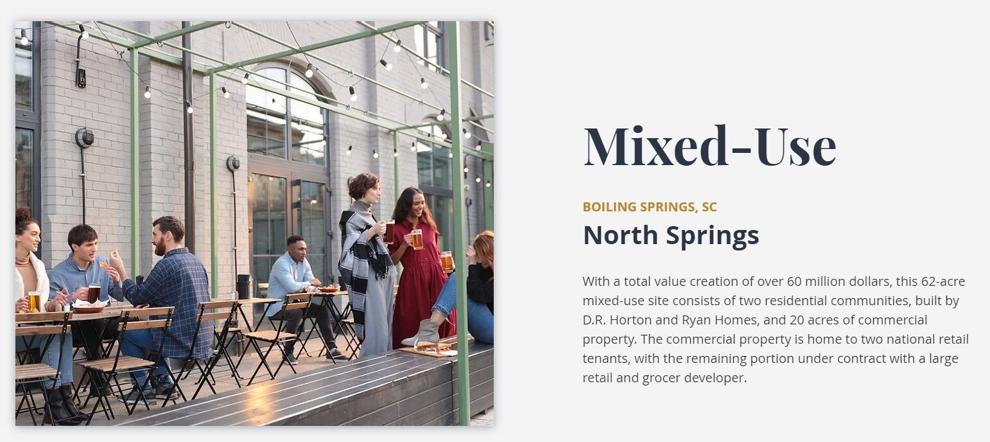 Clemson touting big news

Look for a major announcement coming on Friday from Clemson University. The school sent an alert out recently urging stakeholders to tune in.
The Post and Courier reached out to the university for official details but a spokesman said nothing would be released ahead of time.
You'll just have to trust us on this one. It's a big deal.
Diversity, equity and inclusion
The Greenville Chamber of Commerce will hold its annual Diversity Equity and Inclusion Summit virtually on Oct. 20.
The full-day event "will feature three keynote speakers, multiple workshop sessions and a networking reception," according the release from the chamber.
The speakers?
Doug Harris, CEO, The Kaleidoscope Group
Liesel Mertes, Workplace Empathy Consultant, Handle with Care Consulting.
Sandra Quince, Global Diversity and Inclusion Executive, Bank of America
The chamber expects about 700 to attend. The deadline to register is this Friday. Cost is $149 for members and $199 for non-members.
The event is sponsored by Michelin.
Property tech?
A national "property tech" company that specializes in furnished rentals in 41 U.S. markets expanded to Greenville on Oct. 6.
Landing provides short-term rentals at existing Greenville-area apartment complexes without long-term leases or security deposits. Customers type in a city and a range of dates to find availability.
According to a statement from the company, Landing has more than tripled its footprint in the last eight months.
The rundown
Here's the news you need to know.
Quick hits
Tri-County Technical College received a grant from a U.S. Department of Education program to help provide child care assistance for low-income students who are also parents. According to a release from the school, the more than $375,000 grant will pay out over four-years. Based on need, qualifying students would make co-payments of between $6 and $20 per child, per week, with the grant used to pay the difference directly to the child care provider. Tri-County has about 9,000 students, mostly in Pickens, Anderson and Oconee counties. About one-third are considered low income.
It's been a quiet few months for the Greenville Drive publicly, but the team is hosting two events in the next few weeks at Fluor Field. The Green Monster Mash this Saturday is a kid-friendly event with hay rides, a pumpkin patch, a movie and more. Admission is free but reservations are required. The South Carolina Veterans Upstate Salute will be held Sunday, Nov. 8. That event, in advance of Veterans Day, will include military themed events, a flyover, fireworks and more. As with this week's event, it is free but reservations are required in order to ensure capacity restrictions and social distancing. Sign up here.
Blaze Pizza is about to open its downtown Greenville location. Finishing work is underway with an opening likely later this month. It's in a conspicuous spot — 109 N. Main St., right next to Mast General's Main Street entrance. According to the company website, it is the fourth South Carolina location for the national chain, joining two stores in Columbia and another in Mount Pleasant.
Straight from the release
"Arrival, a global electric vehicle (EV) company ... announced plans to establish its first U.S. Microfactory in York County. The $46 million investment into the region will create 240 new jobs." You can put your name in to apply for those jobs here.
"FUEL, a marketing agency in downtown Greenville ... , is excited to announce that it has selected local non-profit Feed & Seed as the fourth quarter recipient of its FUEL for Good Quarterly Grant program." More info about the program here.
"The Greenville Chamber announced the new direction for its economic development program, Accelerate, outlining aspirational goals for the Greenville region." Details about the program here.
Back for more next week. Email your tips, releases and newsy bits to rgilchrest@postandcourier.com and amitchell@postandcourier.com.