As leaves fall and lights twinkle, the holiday season in the Upstate is in full swing.
The days around Thanksgiving bring increased levels of travel, eating and shopping. Preliminary data by the National Retail Federation found that two-thirds of those who shop during the holidays plan to do so Thanksgiving weekend. The estimated 158.3 million shoppers is an increase by approximately 2 million from 2020 but still is not up to pre-pandemic levels.
If you find yourself among the multiple millions looking to do some holiday shopping, the stretch from Black Friday all the way to Giving Tuesday will be busy in the Upstate. Here is a sprinkling of things to know. 
Black Friday, Nov. 26
The unofficial holiday of Black Friday, the day after Thanksgiving, is known for early morning wake-ups and knocking out large chunks of holiday shopping. Here is what you need to know in terms of shopping centers opening times on Nov. 26 in the Upstate and when shoppers can expect to grab a photo with Santa.
Openings
Haywood Mall on Haywood Road in Greenville: closed on Thanksgiving; open 6 a.m. to 9 p.m. on Black Friday. Plan in advance to take a holiday photo with Santa by making a reservation here. Walk-ups are accepted but limited. Read the updated service and COVID-19 safety protocols — including increased sanitation, queue separation and a vaccinated Santa, with the exception of religious and medical exemptions.
WestGate Mall on Blackstock Road in Spartanburg: closed Thanksgiving Day; open 7 a.m. to 9 p.m. on Black Friday. Santa will be available for photos near the food court in the WestGate Mall from Nov. 19 through Dec. 24. Check the website for specific times. Photo packages range from $39.99 to $49.99. The mall outlines its COVID guidelines online, including the recommendation staff, retailers, vendors and visitors follow CDC guidelines about masks and social distance when possible.
Gaffney Outlet Marketplace on Factory Shops Boulevard in Gaffney: closed on Thanksgiving Day; open 6 a.m. to 9 p.m. on Black Friday. Learn more about potential deals from the website for the outlet.
Anderson Mall on North Main Street in Anderson: open 10 a.m. to 8 p.m. on Black Friday.
Did you know? 
Malls nationwide have taken a major hit over the last few years as costumers are drawn to online shopping. Last year, the owners of five South Carolina shopping centers, including WestGate Mall and WestGate Crossing in Spartanburg, filed for bankruptcy protection in the midst of the COVID-19 pandemic, John McDermott reported. One year later to the day, the same real estate investment firm emerged from the bankruptcy protection "as a re-energized company with a bright future and flexible capital structure."
The Aiken Mall in Aiken is currently undergoing redevelopment. Over the span of approximately 18 to 20 months, the mall will be reconstructed into a mixed-use commercial and retail venue, the staff at The Aiken Standard reported. Demolition on the mall began in August.
Target began the tradition about a decade ago of opening on Thanksgiving Day around 5 p.m. The Associated Press reported the big box store will discontinue the tradition. "Distribution and call centers will have some staff on Thanksgiving, Target said Nov. 22, but stores will remain closed," the AP reported.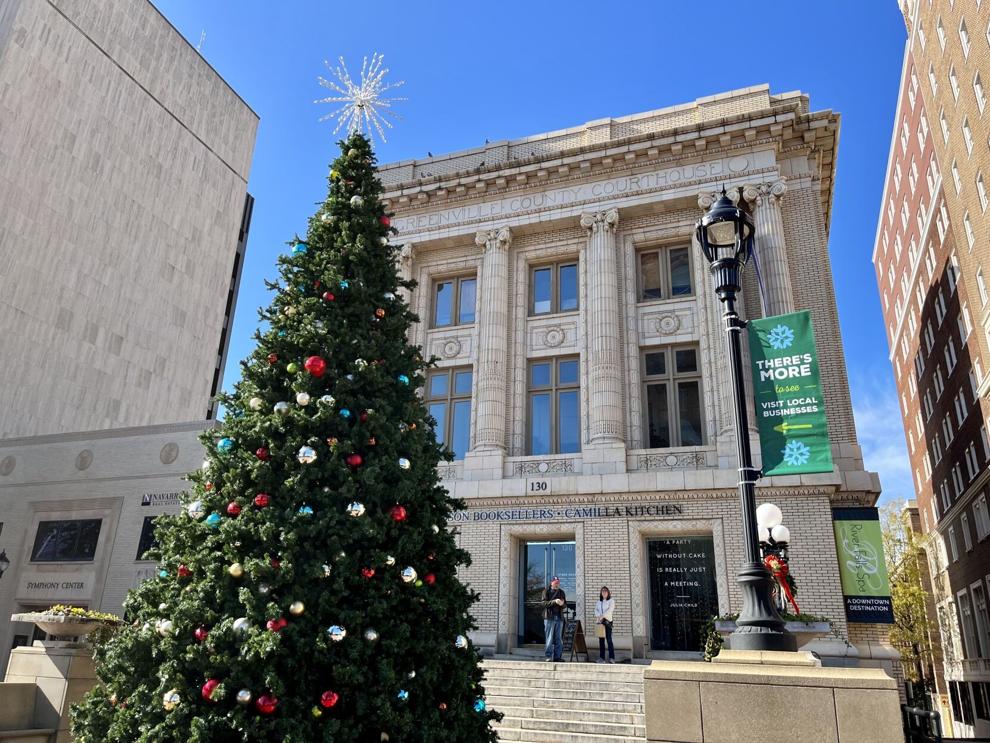 Small Business Saturday, Nov. 27
Before watching Clemson play in-state rival South Carolina on Nov. 27, you can shop at local businesses in the Upstate.
Looking to stay in while shopping small? The Greenville Chamber of Commerce paired with Surcee — a website that aggregates local products into one place for online shopping — to sell items from 16 Greenville-based businesses.
Spartanburg will host its 3rd annual holiday pop up shop on Nov. 27. The pop up, located at 501 Howard Street in Spartanburg, will feature more than 75 local vendors, activities, music and food.
At a Workforce Symposium hosted by the South Carolina Chamber of Commerce in Greenville, Susan Cohen, the leader of the state's restaurant and lodging association, recommended to the crowd that they buy gift cards or certificates to their favorite restaurants as potential alternatives this holiday season instead of waiting for other gifts to arrive. "Buy it now, provide that cash infusion and use it when hopefully we are not talking about this pandemic next year," Cohen said at the event on Oct. 19.
Greenville holiday parking, traffic notices
The city of Greenville will offer free parking Nov. 24-27, Dec. 11-12, Dec. 18-19 and Dec. 24-26 in the North Laurens Street Deck, Richardson Street Garage, West Washington Street Deck, River Street Garage, Broad Street Garage, South Main Street Lot and Gather GVL Lot.
The Greenville Police Department will monitor key intersections along Woodruff Road around popular retail districts starting Nov. 27 through the weekend. Electronic message boards will be placed on Roper Mountain Road, Woodruff Road and Verdae Boulevard alerting drivers of traffic, reminding them not to block intersections and directing them to the three roundabouts that compose Parallel Parkway.
Giving Tuesday, Nov. 30
The Tuesday after Thanksgiving is known as Giving Tuesday, which promotes donating time or money to organizations. The Upstate has myriad organizations accepting donations or volunteers. Here are two potential Giving Tuesday events in the Upstate.
Spartanburg Gives is hosting its 2nd annual Brew Good event on Nov. 30 from 5:30 to 9 p.m. at FR8yard, a beer garden on East Main Street in Spartanburg. Attendees get free beer and can listen to live music. Donations are suggested and all the proceeds go to 20 local nonprofits.
The day after Giving Tuesday on Dec. 1, Friends of the Reedy River is looking for volunteers to help with a restoration planting project at Cleveland Park. The conservation group will plant wetland vegetation in a Reedy River floodplain. The organization will provide lunch.