Going out to eat? Wear a face mask.
Pumping gas? Wear a face mask.
Grocery or drug store? Wear a face mask.
Retail store? Ditto.
On Thursday afternoon, July 2, Georgetown County Council held an emergency virtual meeting to discuss and pass an ordinance requiring "face coverings." The face masks are to be worn by just about everyone over the age of 10.
All employees having direct contact with customers are also required to wear face masks at all times when they interact with customers.
When people go into restaurants, they must be wearing a face mask. They don't have to wear it while eating, of course, but the face covering must be in place otherwise.
There are some limited exceptions to the ordinance, such as people who have underlying health conditions, meaning they cannot safely wear a face covering. The ordinance has definitions, exceptions and other specific language.
The ordinance passed on a 6-1 vote. Councilman Raymond Newton voted against the emergency ordinance.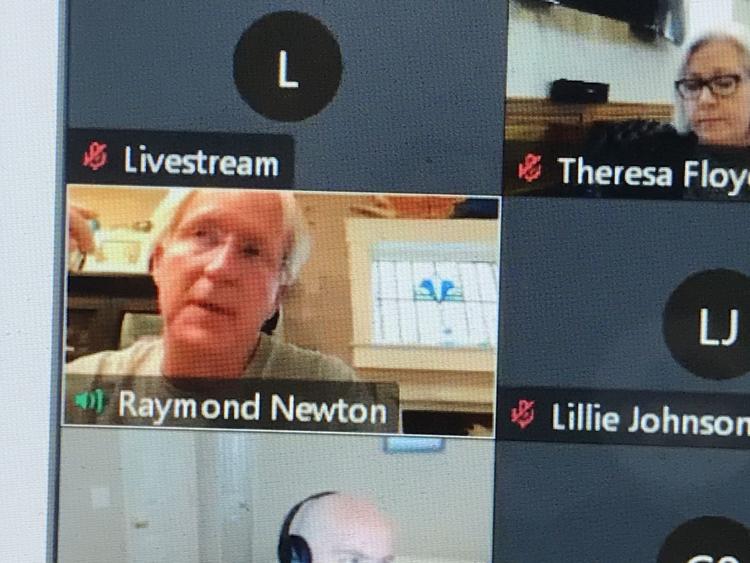 The ordinance went into effect at 12:00 a.m. Friday, July 3, 2020. It will remain in effect for 60 days, unless terminated earlier by a County Council vote.
The ordinance requires the various retail establishments to post a notice on or near the entrance to the store. The County has sample signs available online that businesses may download and print.
"Masks help slow the spread"
Chairman John Thomas read part of a statement from the federal Centers for Disease Control (CDC) about face coverings. It states, "Cloth face coverings are a barrier to help prevent respiratory droplets from traveling into the air and onto other people." The statement, which may be read online at the newspaper Web site, has more information. It also notes that its information is based on a review of 172 studies worldwide on the effective of face masks.
Thomas also read portions of a letter from Tidelands Health Group CEO Bruce Bailey and Dr. Gerald Harmon. He's the hospital system's vice president of medical affairs and the president-elect of the American Medical Association.
Here's part of the letter from Tidelands. The entire letter is also on the website:
"Clinical evidence clearly demonstrates masks help slow the spread of the COVID-19 coronavirus. The latest forecast from the Institute for Health Metrics and Evaluation at the University of Washington suggests 33,000 U.S. deaths may be avoided by Oct. 1 if 95 percent of people wear masks in public. Tidelands Health requires our team members, patients and visitors to wear masks at all of our 60-plus locations across the region."
So far, in conjunction with the S.C. Department of Health and Environmental Control (DHEC), Tidelands has tested more than 13,000 individuals. During July, the health system will have four more testing events where it expects to test 10,000 more people.
"But we need our community's help as we work to prevent our health care resources from becoming overwhelmed," Bailey and Harmon state. They urged County Council to approve the ordinance.
Enforcement
Newton asked County attorney Wesley Bryant, "What is the chance of this ordinance to be enforced?"
Bryant replied that's an interesting question. "The Sheriff is on board with the ordinance as written." He said that the county covers 815 square miles, "so they aren't going to be able to cover the whole county. The notice by businesses will help."
"We certainly don't want to turn everyone in Georgetown County into a criminal because they don't have a mask on," Bryant said. "Enforcement will occur. It will not be as widespread and swift, but it will happen." He also said that law enforcement officers will try to educate people more than issue tickets or citations.
Violation of the ordinance is a misdemeanor offense and carries a $25 fine. Each day of a continuing violation is considered to be a separate offense.
Bryant also told Newton that the county isn't requiring businesses to police the ordnance, "but the notice will help them to enforce it and deny admission" to anyone not wearing a face covering.
Councilman Steve Goggans asked if businesses would be required to provide masks. Bryant said that is not the case. Ron Charlton, Everett Carolina and Louis Morant all agreed the ordinance is for public health and safety. Lillie Jean Johnson asked if the ordinance also includes service stations. Bryant told her it did. They and other businesses would come under the "retail establishment" definition.
Carolina noted that neighboring counties have similar ordinances in place.
"In essence," Carolina said, "you have day trippers from Charleston County and Horry County coming into Georgetown County. They are two of the counties with the highest rates. I believe we need to move forward for the protection of the citizens of Georgetown County."
More information
On our web site, we will have links to the statements from the CDC, Tidelands Health and the text of the signed ordinance .
On the homepage of the Georgetown County Web site is a brief statement about the ordinance. It also has links to the sign for businesses to post, the ordinance, and tips on why wear a mask, the right way to wear one and how to take care of a cloth face mask.