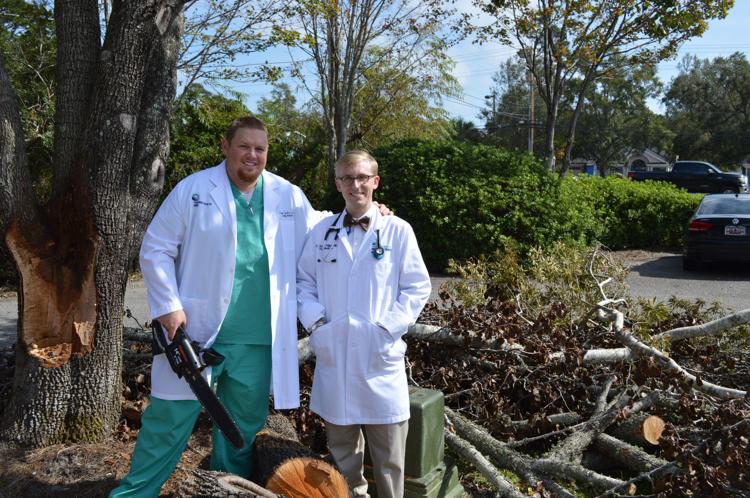 As a physician, Dr. R. Andrew Philipp is used to doing procedures. But when he arrived at Tidelands Waccamaw Family Medicine's Pawleys Island office Monday, Oct. 10, he was confronted with a task of a different kind, and this required considerably more than a scalpel.
It required a chainsaw.
"A tree from our parking lot had fallen close to our building," Dr. Philipp said. "We had downed power lines and a good bit of debris and limbs strewn all over the place. The office also had no power."
Closing the office was not an option. Triage was needed.
After assessing the damage, Philipp and physician partner Dr. Bryce Loader made a quick decision: The tree needed to be chopped and the parking lot cleared so patients could easily get through.
Loader drove home and returned with his chainsaw, and the two set about cutting the downed tree, stacking the limbs and clearing the parking lot with the help of dedicated nursing and front-office staff.
"Everybody pitched in to help," Philipp said.
It was a scene repeated at Tidelands Health locations around the region. From physician practices to Tidelands NextStep clinics, employee and physician partners pitched in to clear debris, assess damage and get back to the business of patient care as quickly as possible.
Within hours, Tidelands Waccamaw Family Medicine was open for patients, even though power was out and computers were down. Physicians and nurses, some wearing head lamps, saw their regularly scheduled patients and walk-ins, making diagnoses with the help of lanterns, flashlights and hurricane lamps. Exam lights lined the hallway to assist patients navigating the building.
Thanks to savvy planning and teamwork, the day went smoothly.
"Early in the week before Matthew hit, we began planning and taking precautions," Philipp said. "The staff printed out paper copies of patient lists and their medications so we'd have records available if we lost power. Our goal was to be able to stay open and serve as many people as possible to keep them from having to go to the emergency department."
Philipp, who has worked in primitive settings on medical mission trips in Uganda and Belize, said his experience prepared him well for dealing with Matthew's aftermath. Still, he said, the experience would have been far more challenging if he'd not had the benefit of a good team, dedicated physician partners and the support of Tidelands Health hospitals.
"Getting through an event like this requires knowing how to use resources wisely and to work as a team," Philipp said. "Knowing that I could count on my hospital to provide support for services that we couldn't handle and being able to rely on the resourcefulness of the nurses and the front-office staff helped all of us get through this.
"It's not something I'd want to go through again, but if I ever do, I want to be with the same team."