What's the worst hurricane in your memory?
To many people in Georgetown County, the quick "first thought" would likely be either Hurricane Hugo in 1989 or Hurricane Hazel in 1954.
But, there have been other hurricanes that have rivaled those more recent storms.
Dr. Cary Mock, a geography professor and climatologist at the University of South Carolina in Columbia, spoke to a capacity crowd at Hobcaw Barony's Kimbel Lodge on June 13 about findings from his research into more than 300 years of hurricanes in South Carolina and elsewhere. He's been with USC since 1999.
Lee Brockington, coordinator of public engagement for the Belle W. Baruch Foundation, introduced Mock to the crowd.
"Time is marked in the Lowcountry by major hurricanes," Brockington said. "Climate's historical impacts affected South Carolina society and agriculture from yellow fever to the sinking of the success of the H.L. Hunley" during the Civil War.
In his research, Mock has studied 300 years of South Carolina's weather history. "His sources have included the first ever known systematic observations from Charleston in 1738, Thomas Jefferson's early 19th century records, antebellum plantation diaries, ship logbooks and the weather records taken at All Saints and the Summer Rectory on Pawleys by The Rev. Alexander Glennie," Brockington said.
"When I first corresponded with this young professor and researcher," she said, "it was after reading an article in Charleston's Post and Courier. Dr. Mock was consulted about why the CSS Hunley and its target, the USS Housatonic, sank so quickly. This researcher spent time with the weather records for Feb. 17, 1864."
Later in his talk, Mock said the weather "when the crew of the Hunley went out was in gentle, westerly winds."
"Right after the Hunley sank the Housatonic, there is a mystery. What happened to it?"
Mock said if the Hunley's crew did survive the explosion, the weather affected them because it was very cold on that night.
As Mock looked into weather records and other sources, he noted, "you usually find surprises. With older records, sometimes they raise some questions."
With computers and cell phones today, weather forecasting and records are readily available. That's not always been the case.
As he's found data that raised more questions, Mock's research has spread geographically and through time.
As many people know, local records in many cases were lost or destroyed during the Civil War. Also, there was no weather bureau as we know it today.
Over the years, Mock has traveled to many places across the United States, Canada and other countries as well.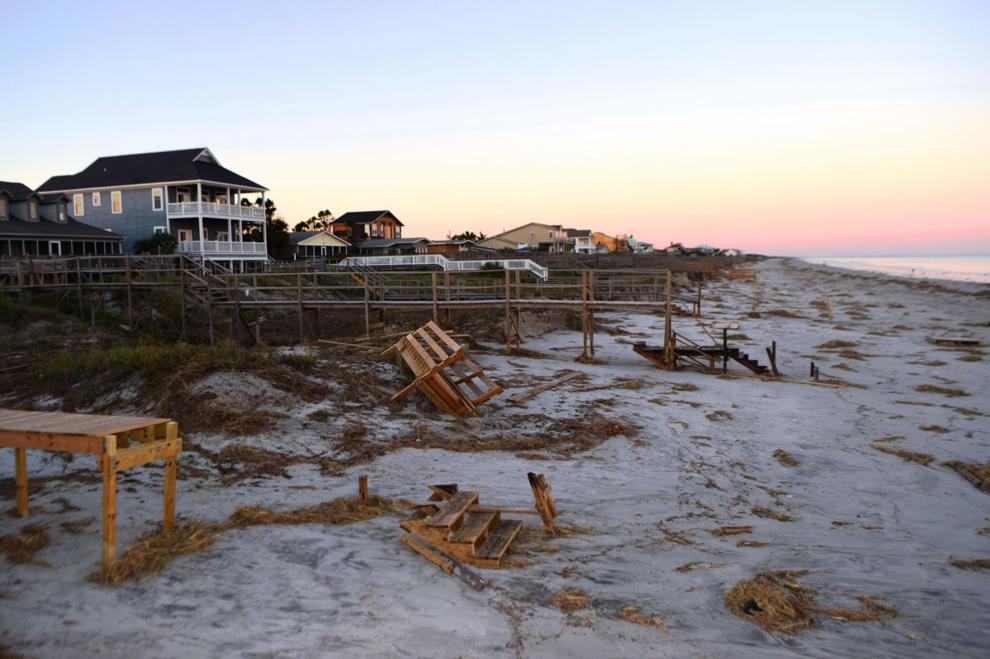 Along with examining weather records, he's also looked at ship's logs, newspaper reports, personal correspondence, agricultural reports and more.
He credits Mike Chenoweth, a civilian from Elkridge, Maryland, for laying much groundwork in climate research. "There are no shortcuts to the production of high-quality historical climate records," Mock quoted from Chenoweth.
Mock has found records that go back to 1710 or 1713.
"Some modern meteorologists say the older stuff isn't so good," he said, "but we still know about hurricanes."
In earlier times, "hurricane" wasn't used so frequently, but "gale" or "cyclone" or other terms would provide clues.
One of the valuable resources Mock used was a 50-year span of daily records made by Rev. Alexander Glennie, who was rector of All Saints Waccamaw Church on the mainland near Pawleys Island. Some of his records were observations made from what was then the summer rectory of the church.
Mock showed a page from Glennie's records from June 1838. One of those pages showed changes in barometric pressure, which indicated that weather on those days was hurricane force.
President Thomas Jefferson was among the Founding Fathers of America and is well known for drafting the Declaration of Independence and many other actions in the early political life of the country. Because of those involvements, much of his weather-keeping records were made after he left office as president.
Among the well-known storms in South Carolina was a severe hurricane in October 1893. Edward Porter Alexander of Georgetown had records from that time that were important primary sources.
Mock shared several newspaper reports, including from June 3, 1838, from the Winyah Intelligencer, a forerunner of today's Georgetown Times.
As he compiled more records, Mock found that a two-decade period – 1820 to 1838 – was a "hyperactive hurricane period." There were 11 hurricanes that had strong impacts on Georgetown County during that span.
While not in that concentrated time frame, Mock found records of a severe storm in 1752.
Gabriel Manigault, one of the state's wealthiest men at the time and who was a renowned architect, wrote "In the beginning of April [1792] there was a remarkable Fresh in Santee river. People suppose it to be the highest ever known …" including one from May 1771. "Col. Thomson, however, informs me that he remembers a higher one in Sept. 1752, ensued by after the Hurricane, which on the Congaree river near Granby, rose 28 feet in 2 hours & was 3 feet higher than the present one, judging by its nearest to an old Fort near Granby …"
At that time, Columba did not yet exist. Granby was in today's Lexington County and is now a part of the city of Cayce, across the Congaree River from Columbia.
1752 Great SC Hurricane
Mock talked further about that hurricane. He shared a slide based on his research that compares the 1752 hurricane to 1989's Hurricane Hugo.
Both were likely Category 4 hurricanes, based on today's terminology, and both hit South Carolina in the month of September.
The 1752 hurricane made landfall near Edisto Island, below Charleston. Hugo made landfall on Sullivan's Island, north of Charleston.
The 1752 storm had a radius of hurricane-force winds about 55 to 65 miles. Hugo had a radius of such winds for 95 miles.
Mock said that for the 1752 hurricane there are no specific records of deaths, "but likely at least a few hundred in South Carolina." Hurricane Hugo caused an estimated 35 deaths, directly and indirectly, in South Carolina, he said.
With all the research Mock has done and that he's read from others, he offered several thoughts to the audience at Hobcaw Barony.
He strongly agrees with Mike Chenoweth that getting all information available is the right approach.
As people today are familiar with modern news and weather reporting, they lose memory or awareness of longer-term perspectives on the hurricanes or tropical cyclones that have had major impacts on South Carolina over the centuries.
Those memories that are sometimes missing include the many hurricanes in the 1830s, the late "Little Ice Age" of 1816, when there was no summer, the severe storms that killed hundreds – and in one case, several thousand people in the Sea Islands of Georgia and South Carolina – and the impact on rice cultivation in the decades after the Civil War.
Those factors point to a need for detailed and interdisciplinary studies with experts in a variety of fields to help understand the impacts of hurricanes on society and the economy.
The day after his talk at Hobcaw Barony, Mock visited a new exhibit at the South Carolina Maritime Museum on Front Street in Georgetown.
The exhibit, titled "A Most Violent Storm: Great Hurricanes from S. Carolina's Past" runs through July 31.
Hurricane Hazel photos
On October 15, 1954, Hurricane Hazel devastated much of coastal South Carolina. Pawleys Island suffered severe damage, with houses knocked off their foundations and landing in Pawleys Creek and in the ocean.
In a Facebook post from 2017, Georgetown County government shared photos that had recently been found in archives of the county's former Civil Defense agency.