The end of an era is gone and the beginning of another begins.
The class of 2020 had a memorable year as graduates not only celebrated leaving high school to move to their next phrases in life, but had to do so wearing masks because of the current COVID-19 pandemic.
Yellow Jackets, bulldogs and bears graduates still held their school's commencement ceremony on the first week of June but under new strcit guidelines that included virtually commencement speeches, limiting guests and making sure everyone had a mask on during the commencement. At each Georgetown County school football field, graduates were seated approximately six feet apart while still awaiting to receive their diploma during their commencement ceremony.
Georgetown High School
Members of the Georgetown High School Class of 2020 filled the Georgetown High Thomas L. Smith football stadium during their school's commencement ceremony on June 3, 2020.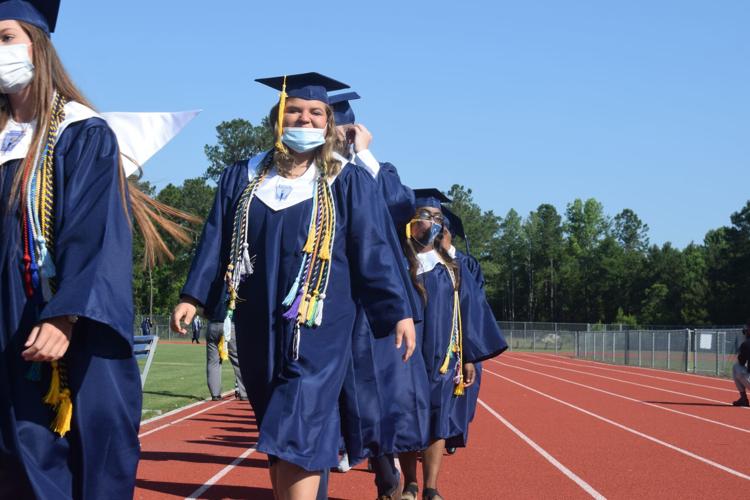 "High school has always been an unforgettable journey, but this year has been exceptional memorable. This has been a challenging year for our seniors. We were unable to partake in many of Georgetown High School's senior traditions, yet we are extremely grateful to have this authentic graduation," Abigail Caviris said in her welcome. "We have faced a pandemic that has plagued the entire world. This challenge has prepared us for our future, whatever they may be."
Salutatorian Sydney Caroline Daniels spoke to her class reflecting on their last few weeks as seniors and the challenges that await them in the future.
"I want to thank everyone involved in the decision to allow us to have this graduation. I'm so happy to be here surrounded by my class of 2020 classmates. It means the world to me, thank you for doing this," Daniels said in her speech.
"Today is no small feat. We have worked so hard to make it here and I'm so proud of us all. I know everyone of you are going to great things and I cannot wait to keep up with you and see where life takes you. I hope you all follow you heart and chase your dreams. You are more than capable. The path isn't design to be easy but we're not designed to be afraid."
Daniels told the crowd her favorite memory from school was participating in the first school play in over a decade.
"I will always remember the dedication Ms. McNutt showed us as she worked endless to put our show together. Since 'Into the Woods,' we've done two more shows under Ms. Anderson, three if you include Schoolhouse Rock which we were unable to do because of COVID, nonetheless I'm so thankful to have been able to participate in such special shows with an amazing cast and crew."
Valedictorian Justin Luis Fuentes told the crowd about the transition they've gone through in the years.
"Over our years in school, we've got more and more freedom. When we got to middle school, we we're excited to being able to sit wherever we wanted at lunch as long as it wasn't' raining," Fuentes said to the chuckle of his classmates.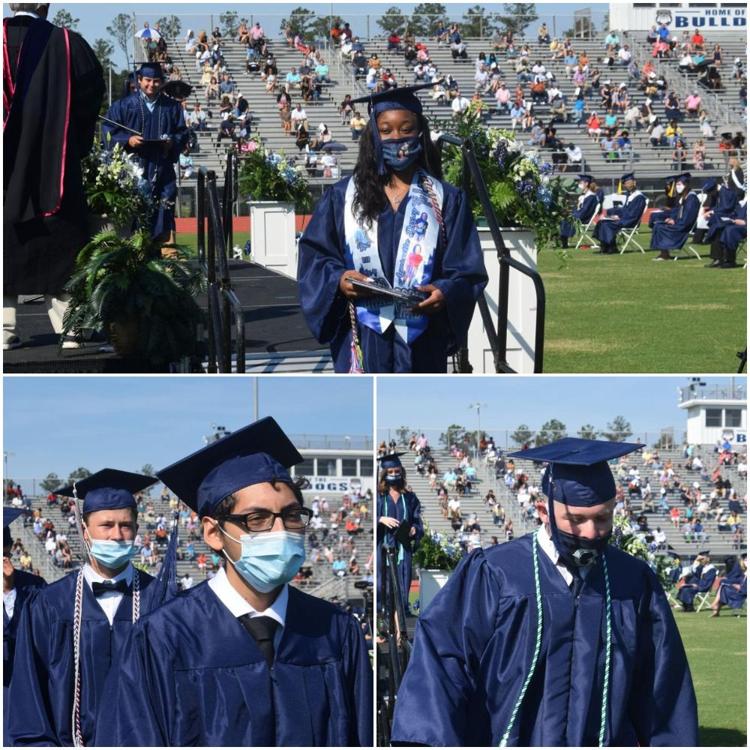 "When we became freshman, we we're excited about the fact that we no longer had to walk through the halls in single file lines. Now we are approaching another point in our lives where will be getting new freedoms. What we do with those freedoms, however, is going to impact our future as much more than our transition from middle to high school. I urge you to take control of and responsibility for how your future is shaped. Whatever goal you may have, follow it diligently. Should you not have a clear define goal, look around your peers for inspiration."
Andrews High School
Over at the Webber Rowell Stadium at Andrews High School, graduates celebrated their commencement ceremony on June 2, 2020.
Salutatorian Breanna Thornell talked to her classmates about the next steps of being an adult in an uncertain future.
"Whether we go to college, straight into the workforce or into the military, it's not going to be an easy task. Our first day into the rest of our lives will probably be similar to our first day in high school. A bunch of kids learning how to survive in their new environment," Thornell said. "As new adults we will have the ability to choose the path we want to take with our lives. We now have the responsibility to make decisions for ourselves and pursue the life we want."
Valedictory Ashton Altman followed up with an encouraging speech about the challenging times.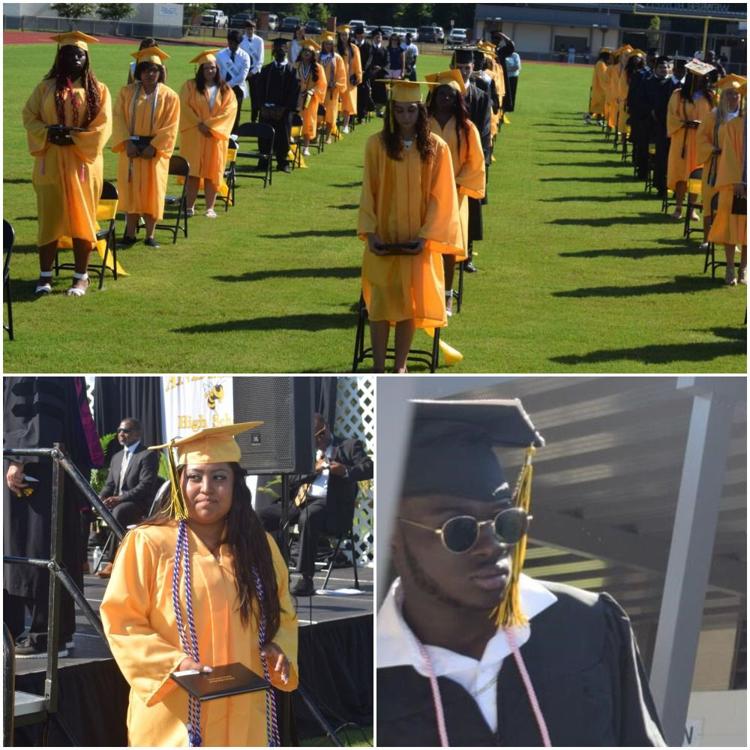 "Things have definitely not been normal," Altman said. "Regardless of all these trying times we have experience, one thing is clear, the class of 2020 is one of the most resilient groups of people on the planet. We have stood strong, faced adversity and rose above to continue to work toward and achieve our goals."
Carvers Bay High School
Over on Carvers Bay High's Big Bear Stadium, the senior bears readied themselves for their ceremony as well.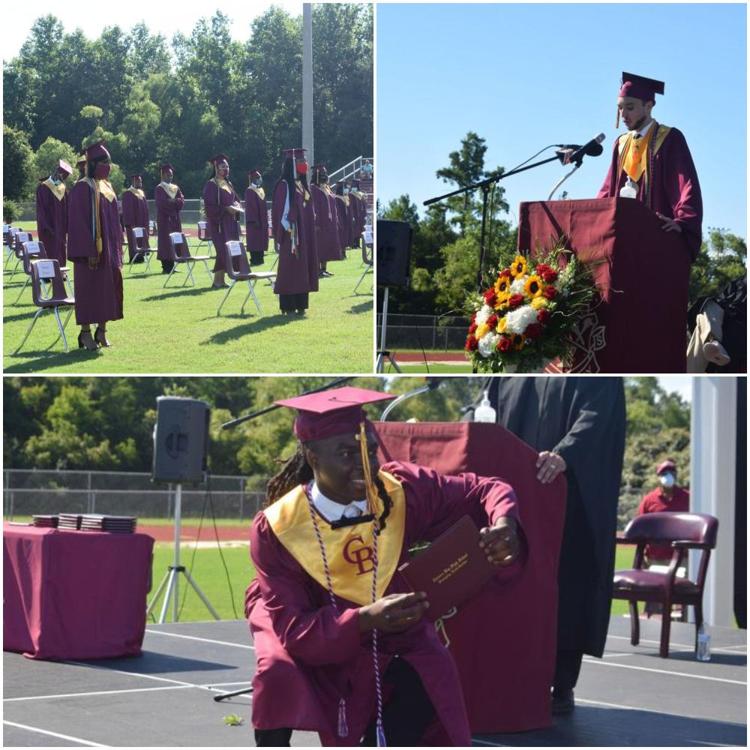 Carvers Bay High held its commencement on June 1 for the Class of 2020. The graduation ceremony happened at the Big Bear's stadium with Salutatorian Juan Diego Donmoyer addressing his classmates about all that has happened their senior year.
"While this pandemic has been a challenge, it has not been the first challenge nor will it be the last challenge. To this generation, you amaze me but you also disappoint. We say stuff like 'my generation sucks', 'i wasn't made for this generation.' Well guess what we have the power to change it," Donmoyer said.
In his speech, he touched not only on the pandemic, but the social and racial inequality in the nation.
"You ask 'how can we change it', we vote. Voting is how you make your voice heard not voting results in you being deaf in America. I know a lot of are going to leave this place. But if you don't change it, change it for the better. Although we have made great strides in American culture, there is still much to do. Many have experienced racism, inequality and unfair treatment."
"Just because they don't fit the ideals of the people who 'built' this country. America claims to be a melting pot but we are just diverse. We are not a melting pot we are like a picky child's plate that doesn't want to touch his food. Let's be the generation that truly makes America great!" he said.
Valedictorian Destiny Poston talked about the unusual year in her own words.
"Our senior year was cut very,very short. But in spite in our new way of living, 2020 still has a lot to offer," she said. "We soon realize we will not dance at prom or have that senior night we dreamed of and we feared whether or not we will walk across the stage like the classes before us. There are a lot of things that we have been striped of but we should not be fearful of what is to come because it is up to us to make it great."
After all of the students received their diplomas, principals of each respective school congratulated all seniors for their hard work and then them to turn the tassels on their caps to make them official graduates.
With the end of the ceremony, some graduates threw their caps in the air while others gathered for group hugs in celebration of a milestone.
Photo galleries of each gradution can be found online at southstrandnews.com.