GEORGETOWN — As the Georgetown County School District started the 2020 school year completely virtually, teachers still made their way into the classroom — giving them more space to teach and to get comfortable ahead of when the district's hybrid students return to campus in the near future.
Georgetown High School English teacher Jamie Langston will not have to worry about students coming back to her classroom this semester — she's a full-time virtual teacher for the semester.
"Honestly, I know my way around technology in the classroom, but I'm still a little nervous," Langston said. "I feel like a first-year teacher. But I'm going to do my best today and I think that I've over-planned; I think a lot of us might've over-planned, but it's better to stay ahead of the game instead of behind."
GCSD Superintendent Keith Price and his staff have worked diligently to get the county's schools to this long-anticipated start.
"It's unlike anything we've ever experienced," Price said. "This is a brand-new start to a brand-new school year in a way that we've never experienced before.
"So a lot of work has gone into getting the plan ready; now we're at the phase where it's time to execute the plan. So now, it's fingers crossed and hopefully all of our efforts that have been put into planning will not pay off."
GCSD will have completely remote learning for its first two weeks of learning. After two weeks and pending approval from the state health department that its schools are medium-risk, GCSD will allow students who signed up for hybrid classes to start coming to the school.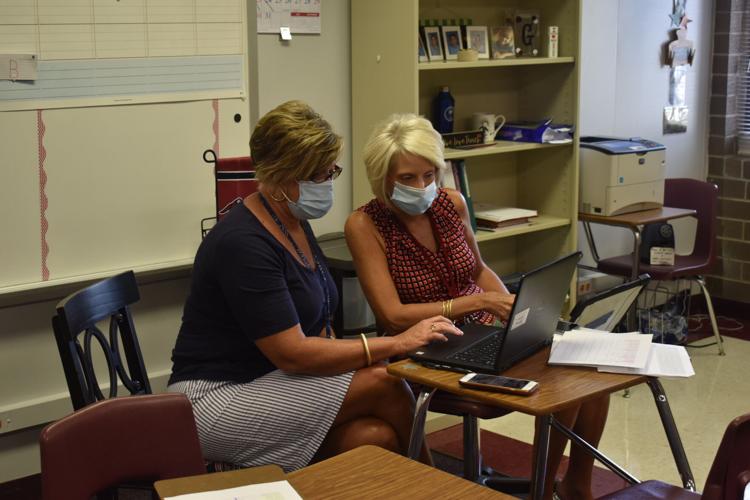 "When we move to our hybrid phase, the students who have opted for the in-person and hybrid options, they're going to be divided into two groups," Price said. "Between 30 and 35 percent opted for the all-virtual option, so that means that our class sizes should be out 30 to 35 percent smaller if we were five days a week of in-person instruction. You take that number, since we're going to hybrid, and we split those students into two groups: A Groups and B Groups. So you take that remaining number and split it in half and you won't have any more than half of that number on any given hybrid day."
GCSD requires students to wear masks and to socially distance. To aide in this, the district will put yellow stickers in the hallways for students to stand on so they are 6 feet apart from everyone else.
Georgetown High School has not put the stickers down yet, but Pleasant Hill Elementary School has. However, Georgetown High is also using blue lines in the hallway to aide students with social distancing.
"(It's been) encouraging," Georgetown High Principal Craig Stone said about getting ready for the first day of school. "Teachers have come back; they're extremely excited and energetic about the opportunity to have the kids come back. I know we're starting off virtually, but we're hoping to transition to hybrid (and then) to the prime base where we can have the kids inside the building (every day)."
Pleasant Hill Elementary School Principal Teddy Graham admits that it's been difficult getting ready for such an unprecedented school year.
"Well, it's been a challenge; it's definitely the most difficult thing that I've encountered in my career, just getting ready for such a vast array of services that we're having to provide," he said.
"(Just) one of them is challenge. If we went hybrid, it would be a challenge; if we went completely virtual, it would be a challenge; if we're face to face in the building, it would be a challenge. We have all three to prepare for, and it's been a monumental task in terms of preparation. But (we) just keep a positive attitude; you understand the reasonings behind it (and you just got to do the best you can do, and that's the message that we're sharing with our teachers."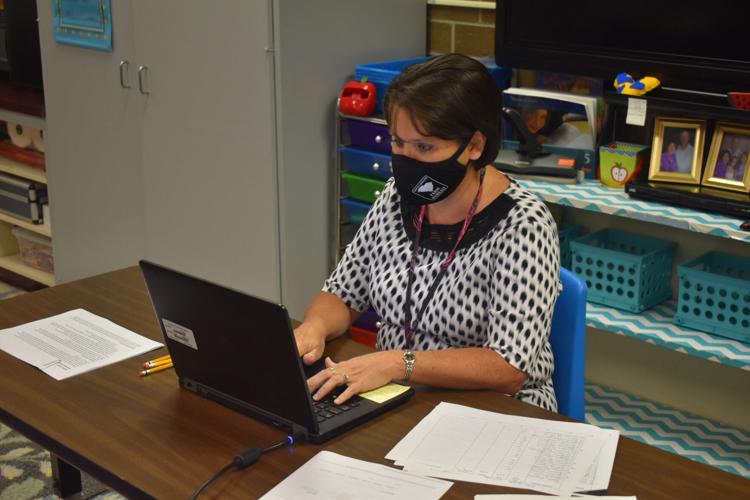 One of those teachers is fifth-grade teacher Kristy Owens who, like Langston, is teaching completely virtually, at least through December. According to Owens, her first virtual class of the school year went swimmingly.
"It was good this morning," she said. "I was very surprised; it went better than I thought (it would). The children knew a lot more than I thought they knew about the computers. They were able to turn their mics on and off. No one was talking when I was talking. I hope they understood what I was saying; we'll find out soon because I just gave them their assignments and told them to go ahead and do it now and submit it to me, so now I'm waiting on them to turn them in. But I was very impressed with them."
In another classroom set up for potential hybrid learning, the desks were labeled with either a star or a smiley face. The stars represented a desk for A Group students and the smiley faces represented a desk for B Group students, that way the students would be socially distanced.
Administrators predicted there will be about 10 students per classroom if the district can move forward with hybrid learning.
The high schools are currently on a four-block schedule and all schools will have class from 9 a.m. to 4 p.m. If hybrid learning is approved, elementary students will have class from 7:30 a.m. to 2 p.m.