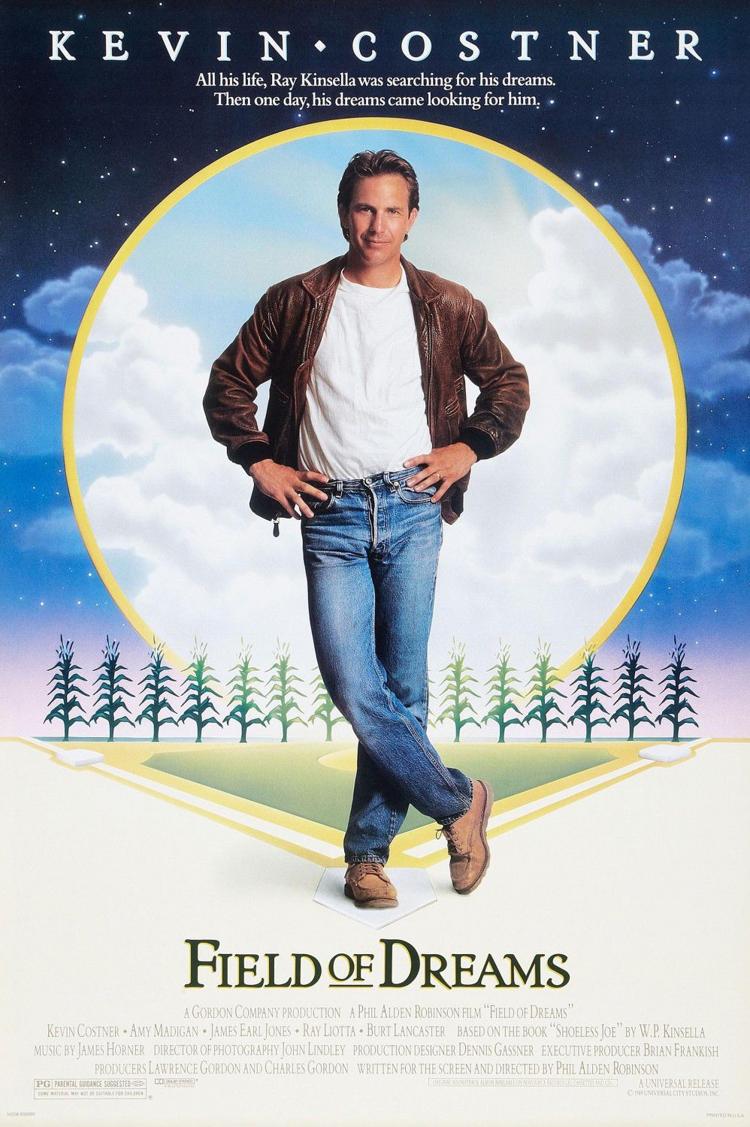 Back in the '80s, Kevin Costner must have told his agent to grab him any movie he could involving baseball. The actor played in a baseball film called Chasing Dreams in 1981, the classic Bull Durham in 1988, and completed the triptych a year later by starring in the iconic Field of Dreams. The whole "if you build it, they will come" construct is one of the most recognizable quotes im film history — even if it's serially misquoted; it actually goes, "If you build it, he will come."
But as the film hits its 30th anniversary, I wish it would wither away and be forgotten like Waterworld.
For those unfamiliar with Field of Dreams, spoilers cometh: Costner plays Ray Kinsella, a struggling corn farmer. Financially strapped, he chooses to — instead of, you know, growing more corn — a baseball field because he hears a voice delivering the film's famous promise.
Even though his wife (Amy Madigan) acknowledges they have a daughter and are in desperate need of income, she basically supports her husband and his hearing of voices. When he builds his field, he gets a visit from "Shoeless" Joe Jackson (played by Ray Liotta), a member of the disgraced 1919 Chicago White Sox (or "Black Sox," the team that threw the World Series and the subject of another '80s baseball film, Eight Men Out). 
Only Ray can see Jackson and other players who come to the field. He's warned by his brother-in-law that he will go bankrupt, but instead of doing farm work, he decides to go to Minnesota and find author Terence Mann (James Earl Jones) to tell him about his baseball field of ghosts. All the while, his supportive wife offers encouraging words via phone calls from their kitchen, enabling all the old-white-man baseball nostalgia your heart can handle.
Romanticism about the baseball of yesteryear sits differently with black folks like me. When people proclaim that they want things the way that it used to be in baseball, I can't help but argue that they idealize a time when blacks weren't allowed to play.
Consider Babe Ruth, considered by many to be the greatest baseball player of all time, and it becomes quite annoying. Ruth played from 1914 until 1935, a dozen years before Jackie Robinson broke the color barrier.
Writer Daniel Okrent spoke of this on Ken Burns' quintessential 1994 documentary series Baseball:
"To those people who would say that baseball was at its best in the '20s in the time of Ruth and Gehrig, or in the '30s when DiMaggio and Williams came along, impossible. Impossible. When part of the national population was being systematically excluded from baseball, it couldn't have been the best."
So when Terence Mann, speaking in the thunderous voice of James Earl Jones, proclaims, "They'll arrive at your door as innocent as children, longing for the past," because baseball "reminds us of all that once was good and that could be again," it's absolute MAGA porn.
It's not just the white-washed baseball ghosts. (It's fantasy, could they have one black or brown player? Why not a visit by Jackie Robison or Roberto Clemente?) It's also the role of the wife in the film. Madigan's character is merely there to support Ray, even though his obsession threatens their livelihood.
Fellas, tell your wife you're going to quit your job because you're going to build a studio so the ghosts of Tupac and Biggie can help you make a mixtape that will sell millions. See what kind of pushback you would get.
Ultimately, American nostalgia is a sore spot for black people. Ironically, Field of Dreams lost the Best Picture Oscar to Driving Miss Daisy, a film that takes place from the 1940s through the '70s, following an old Georgia white lady and her black chauffeur — it was the original Green Book.
Maybe there should be a baseball fantasy movie where a young Satchel Paige could pitch against Babe Ruth, or where Ty Cobb gets punched in the mouth by Josh Gibson after saying something racist? Or how about reworking the past such that black players happily frequent the same restaurants and hotels as their white teammates?
As long as we're dreaming, we might as well make it inclusive.   
---
What: Field of Dreams (30th anniversary screening)
Where: Nickelodeon Theatre, 1607 Main St.
When: Saturday, July 27, 2 p.m.
Price: $9 ($5 children 12 and under)
More: 803-254-3433, nickelodeon.org