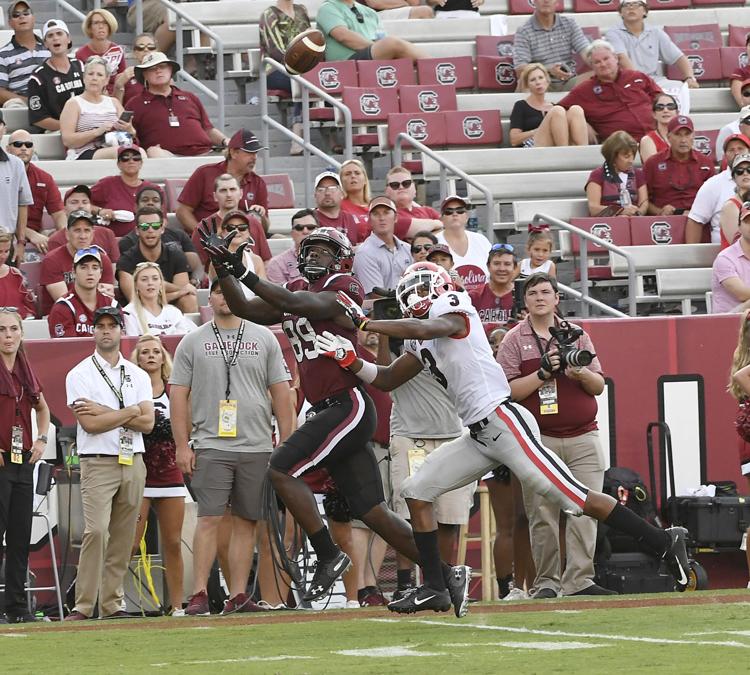 Editor's Note: This Free Times cover story was written and sent to press on Friday, Aug. 30, before South Carolina's season-opening loss to North Carolina. 
You can't help but notice the silver.
It gleams in the sun, drawing your eye even as other colors and sounds and smells swirl around you. It's hard to miss that silver these days when you are there at the corner of Bluff Road and George Rogers Boulevard. You notice it on TV, too, in certain shots.
It is the silver of empty, aluminum seats inside Williams-Brice Stadium, particularly in the upper deck, during University of South Carolina football games. And while Coach Will Muschamp's Gamecocks still draw a crowd — 28 counties in South Carolina have smaller populations than USC's 2018 average attendance of 73,628 — there have been more of those silver empty seats in the stadium in recent years.
Attendance at Williams-Brice has trended downward the last six seasons. In 2013 — perhaps the height of Coach Steve Spurrier's time at USC, as the Gamecocks went 11-2 and finished No. 4 in the nation —  the average attendance was 82,401. That dipped to 81,381 in 2014, then down to 78,882 in 2015 (when the team went 3-9), and down to 76,920 in 2016.
Crowds swelled slightly to an average of 78,586 in 2017 (a year in which Muschamp's squad surprised many by going 9-4), before dropping again to 2018's average of just more than 73,000. South Carolina finished the 2018 campaign with a 7-6 record.
Of course, wins and losses have not always directly informed football attendance by USC's enduringly loyal fanbase. This is a school, after all, that averaged more than 78,000 fans per contest in 1999, a year in which the Gamecocks didn't win a single game.
But now it seems the ideas of blind loyalty and steadfast attendance at games are becoming relics of times gone by.
Across college football, schools are dealing with a trend of empty seats and looking for ways to fill them up again. Nationwide, college football attendance peaked in 2014, with more than 50.2 million people attending games, according to NCAA records. But it's been on a steady slide since then, hitting a five-year low of 46.9 million in 2018. [Date corrected for online version.]
Even mighty Clemson, winner of two of the last three national titles, has seen its average attendance fall across the last four seasons, from 84,038 in 2015 to 80,400 in 2018.
A number of factors have intermingled to trigger the recent dip in college football attendance, but perhaps foremost among them is the proliferation of games on TV. With cable, satellite and streaming services offering a seemingly bottomless menu of sports options and with massive high-definition TVs being more affordable than ever (a Vizio 50-inch 4K Ultra HD unit was available for $279 at Walmart as of Aug. 29), fans have the vessels they need to keep the party at home.
And if they do stay home, they are guaranteed to see Gamecock football on TV, because of lucrative agreements the Southeastern Conference has with CBS, ESPN and ESPN's SEC Network. Each school in the league received more than $43 million in revenue sharing in 2018, largely from the conference's TV deals.
Aside from the ubiquity of TV, fans today could also increasingly balk at the cost of attending games (upper deck seats for South Carolina's games against powerful Alabama and Clemson this year cost $125 each), concession lines (often frustratingly long at USC), a dearth of Wi-Fi (Williams-Brice doesn't have it stadium-wide) and the weather for September and early October games (nuclear).
"Technology has allowed the in-home experience to be really, really good," Tony Barnhart, an SEC Network analyst and author of the book Southern Fried Football: The History, Passion and Glory of the Great Southern Game, tells Free Times. "Because of that, people are choosing, particularly in the less than attractive games, to sit at home, where the refrigerator is 11 paces down the hall and you get a good price on the beer and all that stuff. The obvious factor [in recent attendance] is the comfort level of the home experience. You don't fight the traffic and all those things."
USC continues to study and invest in ways to get fans in the stands. It's sprinkled in new features to long-held gameday traditions, like when it added flames to the team's storied "2001" entrance in 2017.
The completion of Springs Brooks Plaza in front of Williams-Brice has greatly enhanced the aesthetics outside of the 85-year-old stadium. Earlier this year the school's board of trustees approved $22.5 million in upgrades for the stadium, work that is set to be completed in time for the 2020 season and will include the addition of more luxury and box seating, including air-conditioned spaces, an upgrade to the long-cramped area under the south stands, and more club areas, among other amenities.
And the school is doing what it can to address ticket costs, with the introduction in August of the GO Pass, a $25-a-month service that allows subscribers to attend any USC game, across all sports, including football, throughout the school year. (USC notes there are exceptions for "sellout scenarios," so don't get your hopes up for using the pass for this year's games against Alabama or Clemson.)
"We are trying to respond to the market," Eric Nichols, USC's senior associate athletics director for marketing and branding says when asked about the GO Pass. "What is a fair value for what we are providing? We have some open [seating]. I'd rather get some rabid, loud Gamecock fans in there who will help us win games, rather than let them go empty."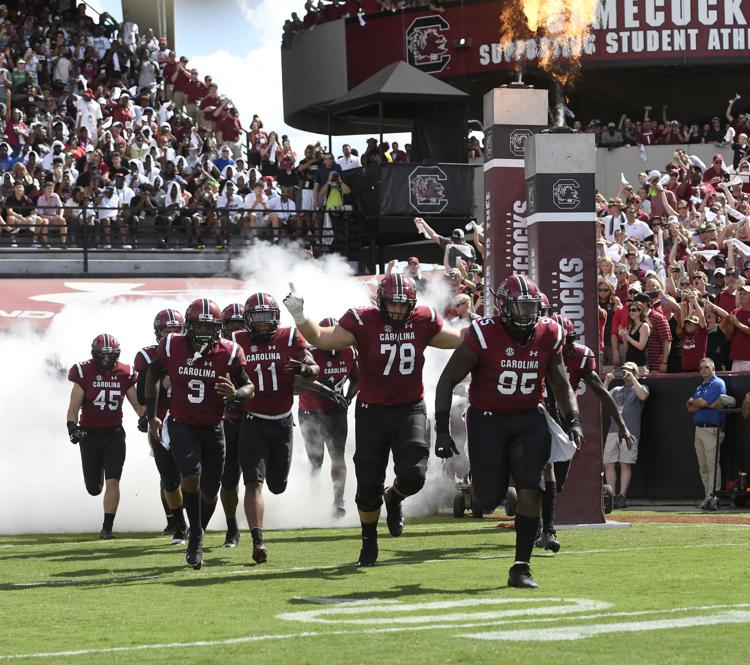 Finding the Price
Perry Orth is well aware of the difference a full stadium of rowdy fans can make for the players on the field.
Orth was a quarterback at South Carolina from 2013 to 2016. During his career at USC, he passed for 2,595 yards and 12 touchdowns. He was one of the Gamecocks' captains in 2016.
When reached by Free Times, Orth says the players can tell a difference when the stands are packed.
"Home field advantage in the Southeastern Conference is everything, man," says Orth, who now sells commercial insurance and trains middle and high school quarterbacks in Columbia. "It means a lot to run out there and see even the top corners of the stadium packed out with people. There's just something about it that gets you going.
"For the players, it means a lot for our fans to come. … They spend a lot of time working out and getting ready to play and win games for, not only the team, but the fans and the school."
At the same time, Orth recognizes the pull some fans feel from the living room. From that big screen TV in a climate-controlled environment, with the ability to flip back and forth between multiple games and use easily accessible Wi-Fi to talk trash with friends and foes on social media.
"You can see the whole thing, you can watch replays and run it back and everything on TV, and you can get a good feel," Orth says. "If you go to the game and each ticket is 100 bucks, and you've got a family of four or five, you're looking at $400 or $500 just for tickets. Then you've got concessions, parking. It gets expensive.
"It's funny that the attendance and the 'want-to' of going to games has gone down and the prices have gone up. Especially early in September in South Carolina, if you play at noon or 3:30 it's hotter than hell out there. So people think, 'Do I want to do that, or do I want to go and hang out and watch the game on TV?'"
South Carolina's first home game of the 2019 season is Saturday, Sept. 7, at noon against Charleston Southern, which plays in the Football Championship Subdivision, the lower level of Division I college football.
Barnhart points out that it is just the kind of matchup that has become a tough ask for SEC and Atlantic Coast Conference schools in terms of getting fans to the stadium.
"I talk to people who have just gotten tired of paying premium prices to see their team play Western Carolina," Barnhart says. "I'm not picking on Western Carolina, but that's an FCS game that people are just not going to pay as much money as they used to just for the tailgating experience.
"But, I still believe that, for the big games, the people are going to be there," he adds. "It is going to be packed. When Georgia plays Auburn, that's not going to be an issue. It's for the games that are a tier down or two tiers down, people just aren't going to pay the price."
Nichols, USC's marketing chief, generally agrees that games against high-end opponents continue to be a big draw, and justify the higher cost of tickets.
But he also acknowledges that lower tier games can be challenging to sell to fans who might be tempted to skip the traffic and the heat and check it out on TV, saving their time and money for one of the bigger contests.
"The Alabama football game, sitting lower level, the price that we put on it is a high dollar, but it is a value based on what the market tells us," Nichols says. "But a non-conference noon game? It's hard to find the right price."
As of Aug. 29, there were tickets available on the online secondary market for the Charleston Southern game for as low as $10, less than the cost of an evening movie ticket in Columbia.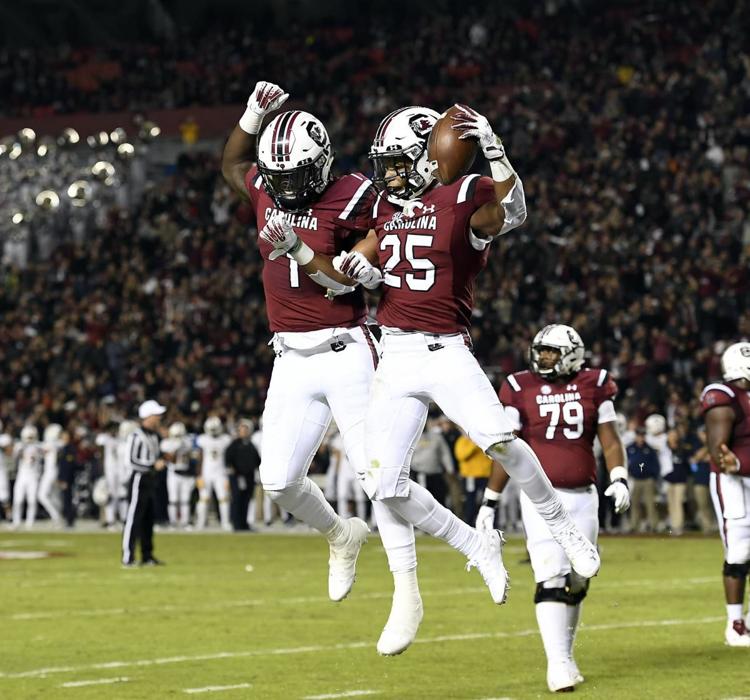 A Family Affair
Of course, there are still plenty of longtime Gamecock fans who are going to be in the stands every time USC tees it up at Williams-Brice, regardless of opponent or price or what's on TV.
Columbia attorney Kerry Murphy has been attending South Carolina games for 45 seasons. His first games were when he was two years old, sitting between his grandparents in section 305 of the west upper deck.
More than four decades since those early years, Murphy still sits in section 305. Through the years more folks have joined Murphy's gameday crew, and now 14 members of his direct or extended family have season tickets and sit together in a block of seats in that section.
"We've got [the seats] stacked, instead of being all stretched out, so we can all turn around and visit and see each other," Murphy tells Free Times. "That part of it is really cool."
Murphy says he plans to be at most if not all USC home games again in 2019, even that noon game against Charleston Southern that will likely feel like it's being played on the surface of the sun.
But he understands why some have increasingly chosen to stay home.
"Refreshments whenever you'd like them," Murphy says, referring to watching a game at the house. "No line for the bathroom. Temperature controlled. You don't have the heat, the parking, the traffic. So, there has to be some kind of special draw to get you to leave all the things you have at home to go and have an experience. The gameday experience at home is much better than it used to be."
Murphy applauds USC for upgrades to its game day presentation in recent years, including the large jumbotron screen above the north end zone. The massive screen shows replays, hype videos, advertisements, out of town scores and even, at times, action from other games happening across the country.
Still, the attorney and longtime season ticket holder says there's some work to do.
"Better Wi-Fi would be something that I would love to see," Murphy says. "It would be great to be able to sit in there and really stream another game. It would be like when you are at home and can watch multiple games. But I have trouble getting texts to go out in there.
"It would also be nice if you could leave and go get a soda and go to the bathroom and not miss a whole quarter. That would be good. But as it is, the lines are outrageous. They are worse than they used to be, and I don't know why."
The university is working on the concessions part. There will be eight new Grab and Go self-service concessions stations dispersed throughout Williams-Brice this year, and the school is trying a pilot program where fans can order food in advance through the Gamecocks Game Day smartphone app and pick up orders from select locations.
USC doesn't have a stadium-wide Wi-Fi network. Having Wi-Fi is a trend that has become increasingly common in sports, allowing fans to use their phones for social media and other apps without having to tap into their costly, precious digital data from their cellphone service providers — or competing against tens of thousands of other users for a cell signal.
John Katz is the president of the Columbia Fireflies minor league baseball team. The squad's home field, the $37 million Segra Park, is equipped with free Wi-Fi for fans. He says, when the team was building the stadium, which opened in 2016, it knew that Wi-Fi was going to be a must.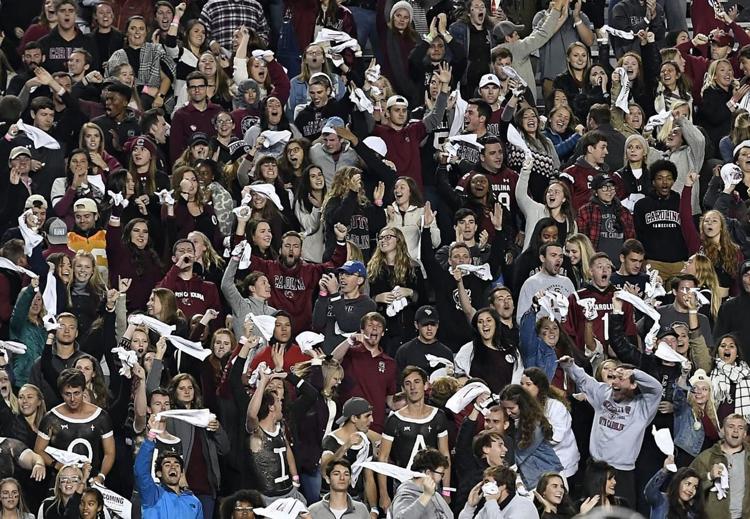 "For us it's because people like to stay connected," Katz tells Free Times. "One of the things that is popular with our fans is staying connected on social media, watching videos or tweeting out experiences to people. … We want fans to be able to have access to do that when they want."
To be sure, though, the dynamics and logistics of putting on a minor league baseball game in front of 5,000 fans and hosting a college football game in front of nearly 80,000 is quite different.
Nichols says USC keeps tabs on the importance fans put on the possibility of stadium-wide Wi-Fi. He says that hasn't reached critical mass yet.
"We track that," the senior associate AD says. "Every single data point that we have indicates that it is getting more significant. But it's still very, very insignificant across the greater fanbase. Now, of course students put a higher priority on it than others. If Eric Nichols were to prioritize, I would say [increased] restrooms and concession stands would be much more of a focus [than wi-fi], if we could. Now, those are money problems and space problems. We don't have anywhere to put them."
Nichols has kept his eye on the concessions program at Atlanta's flashy Mercedes-Benz Stadium, where the NFL's Falcons play. Two years ago that stadium cut its food prices by 50 percent. Subsequently, it saw its per fan spending rise by 16 percent. Essentially, the stadium offered its food for a cheaper price, so people bought more of it.
Nichols says South Carolina isn't ready for that type of concessions program just yet.
"A lot of people are using the Mercedes-Benz Stadium concession experience as a bell cow, and it is," he notes. "I've been to a couple games there and have had a fantastic time. But one thing to remember is that they have about three times as many points of sale there as old college football stadiums do.
"Now, we have the charm of a [nearly] 100-year-old stadium, so that's cool. But it would be nice to have twice as many opportunities to buy a hot dog," Nichols adds. "If we had cheaper prices, our already long concession lines are going to double. [The Atlanta stadium] has proven that, when you have the capacity to sell more volume, you will make more. But if you can't get them through the lines, it's a chokepoint."
USC also decided against selling beer or wine at Williams-Brice this season. That decision came in July, after the SEC said it would allow schools to sell beer and wine in athletic venues, a practice that had long been outlawed. Some schools, like LSU, decided to go ahead and sell beer this year.
Nichols says South Carolina will analyze the effects of alcohol sales at other SEC football stadiums before making a decision about selling it at Williams-Brice.
"There's no question there is a segment of the market that wants to enjoy a beer when they go to a game," he says. "But there also is a segment that doesn't want to sit next to the obnoxious drunk that's at the game."
Nichols acknowledges that TV and the home-viewing experience is one of the leading factors affecting attendance in college football. He also points out that it's a double-edged sword, as TV contracts bring in millions for USC and other SEC schools.
"I can't control the TV part," he says. "It is what it is and we're very fortunate to have the revenues that TV provides. However, my job in my office is to overcome the hurdles that it creates. That has proven difficult lately. We'll figure it out. When I say 'we' I mean South Carolina, the market, the industry, because college football is special, especially in the Southeastern Conference."
It is that "special" atmosphere that the school's marketing department looks to bottle and sell. The idea of being there for the big moments that will be remembered for generations to come.
"We are trying to make memories," Nichols insists. "You don't see memories. You feel memories. To know what it felt like when Ace Sanders ran that punt back. Or to know what it felt like when we beat Alabama [in 2010]. There's a lot of people who saw it on TV, and I'm sure they had a great experience, too. But to say you were there means something. Not only does it mean something to the individual, it means something to the players on the field when they have a full house to help them win."
Meanwhile, there will still be some fans like Murphy, the local attorney. Folks who will return to the corner of Bluff Road and George Rogers Boulevard seven times this fall, traffic and heat and TV be damned. They'll sit shoulder to shoulder with loved ones and wait in line for an overpriced Coke and get sunburns and scream their throats hoarse during "2001" and hope that this might finally be the year.
"That's why I go," Murphy says. "That's what we do.
"It's family."
Let us know what you think: Email editor@free-times.com.