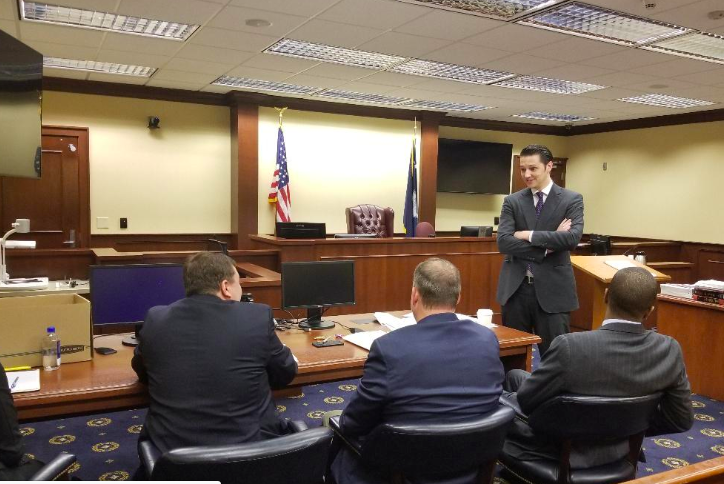 Columbia's police chief and officials from the University of South Carolina testified in court Wednesday morning as part of an ongoing effort to shut down landmark Five Points bar Group Therapy.
Columbia Police Chief Skip Holbrook and USC Dean of Students Marc Shook were among those called to testify during the second day of an administrative law hearing before Judge Shirley Robinson. Several factions — law enforcement, the university, state Sen. Dick Harpootlian's law firm, the state Department of Revenue and a number of residents from neighborhoods near Five Points — have come together to protest Group Therapy's licenses and permits to sell alcohol.
Wednesday's proceedings brought an end to the two-day hearing. Robinson did not issue a ruling from the bench, and said she hoped o issue a ruling in the matter in the next 30 days.
Group Therapy has operated on Greene Street in Five Points since 1978, and has been a hangout for USC students and alums for generations. The bar — which inspired the name of Hootie & the Blowfish's national tour in 2019 — has, since 2016, been owned by USC football great Steve Taneyhill. The former quarterback has been in the courtroom for each of the first two days of the hearing.
Holbrook testified Wednesday that Group Therapy, particularly on Thursday, Friday and Saturday nights, has consistently been a drain on police resources. He cited a one-year period from July 2018 to June 2019 in which police responded to the bar — typically referred to simply as "Group" by locals — 38 times for incidents. Paperwork filed with the court shows that the incidents in question ranged from underage drinking to patrons with fake IDs to fights outside the bar and beyond.
"Group Therapy is one of a number of establishments that causes a high volume of calls for service to occur. It requires significant police resources and response," Holbrook testified.
While the chief noted his department continues to pour resources into and develop partnerships for policing the longstanding Five Points nightlife district — overall crime is down there, he testified — he still told the judge that a number of factors make the party hub difficult to deal with.
"Yes, Five Points has been here for years and been a part of the fabric of this city," Holbrook says. "But, we have also seen tremendous change in the types of crime we deal with today. We have seen the university grow significantly. Five Points is surrounded by about 2,500 rental properties.
"The Five Points today with these other influences and circumstances, is not what Five Points was 10, 15, 20, 30 years ago. It's different."
Enrollment on USC's Columbia campus has grown by 24 percent in the last decade, up by about 7,000 students. Throughout that time of growth, Five Points has remained the go-to late night hangout for students.
Attorney Bakari Sellers, representing Taneyhill in the court hearing, pointed out Wednesday that in the protest paperwork the Columbia Police Department filed against Group Therapy — a form, submitted by Holbrook, that details the police department's various calls to Group for incidents — there was one question that caught his eye. That question asked whether Group Therapy "has a reputation for peace and good order in the community." The police department's answer to that question on the protest form was "yes."
Holbrook told Sellers the reason the department answered "yes" to the question about "peace and good order" was because of the bar's responsiveness to police.
"That response is directly related to, any time there is an issue, [police] commanders will address that with the establishment and they would indicate their willingness to take steps to address the problem and mitigate certain things going on," Holbrook said.
Harpootlian, USC and the police have been successful — directly or indirectly — in closing four college bars in Five Points in the last couple years. Some have lost their liquor licenses in court battles, while others have chosen to close when a legal fight seemed inevitable.
Shook, meanwhile, testified that university officials met with law enforcement in December, and the possibility of the school protesting Group Therapy's alcohol licenses was discussed. He testified that USC took note of the number of police department calls to the bar, and says the school sees the bar as a "threat to student safety." 
Shook intimated that Group Therapy is contributing to an alcohol-fueled party culture in Five Points, one that often caters to a crowd under the age of 21.
"They are drinking in Five Points because there are a number of bad actors who are willing to take profit for minuscule ID procedures, [with] abundant drink specials," Shook said. "Our students know they can get in with crappy IDs and take a $10 bill down [to Five Points] and get substantive amounts of alcohol."
When Sellers questioned Shook, he seized on the fact that, at the very same time USC is looking to shut down Group Therapy, the school is now also selling beer and wine at its athletic events. That came after a December vote from the school's board of trustees.
"So, now at the University of South Carolina, you actually sell beer in the arena for people to drink and chug, and then let them out onto the street [afterwards]," Sellers said. 
The attorney went on to say that the university "wants to make a million dollars a year" on alcohol at ballgames, calling it a "profit motive" for the school.
Shook noted that USC only sells beer and wine to people over 21 at ballgames.
Following Wednesday's portion of the hearing, Department of Revenue litigation attorney Patrick McCabe spoke with reporters.
Revenue argued in the hearing that Group Therapy is not suitable for a liquor license or a beer and wine permit, having claimed before the hearing that the bar was "in violation of permitting a criminal act on the premises."
Specifically, Revenue notes that, in September, South Carolina Law Enforcement Division agents went to Group Therapy for an alcohol inspection.
An agent reportedly smelled marijuana and went to a door in the business marked "employees only." When she got inside the door, the agent reportedly encountered four people, one of whom allegedly had some marijuana in a backpack. The man who allegedly had the drugs was charged with possession of marijuana — he's going through pre-trial intervention on that charge — and the bar was issued an administrative citation.
"The Department's standpoint was the point that the marijuana was occurring on the premises," he told reporters. "That, in itself, was indicative of some concerns about the suitability [of Group Therapy in Five Points]."
Chris Kenney, an attorney from Harpootlian's law firm who handled the two-day administrative law hearing, urged Robinson Wednesday not to be swayed by Taneyhill's renown in the community or the folklore of Group Therapy as a Five Points favorite. Instead, he asked Robinson to consider the public safety implications of Group Therapy, which Kenney has insisted is a key contributor to what he sees as raucous and disorderly behavior in Five Points, especially on weekend nights.
"[Taneyhill] is a very nice guy," Kenney said. "He seems like he'd be a great guy to go have a beer with. ... This case, however, is not about whether Steve Taneyhill is a good guy or a bad guy. It's not about whether certain people in the community or even the city have a sense of nostalgia for one specific establishment." 
Following Wednesday's hearing, Taneyhill had an expression of relief on his face when he was approached by Free Times. Though Robinson has yet to issue her decision, the former USC quarterback was glad to be free of the court proceedings.
"It was a long two days in a sport coat; I'm not used to that," joked Taneyhill, who famously wore his hair in a long, flowing mullet during his playing days. "We'll see [about the eventual outcome of the case]. We feel like Group has been there a long time, and we hope to continue to be there. We are a good part of the community. If we have to make some adjustments, I'm willing to. No one's perfect."
Taneyhill noted he was elected to the Five Points Association board, and said that shows he is "wants to be a part of the community."