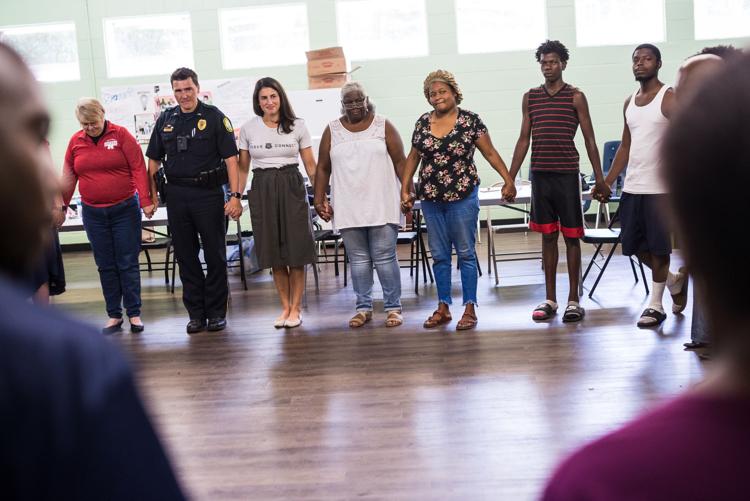 She still has the shoulders. They are the shoulders of a swimmer.
A decade ago, Kassy Alia Ray was on the swimming team at the University of South Carolina, and those shoulders helped power her through the waters of the Southeastern Conference. They helped her stay afloat and rocket from one end of the pool to the other.
As it turns out, they've been good for more than competitive swimming. In the last four years, Alia Ray has had unthinkable grief foisted upon those shoulders, pain she he has managed not only to carry, but to internalize and transform into progress she hopes will change a community.
The 32-year-old is the founder of Serve & Connect, a Columbia-based nonprofit organization that works to foster relationships between law enforcement and the communities they serve.
"Our mission is to ignite positive change through police and community partnerships," Alia Ray says during a recent interview at Serve & Connect's office on Laurel Street. "And it really is that. You can think of us as that igniter, that instigator, that facilitator creative hub that tries to find creative opportunities to bring together police, community organizations and residents working as one."
The nonprofit looks to engage the community in a number of ways, from providing boxes of non-perishable food for police officers to give to people in need to collecting coats, hats and scarves for police to distribute to citizens in the winter months. One of Serve & Connect's more visible programs has been the North Columbia Youth Empowerment Initiative, through which the nonprofit, local law enforcement, community groups, church leaders and others work to build trust between the police and youth (and older citizens) in mostly black North Columbia.
Serve & Connect works to build bridges between the community and the police, doing so at a time when the black community's trust of law enforcement nationwide is constantly tested by widely reported instances of police violence against unarmed citizens. Such feelings are very real in South Carolina, spurred by instances like the shooting of Columbia motorist Levar Jones by a state highway patrolman in 2014, and the fatal shooting of Walter Scott, an African American, by a white North Charleston police officer in 2015.
Alia Ray has spent the last four years working to mend the fraught relationship between local communities and the police, seeking to replace division with connection. Along the way, she came to realize the importance of meeting both sides halfway.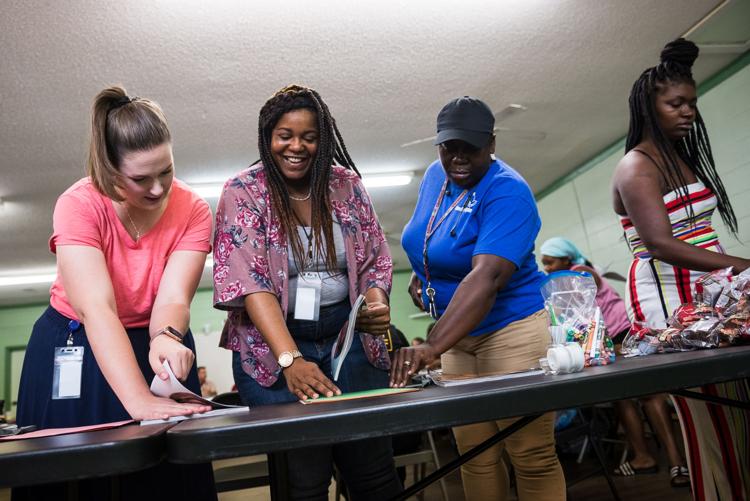 Born Out of Tragedy
The idea that would become Serve & Connect was born, in large part, out of Alia Ray's own personal tragedy, one that played out on the morning of Sept. 30, 2015.
On that morning, Forest Acres Police Officer Greg Alia, Kassy's husband at the time, was among officers who responded to a call about a suspicious person at Richland Mall on Forest Drive. The officers encountered a homeless man, then-36-year-old Jarvis Hall, outside the mall. Hall soon ran inside the mall, with officers giving chase. Hall eventually shot Greg Alia in the head, killing him. Hall was taken into custody moments later.
Greg and Kassy had been married for about four years. Their son, Sal, was just six months old at the time of the incident. Hall, meanwhile, would be sentenced in 2017 to life in prison without the possibility of parole. Department of Corrections records show he is incarcerated at Broad River Correctional Institute in Columbia.
Kassy recalls the pain in the days following Greg's death. The Maryland native, who has her masters in clinical community psychology from USC, says that processing that pain, and finding a way to harness it and use it to propel herself forward, was a struggle.
"It was incredibly hard," she recalls, as sunlight cascades through a second story window of the Laurel Street office. "There would be days when I would repeat over and over to myself, 'I will not break.' I'd sit down in front of my computer and I'd try to write one word and I would just cry. And I'd be like, 'Well, today I'm crying.' I think that's part of the heartbreak. That can be so hard for us to swallow. Part of it is letting it soak in. You've just got to feel that pain, 100 percent, then take a deep breath and take the next step forward."
She's taken more than a step forward. In the years since Greg's death she's started — and then later rebranded — a nonprofit; remarried (she wed sportswear sales executive Mitch Ray in 2018); carried her message of building bridges between the cops and community to the national stage, even appearing on NBC's The Today Show; and made serious connections in black neighborhoods in Columbia where trust of the police has often been low.
Her work has garnered the attention of third-term Columbia Mayor Steve Benjamin.
"Kassy is a badass," Benjamin tells Free Times. "She is doing incredible work. It's a deep dive that is data-led, but heart-driven. It's a form of leadership that is rare. I have seen her, literally, in some of the toughest corners of the city and I've seen her on the national stage. She is a unique talent."
But while Serve & Connect is working to continue momentum in North Columbia — the nonprofit hosted a fun day in July in Lorick Park that drew more than 600 people and regularly hosts community meetings in low income apartment complexes that draw 50 to 100 residents — it is progress that didn't come without a significant pivot from Alia Ray.
"I Did a Lot of Listening"
It started with a late-night Facebook post.
Just hours after Greg Alia was killed in the line of duty in 2015, Kassy turned to the social media platform in an attempt to highlight good works police officers often do in the community.
"So, at 3 in the morning the night he was killed I shared a Facebook post asking for two things," Alia Ray says. "One, that people share stories about Greg so that Sal, who turned 6 months old that day, could learn about the man his father was. And two, I said that Greg was a hero and many other cops were, too, and I proposed using the hashtag #HeroesInBlue as a way to raise awareness of those positive stories that so often go untold.
"Heroes In Blue was nothing more than a hashtag at that point, this gut reaction that happened the night after he was killed."
But Heroes In Blue soon grew beyond a social media hashtag. The concept of raising the public's awareness of positive interactions between police and citizens became a driving force for Alia Ray.
"More and more I was focused on that Heroes In Blue concept," she says. "How do we raise awareness for the good stories that so often go untold, the stories of police helping out? Those compassionate acts of service. Partnerships between police and community. It was, 'How can we rally more support for police?'"
What once was a hashtag blossomed into a movement, and Heroes In Blue became a nonprofit organization. But as time went along, Alia Ray says she found herself in a "long, deep process of learning."
"Supporting police really matters," she says. "But, I knew that it was only one piece of the puzzle. That if we really wanted to change this relationship and dynamic, and really get at the root cause, that it had to go beyond that. And I really needed to more deeply understand why people distrust police in the first place."
The need to reach that deeper understanding was highlighted, Alia Ray says, by an interaction she had with some citizens in July 2016. She had been invited to speak at the Capital City Club at a panel on race relations. She says she thought her presence on the panel might help begin to "break down some barriers."
But not everyone at the discussion was happy with her pro-police message, particularly one black couple in attendance.
"I think I represented a lot of pain to them," Alia Ray says. "They were angry with me. It was so bad that afterwards people rushed up to me and said, 'I can't believe they treated you that way.' The panel staff even tried to escort me through a private hallway so I could avoid them. But, I was heartbroken because I had started the panel by calling out my acknowledgement of my privilege, and I thought I came at things from a very human perspective. So I was distraught and wondered what I had done wrong."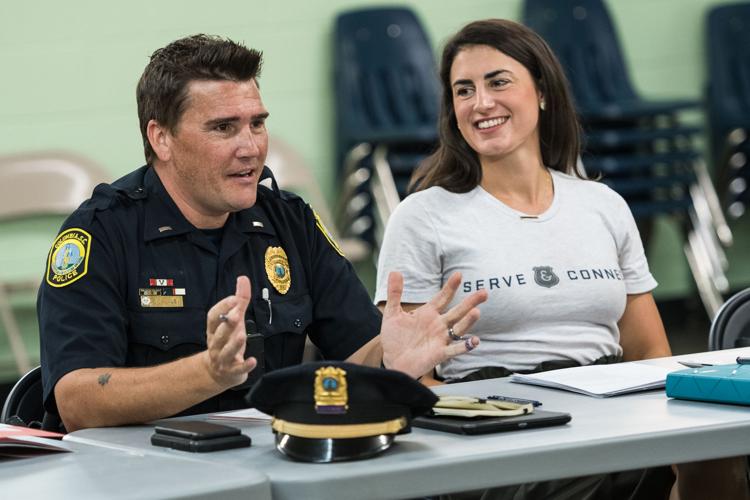 She did not take that private hallway out of the venue after the panel discussion. Instead, she sought out the couple and engaged them in conversation. It was a talk that ended up lasting more than an hour and a half.
"I did a lot of listening during that period and heard their pain and their perspective," Alia Ray notes. "I realized at that moment that I had so much more to learn about why people distrust police, and where this pain is coming from. … It really kickstarted a whole process of learning. I'm still learning. I hope I always continue to learn about the experiences of people, including the dark history that our community has when it comes to race and class."
That interaction was one of the seeds that would lead to the eventual transition from Heroes In Blue to Serve & Connect. It was a shift away from being an organization that was heavily tilted toward lionizing the work of police officers to one that sought to better understand the divide between law enforcement and local citizens, particularly those in the black community.
Perhaps more than anything, it was a pivot toward being an entity that seeks to rebuild a trust that has become tenuous in the modern era, when videos of police officers shooting unarmed black men have understandably stoked the fears of many African Americans.
Lt. Robert Calby patrols North Columbia for the Columbia Police Department. The veteran officer also is a part of Serve & Connect, and frequently attends community meetings and other special events hosted by the agency. He says the refocus of Alia Ray's nonprofit — it officially rebranded as Serve & Connect in May 2018 — was the right move.
"Managing the pivot was critical," Calby tells Free Times. "Kassy recognizes that words mean something. A brand such as Heroes In Blue, as wonderful as the intention behind it was, was leaning toward one side, and that's not the intent of the organization. The intent is to stand in the gap between the community and law enforcement. It's literally to not only serve, but connect the community. I think the rebranding was absolutely appropriate."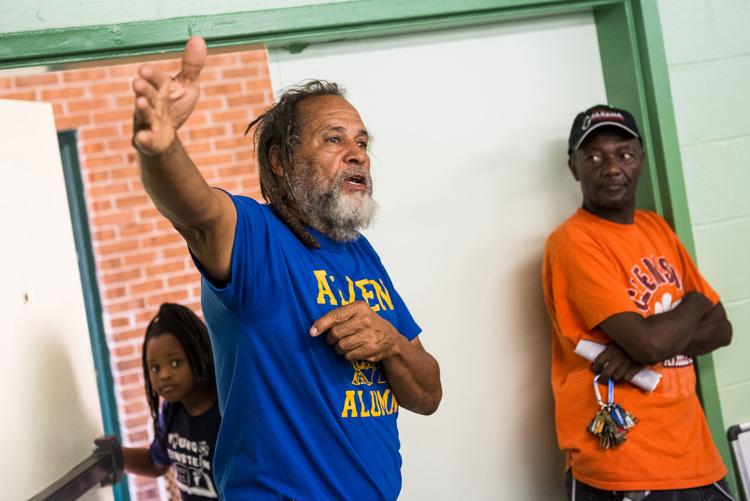 Building Trust
It's an unseasonably hot September day, but temperatures are cool inside the community room at North Pointe Estates, the aging apartment complex off Lester Drive in North Columbia, near the James Clyburn walking bridge that spans SC-277.
Residents of the apartment complex — almost exclusively African American and Hispanic — steadily trickle into the room where the walls are painted lime green and a stack of T-shirts marking Jill Stein's unsuccessful 2016 presidential campaign sit piled in a corner. Mothers with young children arrive and take a seat on folding chairs placed around a group of tables that are arranged in a square. Older men and women soon show up, grabbing muffins and orange juice from the kitchen area and poring over the agenda for that day's gathering. A number of teenage boys come in, hanging back at the edges of the room, chuckling as they quietly crack jokes with one another.
Eventually more than 50 neighborhood residents pile into the room, where they are joined by Alia Ray and representatives from a host of local agencies, including the Columbia Police Department, Richland County Sheriff's Department, Department of Juvenile Justice, Richland County's community services division and Habitat for Humanity, among others.
They are there for one of Serve & Connect's community conversations as part of the North Columbia Youth Empowerment Initiative. It's one of a number of conversations the nonprofit has hosted as it attempts to build relationships — and, it hopes, increase public safety — in North Columbia.
Alia Ray quarterbacks the session, which includes team-building exercises, poetry recitals and plans for a group project. North Pointe residents are planning a community food pantry, one they hope to launch by the end of the year. At intervals, Alia Ray stops and asks those in attendance if they are comfortable with various plans or avenues of discussion. "Thumbs up, thumbs middle or thumbs down?" she often asks the group, looking to get an idea of the sensitivity or general acceptance of a given topic. (She even asks the residents whether or not they are cool with having a Free Times reporter and photographer in the room. We got a thumbs up.)
Charlette Hancock-Brown works for a property management company that handles a number of apartment complexes in North Columbia. She also is one of Alia Ray's go-to leaders for the North Columbia initiative.
Hancock-Brown says she's seen a lot of well-meaning groups come and go in North Columbia through the years. She's pleased to see Alia Ray's commitment to that section of the city.
"We are all one," Hancock-Brown says. "The trust has to be built from within. The residents here know that people have come in and promised so many things. They say they are going to do certain things, and they leave. We don't allow that. … When people come into our community, I say, 'Let's sit down and talk about what it is you bring to this community.' I have to be able to trust before I can go back and ask [residents] to trust.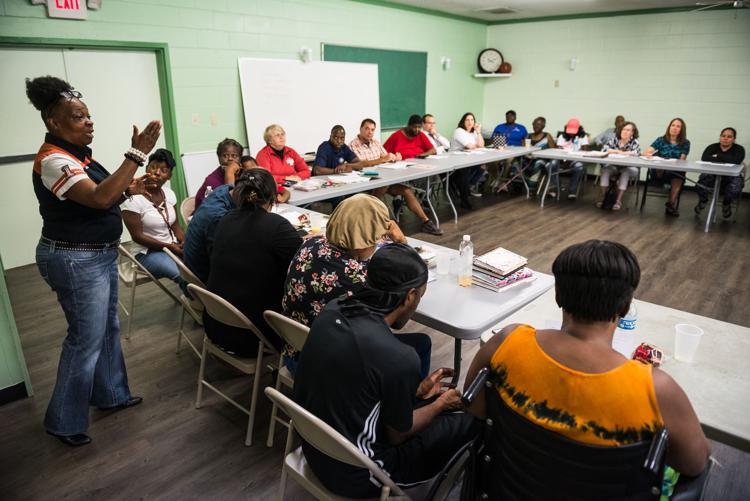 Hancock-Brown says it was Alia Ray who was insistent that the Serve & Connect conversations about the North Columbia youth initiative take place within the North Pointe apartment complex, right in the heart of one of Columbia's poorest black communities.
"She wanted to hear from the community," Hancock-Brown says. "That's what I love about Kassy. She's so passionate about wanting to know what [residents] want in this community. … She said, 'You know what? Can we meet at North Pointe?' So, that way we hit the residents where they are."
Through the course of the recent meeting, residents opened up about their hopes and desires for the community. Some talked about a seeming uptick in officers getting out of their cars to talk with neighborhood residents and interact with kids. Some expressed fears about gangs, particularly the sway they can have in recruiting young people.
North Pointe resident Eli Ramos talked about the importance of men having a positive influence on children in the community, to serve as a counterbalance against the pull of gangs and other troublesome influences.
"The presence of a man, or a male role model, can mean so much for these kids out here," Ramos says. "We're trying to combat the negative with a positive influence."
Alia Ray says that such free-flowing conversation — with dozens of neighborhood residents sitting in a room with police officers — didn't come easy at first. But during the course of the last year, as the meetings have grown from a handful of people to anywhere from 50 to 100, she's seen people start to open up.
"It's hard for community residents and police, when you are in a very high-crime, high-stakes environment, in the national context we have right now, to feel safe and walk outside and talk to one another," she says. "It can be really scary. But I think we are starting to break down some of those barriers and create new opportunities, where people do feel safe and are even hugging each other and calling each other and being friends."
Benjamin says he sees Alia Ray's efforts as being "complementary" to work being done by law enforcement. Police can learn much from the community, the mayor reasons, and Alia Ray is providing a vessel through which relationships can be fostered.
"If you are going to be a good public servant, if you are going to be a good mayor or you are going to be a good police officer, you have to be constantly self-critical, and try to find ways that you can make sure you are getting the results you want," Benjamin says. "That starts with having the transparency, accountability and emotional intelligence to make sure you are connecting with citizens. The role that Kassy and her organization has been playing to help connect those dots have been downright critical."
Clearly, many people take inspiration from Alia Ray's efforts in the years that have followed Greg's death. But the Serve & Connect leader doesn't see herself as being particularly special.
"I'm just a regular person," she tells Free Times when asked about the responsibility she feels for her city and its communities. "I'm a woman who, at 28, lost her husband. There are a lot of women who have gone through that. A lot of people who have experienced grief and loss. … I don't know if it's a responsibility. It's an honor and a chance. I try to be as real as I can with who I am. Sometimes I mess up — a lot of times I mess up — and sometimes we move forward together.
"We're all just human."
Let us know what you think: Email editor@free-times.com.