The boys of summer are back at it.
Columbia loves baseball, at the college and minor league level. And there are plenty of opportunities — in Columbia and Lexington — during the summer months for local residents to head to the ballpark and bask in America's pastime.
You can check out the Columbia Fireflies, a Class A affiliate of the New York Mets, whose season got underway in early April and will continue until early September. Or you could head across the river and watch the Lexington County Blowfish, a woodbat summer collegiate squad that starts playing at the end of May and goes through early August.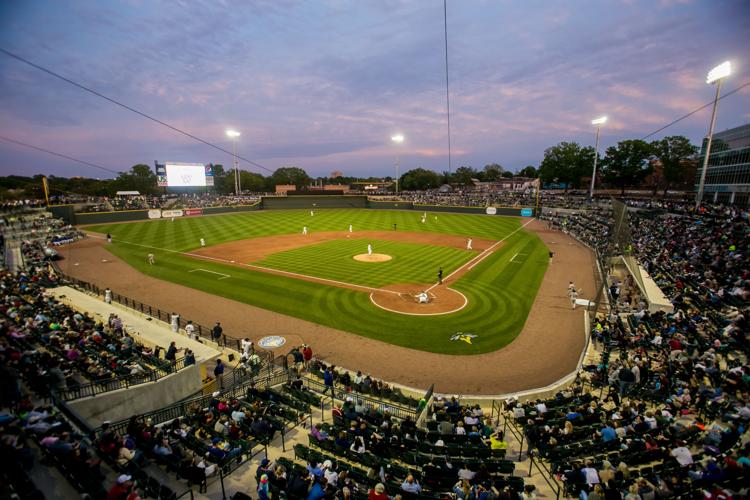 Columbia Fireflies
The Fireflies are in the midst of their fourth season at Segra Park (formerly known as Spirit Communications Park), the $37 million, city-owned stadium located in the BullStreet development. While BullStreet is still very much a work in progress — ballgame attendees in 2019 will likely notice more construction than in years past — the Fireflies have established themselves as the lead tenant at the property. For some, attending a minor league game is an opportunity to see future Major League stars before they hit it big. For instance, as Free Times was going to press, Ronny Mauricio, an 18-year-old sensation from the Dominican Republic and a top prospect in the Mets' organization, was starting at shortstop for the Fireflies. But for many, attending a minor league game is simply an opportunity to partake in food, beer, promotions and a night out with friends and family.
David Wright Bobblehead Night
May 24, 7:05 p.m. — vs. Greenville. This one's actually billed as David Wright Capital City Bombers Bobblehead Night, with the first 1,500 fans getting a bobblehead doll of the retired New York Mets slugger. Wright, who made seven All-Star games while playing for the Mets, played a single season in Columbia (2002) at old Capital City Stadium. Now he gets his own Columbia themed bobblehead. It will look nice on the shelf next to that Tim Tebow bobblehead from a couple season ago.
Tyler's Amazing Balancing Act
June 1, 6:05 p.m. — vs. Augusta. According to the Fireflies' website, this will be a chance for fans to "come watch Tyler balance wheelbarrows, ladders and more … on his face!" Ah yes, I can hear it now: A father calling down the hall to his children on a warm summer night, "Hey, kids, come on and let's load up the SUV and head downtown. A guy's going to balance a wheelbarrow on his face!" I checked YouTube. He really does balance a wheelbarrow on his face, and it's as glorious as you're hoping it will be.
Marvel Superhero Night
July 26, 7:05 p.m. — vs. Hagerstown. The first 1,000 fans will get a Marvel superhero bobblehead. I'm sincerely hoping it's a likeness Spider-Man's buddy, Ned. But I'm guessing it will be someone a little more powerful than that. I might wear my Chonk Thor costume to this one. And by that I mean it will just be me, a chonk, in an ill-fitting, hastily assembled Thor costume.
Lexington County Blowfish
It's hard to believe the Blowfish have been playing in Lexington for half a decade, but here we are. The team is set to begin its fifth season at cozy Lexington County Baseball Stadium, a 3,000-seat venue on Ball Park Road. The Blowfish play in the Coastal Plain League, where teams field rosters stacked with college players from across the country. Lexington County typically has a number of players from Palmetto State colleges on its roster, including some from the University of South Carolina. For instance, USC pitcher/infielder Josiah Sightler is among this year's Blowfish signees. Lexington County's first regular season home game is on May 30.
Toy Story Night
June 22, 7:05 p.m. — vs. Florence. This is a bit of good timing from the Blowfish, as it's the same weekend that Toy Story 4 hits movie theaters. It will be interesting to see how the balancing act of the Toy Story films — the whimsy of childhood mixed with the existential dread of letting go of the things we love — intermingles with, um, summer league baseball. But, hey, "To infinity and beyond!"
50th Anniversary of the Moon Landing
July 20, 7:05 p.m. — vs. Forest City. This game will remember the July 20, 1969 landing of Apollo 11 on the moon, when astronauts Neil Armstrong and Buzz Aldrin stepped into history. No word yet on whether the Blowfish will sell Tang at the concession stands that night, but there will certainly be plenty of cold beer. This game will be one small step for man, one giant leap for the 6-4-3 double play.
Woodstock Night
July 26, 7:05 p.m. — vs. Savannah. Here's another occasion for which the Blowfish are marking a 50th anniversary. The famed Woodstock music festival happened from Aug. 15-18, 1969. We're guessing many fans will choose to wear tie-dyed shirts and that the team will play music from the era during the evening. We'd advise against anyone dropping acid and passing out in the bleachers.