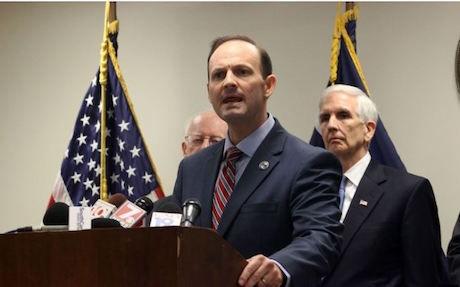 So, the entire electric utility complex in South Carolina is an ongoing criminal enterprise.
Who is the rich and/or influential jack donkey that has them set the speed limit on Kilbourne Rd to horse and buggy speeds?
Has anybody ever noticed that the Uber symbol looks like a big toilet seat in the window of those cars?
OK, I went back to Drake's and my chicken sandwich was fantastic. Best I've had there in months. Keep up the good work, Drake's! No more chewy chicken!
Salsarita's Fresh Cantina closed their Five Points location. Come on, man!
I live in South Congaree, and if you think I'm exaggerating about how lazy people are around here, drive by and look below everybody's mailboxes. The phone books are delivered in plastic bags and they sit there for years. How lazy is that?
Uh, the show Roseanne was cancelled. What took so long?
This is in reference to Free Times from May 23. Specifically to the person who called me a dumb pothead, because of the Declaration of Independence. That's why I put that in there. I am a 64-year-old man who never smokes pot. I knew that the stupidity would come out from others.
I just read in the latest Rant and Rave [May 23] that someone called out Alan Wilson for saying "attorneys general" instead of "attorney generals." Well, Alan was right. You can Google it, whoever you are.
Hey man, check your own ignorance. "Attorneys general" is absolutely the correct plural form of the term. Holla.
All you fat, tattooed (either/both may apply) folks: Spend more money to feed your starving kids, and a bit less on your own greedy self. Maybe food banks would be unnecessary!
Rave, rave, rave for the Duke and Duchess of Sussex, also known as Prince Harry and Meghan Markle.
Rant, rant, rant for the May 23 story "Dick's Last Resort: Harpootlian is Hell-Bent on Changing Five Points." Leave out that potty language and all that. That's not necessary.
This one goes out to all the businesses in Five Points: Dick Harpootlian before Harpootlian dicks you.
Dick Harpootlian is the guy who moves in near the airport, then complains about the noise.
Don't matter if you are Republicans or Democrats. You knew what SCE&G was doing. Don't lie. Don't say you didn't know. You knew they were going to do this. Y'all ought to be arrested. Hey, Dominion Energy, how many years are we going to end up paying for your commercials?
I want to know this: Why is it my fault that my snack machine makes you fat? You make you fat. You're a friggin' adult. You want a calorie count? Well why don't you buy a goddamned product and read the friggin' calorie count? By the way, I go by federal regulations. Not your little procedures.
The City of Columbia, Richland County and Lexington County: Y'all can kiss my ass.
You know, I see all these Soda Cap Connector buses riding around town completely empty. What's up with that? Seems like a waste of tax money. I don't know.
Are you exploiting the mentally ill?
Donald Trump is not the great white hope. He's the great white dope.
Let's look at it this way: The free nation of the United States is like our mother.
Question: What do you think of Clark Kent? Answer: He's really super, man.
In case you haven't discovered it: This is a game. We are the ones that are losing the game, just like the lottery.
Boy, y'all got me winded today, talking about Richland County. They are breaking federal and state laws.
When you go home, you have a microwave dinner.
Conservatives strive to educate their children, while liberals strive to indoctrinate theirs. That's one of the differences you can spot to tell one from the other.
Why does the DMV charge money for a driver's manual? I already pay taxes. I think it is illegal and I think they know it's illegal and immoral.
Enough is enough. Damn, the citizens in this f#!king state are getting f#!ked over by SCE&G and getting f#!ked over by Richland County f#!king Council with the tax dollars for the Renaissance project. What the f#!k, man?
[In reference to City Watch, May 30] To Kevin "Trump" Fisher: You are on a fool's mission.
A rave for Kevin Fisher, a very articulate insightful and wonderful columnist for Free Times. People should be reading his column. He gives numerous perspectives.
Kevin Fisher has so much right, but this rant of his about the South Carolina lottery's screwing up is wrong. (CityWatch, June 6) The tickets were misprinted and were clearly printed in error. Many ticket buyers noticed they were not right then bought many more hoping to cash in. The decision the lottery commission made was correct, but they took their sweet time about making it.
IHOP is changing to IHOB. International House of Boobies.
One recent weekend an out-of-town band played with three local bands at the Art Bar. There were 50 people sitting outside while the out-of-towners played for 20 people inside. This made our music scene look like a joke! Someone even said "they got my money, why do I have to be inside?" Anyone who thinks a band comes to our town for 'the money' is an idiot! They want to see your face. They want to play for a crowd. I'm so disappointed in my Soda City peeps.
While I breathe, I hope we can get the crooks out of the State House. Should we start by making the S.C. House and the S.C. Senate all female? Women don't seem to be as involved in self-aggrandizement and self-dealing as you guys. For starters, women aren't competing on penis size. That helps. A lot.
Yeah, I think I'd like to see Phil Swift, from the Flex Seal commercials, and the lady who does the Hamrick's commercial on TV have a love child. And wouldn't it be ironic if that child became a librarian?
Hey, Alan Wilson, maybe you should have some questions about the vending fund that the Commission for the Blind receives.
I love my nurse. She uses fruit wraps as bandages.
Do any of you f#!king dumbass South Carolina drivers know that the left lane is for the slow people and the goddamn … I mean the right lane. Excuse me.
Hi, the driver of an older model Crown Victoria in the St. Andrews area, plate, he is involved in possibly drug dealing and human trafficking.
I went with my friends to the Palmetto Pig restaurant. I went to get more food and took a dirty plate up there. I know I committed a violation, but I came up with a new food item that tasted pretty good: banana pudding over slaw.
My friend Will went to a diner and ordered lobster. Everybody knows you don't order lobster in a diner.
My best friends are Jim Beam and Jack Daniels.
Free Times, High Times, whatever you want to call it. May 30 issue. There's no horoscope in here. There's no adopt a pet in here. Where It's At is from two weeks ago. Tuesday, June 2? June 2 is a Saturday. Spotted a bunch of stuff. Y'all must have been stoned that day.
Where is my astrology section? I went through the paper like six times and nothing. I need to know what's happening in my life. It is always so on point.
Mother Nature is just as real as your benevolent "Father Sky Ghost." (Rant and Rave, June 6) When he has wicked farts is that hurricanes?
I am really excited about the Miss America pageant dropping the swimsuits. I may actually watch it now.