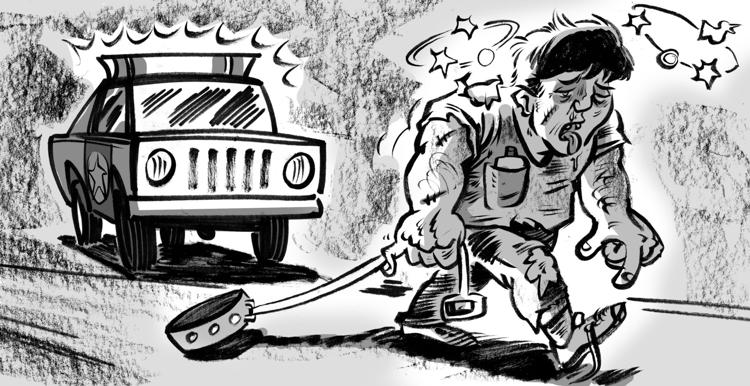 Blood & Coke: Authorities arrived to a home after a domestic call in North Columbia. A 35-year-old man was seen walking down the street with bloody clothes and a cut to the face. He refused to tell the cops how he got his injuries (because, first rule of Fight Club). When they checked his home, they found a dog in a cage without food or water not to mention a bottle of cocaine in his pocket. This entire incident sounds like the opening sequence to a Law & Order: SVU episode (not to be confused with Law & Order: SUV where it's basically Ice-T driving around locating Toyota 4Runners).
The Pole: Cops got a call to a home on Falling Springs Road after a 55-year-old man got into an argument with his 43-year-old girlfriend and it ended with her hitting him in the face with a metal pole causing minor injuries. Now there are apparently two types of poles you don't want associated with your woman.
Knockin' At My Door: Authorities arrived on Lakeside Drive after reports of gunfire. When they arrived a 42-year-old man admitted to lickin' a shot (that's cool people vernacular for "shot gun in the air") after an unknown person was rummaging at their front door.
Tip of the Week: If you're with your friends and you get robbed and punched, and they don't do anything, may need to find new homies. Cops got a call after a 59-year-old man had a rough night on Lady Street. The man was hanging with a group of friends when someone on the street asked for money. When the man pulled money out of his pocket to oblige, he was met by having $120 in cash stolen and being punched in the face three times before the thief fled. Word? Your friends didn't help? Also, shout out to the man just being a good dude giving cash to someone he thought was in need. Looks like in the future if you want to donate money to someone on the street we have to use their Venmo accounts instead.
Let us know what you think: Email editor@free-times.com.