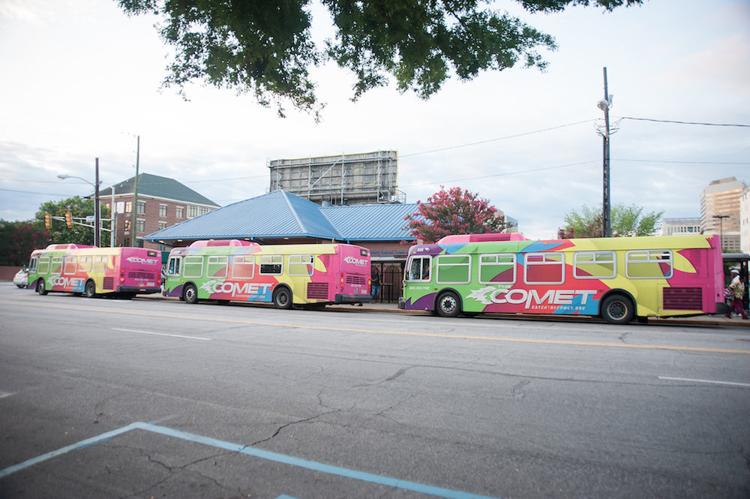 In reference to James Irwin's letter to the editor ("Sound Off: New COMET Bus Hub Will Be a Disaster," Dec. 20), apparently he has been misinformed regarding the transit hub at the Forest Drive Walmart. First of all, I question whether Mr. Irwin has actually ridden the route 15 bus. He stated that the Walmart stop is not used by most riders of that route. If Mr. Irwin had paid attention, he would have seen that the Walmart stop is the most used by riders on a daily basis. Perhaps, if he is riding that route, he might have been asleep when the bus stopped there.
Secondly, he said that the Walmart hub would be a "choke point". The schedules have been made that would allow for a smooth transition. If Mr. Irwin had bothered to come to the public hearing or other meetings of either the Comet or the Midlands Transit Riders Association, he would have seen how the system is going to work. Also, he stated that Percival Road riders would get "screwed". If he had come to any meetings, he would have heard about two new routes. One will go from the Forest Drive Walmart down Percival to Decker and then out past Columbia Mall on Parklane to Farrow Road. The other would go from Walmart down Percival out to Polo Road. The folks on Percival will have more service, not less.   
In addition, Mr. Irwin seems to think that it is no big deal for riders to have to cross Forest Drive to get to the inbound bus stop. Perhaps while he was sleeping, he did not notice that there is no traffic signal there, and pedestrians are at the mercy of drivers. When graduation takes place at Fort Jackson, it is nearly impossible to cross Forest Drive. One takes one life in his or her's own hands to get to that stop. And at night, it is even worse. The convenience of being able to get on a bus in a well-lit area is far better than risking a life. Wouldn't you agree, Mr. Irwin?
Thirdly, Mr. Irwin was concerned about riders having to pay two fares. The way things work now is that almost all riders use passes. They buy an all-day pass for $3 upon boarding a bus, which allows them to ride all day without having to pay more money. Or, they buy monthly passes at the transit station that allows them unlimited travels on routes for a month. Very few riders pay $1.50 for a one-way ride. Perhaps Mr. Irwin is unaware that a fair amount of people who ride the bus to work have to change buses anyway, because they do not work on the same bus line where they live.
I do not work for the Comet, but I have been in on the planning for these new routes as a concerned bus rider. Perhaps if Mr. Irwin was also concerned about how the Comet is handling these new routes, he would be interested in participating in the process rather than complaining about it. This new improvement in the Comet in the Northeast area of Richland County will be a boon to so many more people. People who want to get to work more easily; getting to stores to shop; and having more lifestyle choices. Give it a chance, and you will see how much better it will be for everyone.
Walter Durst
Columbia
Sometimes More Government Is Good
Like many of my fellow citizens I am just dog-tired of this mindless anti-government/anti-regulation attitude being peddled by conservatives and Republicans in a shameless vote-grubbing exercise ("What do SC congressmen think about net neutrality?" The State, Dec. 20). While reasonable people would agree that "excessive" government regulation is not desirable/acceptable, many times regulation is not only desirable but necessary, and I point out South Carolina's own all-too-recent SCANA-Santee Cooper nuclear fiasco as an example where far more oversight and regulation should have been in place! And let me also point out that if it weren't for the "evil [federal] guvm'nt," Jim Crow would still be alive and well, and my fellow white Southerners would still be hanging blacks from every other tree. And, ladies, if it weren't for the "evil [federal] guvm'nt" you'd still be second class citizens, barefoot and pregnant and in the kitchen. And, yes, there's much more to be done in race relations and gender equality, but progress has certainly been made since my childhood in the mid-1950s. 
Bill Schmidt
West Columbia