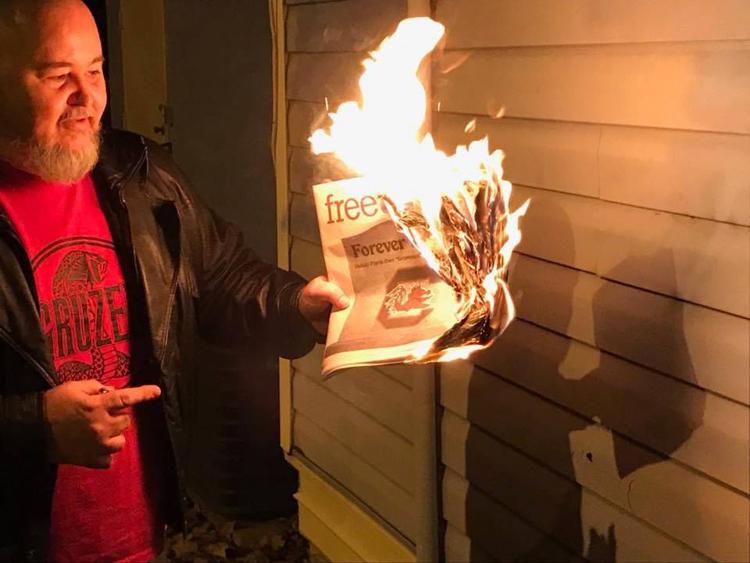 "I recently saw a picture of someone burning an issue of Free Times on Facebook in response to our music coverage. I think that's awesome."
I put forth this sentiment on social media last week, and I feel compelled to explain a little further. Two of the brief Sound Bite concert previews we ran in our Nov. 30 issue elicited the ire of several members of the local music scene.
One contained this description: "The band will be accompanied by local band Dr. Roundhouse, whose online bio states that the members cobble shoes, make custard pies and rock hard. If rocking hard means imitating standard rock tunes then yeah, perhaps — but let's hope they make sweeter custard pies."
The other blurb featured this sentence: "lowercase gods likewise specialize in a bygone style of hard rock, but one with too much angst to be much fun."
Several musicians and fans voiced their displeasure with these words on Facebook. One person recorded a 20-plus-minute video arguing that Free Times should focus more on supporting the local scene. A voice message railing against our music coverage was published on our Rant & Rave page last week. And yes, one person, Web Hulon, the lead singer of the Columbia hard rock band lowercase gods, posted a picture of himself holding a blazing copy of the paper.
But while I have clearly heard these complaints, I have no intention of changing the way we approach local music. Standout bands and artists exist here in Columbia and across South Carolina. Our music community is constantly creating vital, often powerful work, material that demands a strong critical perspective from anyone interested in covering it.
Our role at Free Times is not to blindly support local musicians but to consider and assess their work, honestly delivering our perspective for the benefit of the reader. We're excited to celebrate the triumphs of artists working in our area — as with our annual Best of South Carolina Music issue, which returns next week — but we are also upfront when our appraisals are less than positive.
And yes, we can be snarky — hey, we're an alt-weekly, that's pretty much our M.O. 
As some recent complaints have noted, some of our critics play in local bands themselves — a vital perspective to balance out those of us who aren't musicians. These writers are never put in the position of criticizing shows competing with their own.
Each of our writers brings a different outlook, often reaching different conclusions — the reason each Sound Bite, album review and feature is individually bylined. We don't write about an act if we haven't seen them play or listened to their recorded output.
We are critics, and we take that responsibility seriously. And by that token, we will write things that some people don't like.
Which is why I say again: Somebody burned an issue of Free Times in response to our music coverage. I think that's awesome.
If you disagree with our writers' evaluation of a particular band or album, voice that displeasure. Comment at free-times.com. Get at us on Facebook, Instagram (@columbiafreetimes) or Twitter (@FreeTimesSC) — or you can bring the yelling directly to me (my email address is jordanl@free-times.com; my Twitter handle is @JordanLawrence).
Ours is a tight-knit music scene, perhaps the most welcoming and supportive that I've ever been around. And I embrace and expect that Free Times' more pointed criticisms will inspire some strong reactions — debates that I hope bring more interest to local music.
Jordan Lawrence is Free Times' arts and entertainment editor. Want your turn? Email editor@free-times.com