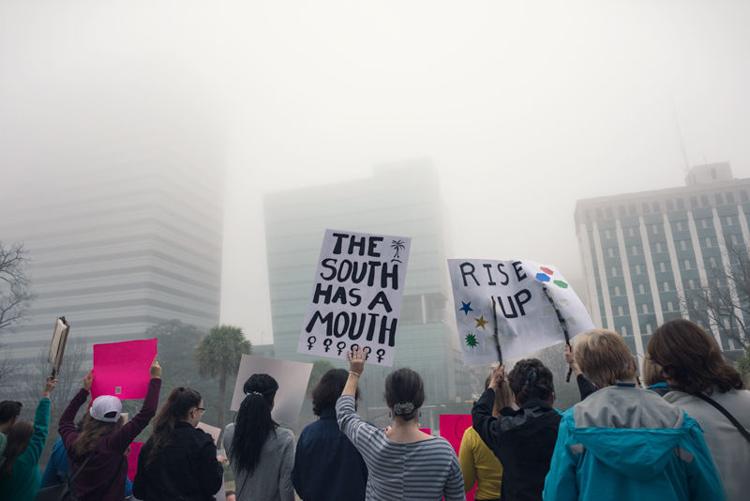 There aren't many people that I admire more than my father, Alfonso Jacobs Sr. He may read this with surprise, as growing up with him may have seemed like a scene from the movie Fences, but as I got older he would tell me that I would understand his rigid demeanor when raising a young African-American man in America.
My father told stories of picking cotton in the worst conditions for pennies to eating leftover food intended for hogs growing up on a farm in the Jim Crow South.
He followed these tales with, "You haven't seen struggle like this." It wasn't patronizing when he said it, but rather showed me that in times of struggle, despair is the last thing to think about.
When I got my New York Times update on my phone with the sentence "Donald Trump is elected 45th President of the United States," I felt nauseous.
But just when I was about to feel helpless, I thought about what my father told me and it dawned on me: It's time to react.
When 2017 began, I read everyone's encouraging Facebook posts, hoping for peaceful years for all their friends.
My approach was different. I used my Facebook status to tell people that my New Year's resolution was to argue more. Fight more. Disagree more.
If I see someone being denied of his or her rights, to be a voice for someone that doesn't look like me. To fight. To resist.
I have a Facebook friend who posted a meme that had a picture of the United States beside a picture of the president. The meme read, "If this is your country, then Donald Trump is your president. Get over it. Stop your bitchin!"
I thought it was the dumbest meme ever. How in the world, excuse me, how in the f#!k, would things change in this country with that logic? Slavery was law. Get over it. Jim Crow was law. Get over it. Women weren't allowed to vote. Get over it. Nothing in this country ever changed with those words "get over it."
As Angela Davis once said, "I am no longer accepting the things I cannot change. I am changing the things I cannot accept."
So, I asked myself, what can I do immediately that I feel are steps in that direction?
First, I looked at how our new president attacks the media and the press and felt that we must protect this important contribution to this country.
I subscribed to several publications that I trust and believed that they need our help. Those pubs included the Washington Post, New York Times and The Atlantic.
Second, I thought about a conversation I had with my friend about Rachel Dolezal, the white president of Spokane, Washington's NAACP chapter who pretended to be black. Black Twitter buried her with hilarious memes — but my friend noted, "We laugh at this woman, but how many of our friends are card-carrying NAACP members? This white woman we make fun of is more involved in our struggle than we are."
Now, I am a member of the local chapter of the NAACP.
Third, I got my NRA membership, something that gets an enthusiastic pat on the back from my white friends and a high pitched "Really?!" from my black friends. I believe in my Second Amendment rights, though I don't feel like the big, bad government is trying to come into my apartment to take my guns.
Finally, I adopted the principles of the Indivisible, a guide designed by former congressional staffers "for making Congress listen" against Trump's agenda. The guide gives instructions on everything from organizing protests to communicating with your congresspeople effectively.
Seeing the world respond with Women's Marches and seeing young people who never saw themselves as being politically active take responsibility for helping shape the country in a way that reflects their values is the remedy for the nausea I had on election night.
When we hear terms like "transition of power," I've realized it's not from one administration to another; rather it's an administration to us.
Fight the powers that be.
Preach Jacobs is a musician, artist and activist and founder of Cola-Con and indie label Sounds Familiar Records. You can hear his podcasts and read more work at FightThePower.co