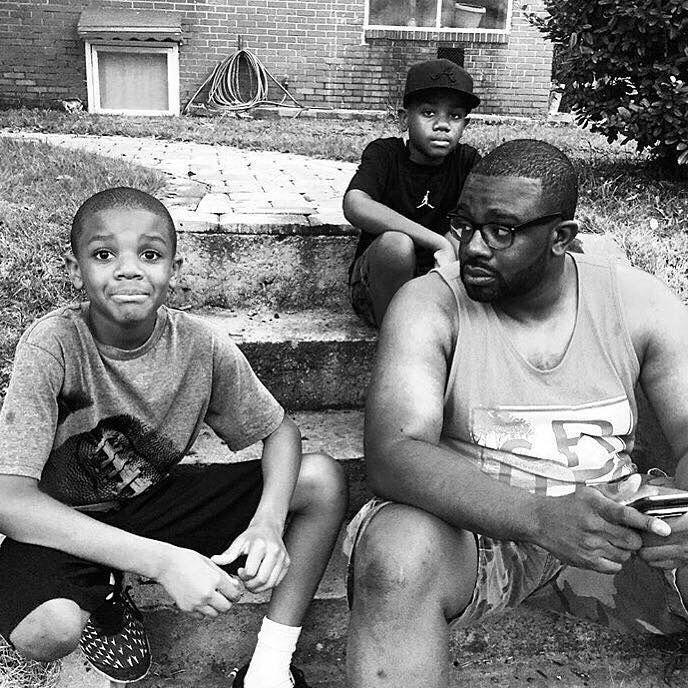 My father is LaVar Ball. Not literally, but in that he's a proud and outspoken black father. I believe that if I was a prospect in the 2017 NBA Draft, my father would resemble the elder Ball considerably.
The retired football player gets bad press for his personality. All of his sons play basketball, including Lonzo, who's expected to be a high NBA draft pick next month. LaVar Ball gets heat from people who think he's more into publicity for himself than helping his son get drafted. Fuel was added to the fire after he refused to hear any deals with big shoe companies like Nike, potentially costing his son millions of dollars; he instead decided to create his own shoe under the name 'Big Baller Brand'.
You may not agree with some of Ball's tactics, with his shoes boasting a price tag of $495 (and slides for a cool $220), or his claims that his son will be better than Jordan, but one thing is for sure: He has been vilified for something we should be celebrating.
It's a narrative that you don't hear that often with African-American male athletes: an active father.
In NFL royalty, the Manning name is as associated with the sport as Lombardi. When Archie Manning, father of Peyton and Eli, didn't like the team that Eli was projected to go to, Archie led an outcry to make sure his youngest son didn't end up with the Chargers. Two Super Bowl wins later, the public never gives Archie s#!t for looking out for his son. And for the record, I don't either.
We should salute the loud fathers of the world.
My parents have been married for over 40 years. In some regard I understand that I am privileged to have a father in my life. Fathers rarely get their shine. Tupac didn't have a "Dear Papa" song. Kevin Durant didn't tell his dad that he was "the real MVP." We have to treasure the people that do so much for us and rarely get the attention.
My best friend is an example of neo-fathering. Robert Ford and I have been friends for longer than half my life and I remember that 4 a.m. phone call when he told me he was going to be a father. A decade later — and two brilliant sons, Brandon and Braylon, later — Robert has showed me what I want to be more than anything: a present black dad.
Growing up, parenting was different. My father came from a deep Southern time where men didn't talk to their children often. They provided and showed love by having a full fridge. As I've gotten older, my relationship with my father has improved considerably by simply me becoming older. But those wounds of childhood still are present. Nothing bad, it's just he didn't know what the hell to do. My father didn't know his father, and didn't know his real mother until he was 14, was a victim of a single parent household. He was learning on the fly and he did a remarkable job.
But when we become parents, I'd like to believe that we take the things our folks showed us and improve on it. Like the Wright Brothers leaving their blueprints for air travel to help with aviation in the future.
Robert is magnificent with his boys. And despite him and their mother not being together, I'm in awe of how seamlessly the co-parenting works. He and the boys speak extensively about Marvel characters, never missing a movie. Their favorite pastime is going through bookstores and of course sharing a love for sporting events, where the youngest son observed that Warriors head coach Steve Kerr "looks a lot like Ellen DeGeneres."
When I was a kid, my dad drove a loud-ass Ford F-150 truck. You could hear it down the road. So, when my brother and I were up late watching our Eagles play Monday Night Football past our bedtime, as soon as we heard that truck our hearts sank. We grew up with a healthy fear of our Pops — a fear that, as I got older, I knew was a protection for a world that looked at me being a black man in the South as two strikes in the life lottery.
But seeing the young black fathers in my life, I have extreme hope. When Robert is around the boys, they run to him. They want to be around their father. They want to be just like him.
I look at my father and I feel the same. I want to have a career. I want to have a wife for over four decades and dope-ass children (especially the Preach fellow). And when I think about our beefs I realize that it's par for the course. Parenting isn't a one-way street. We teach each other. We need each other. And to my fathers out there, don't give up, even when your badass kids won't buy you anything except a crappy tie for Father's Day. You'll still wear it to work on Monday.