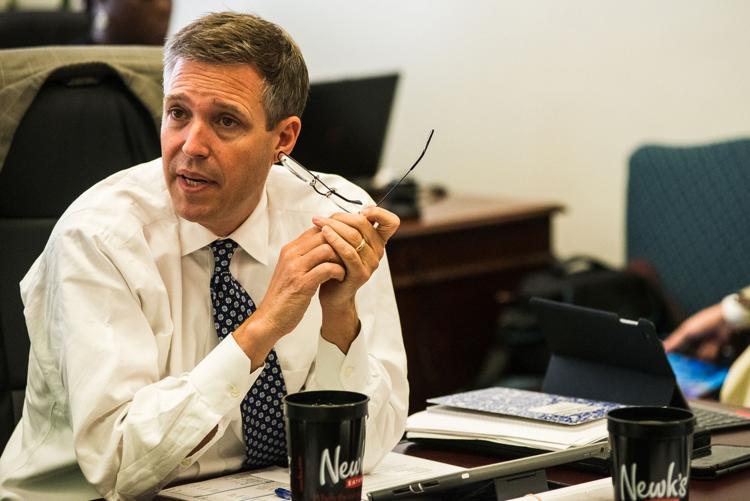 By now most people know that Five Points, the heart of the city for a century and a defining cultural institution, is in trouble.
The environment created by bars that don't open until 10 p.m. and whose late-night liquor wars have created stampedes of underaged intoxicants has strained law enforcement, attracted predators and degraded surrounding neighborhoods.
While there should always be a place for traditional college bars in Five Points, there should never come a time when the village is dominated at night by bars who over-serve underage drinkers and the elements who prey on them, including gangs.
The problem didn't happen overnight but over a decade or more and due to multiple factors. First, the rise in popularity of bars serving the cheapest liquor available meant huge lines of inebriated partygoers outside those locations into the wee hours of the next morning. Those bars gradually replaced restaurants and specialty stores that helped the village thrive from during the day.
Second — and this is what the University of South Carolina does not want to hear or own up to — the school's dramatic increase in enrollment over that time has created issues the school did not foresee.
Its own efforts to entertain students on campus on weekends has lacked focus and not kept pace with undergraduate growth, and that growth has put enormous strains on Five Points that the university has done little to nothing to mitigate, control or understand.
Third — and this is what the City of Columbia does not want to hear or own up to — the City's own cost-prohibitive and often counterintuitive regulations on businesses have and continue to stifle new businesses from growing.
Insisting on a $75,000 grease trap for restaurants when less-expensive equipment is equally effective and requiring water and sewer expansion fees in the tens of thousands add prohibitive and unreasonable costs for small-business entrepreneurs, not to mention a permitting process that isn't friendly and can take up to six months to navigate.
Requiring on-site parking in a village with built-in limitations for every new business — especially when the city itself is providing 300 new spots in part, at least, to encourage new business — is counter-intuitive and a big reason why Five Points is teetering on the brink of not just cultural irrelevance but also inviting a potential increase in vagrancy, vacancy and crime.
That's how we've gotten where we are, with long-term and iconic businesses and shops closing or moving and attractive spaces sitting empty. It's why the solution proposed in a 10-point plan developed by merchants and neighborhoods is the smart way forward, not the city's decision to take elements of that plan and shoehorn them into a one-size-fits-all development plan to be rotated around areas of Columbia every two years. What works for the Vista may not work for Five Points just as what works for Five Points may not work for Harbison.
We need the city's economic development staff, as well as related agencies and recruiting groups, to aggressively market Five Points, not just industrial sites and student housing.
We need to make the city's parking spaces and lots safe places to park that have a positive impact on the area's appearance and charm. Eliminate fees and streamline permitting to make new development attractive and affordable. Asking $100,000 in upfront fees and requirements that don't generate any revenue is one hell of an entrance fee to do business in Five Points.
And engage the university and its new president to aggressively program safe, fun on-campus events rather than busing its undergraduates to Five Points. Open up the showpiece Greek Village to students for events on weekends and add concerts, block parties and other social events on campus that only students can enter.
Do nothing and the results will be predictable. The negative aspects of an economically distressed village will only begin to creep inside adjacent neighborhoods when what should happen is Five Points' success should increase the area's safety, vitality and property values. It's not too late, but time is running out — and faster than you think.
Daniel Rickenmann is a Columbia businessman and city councilman who represents District 4. He can be reached at djrickenmann@columbiasc.gov.