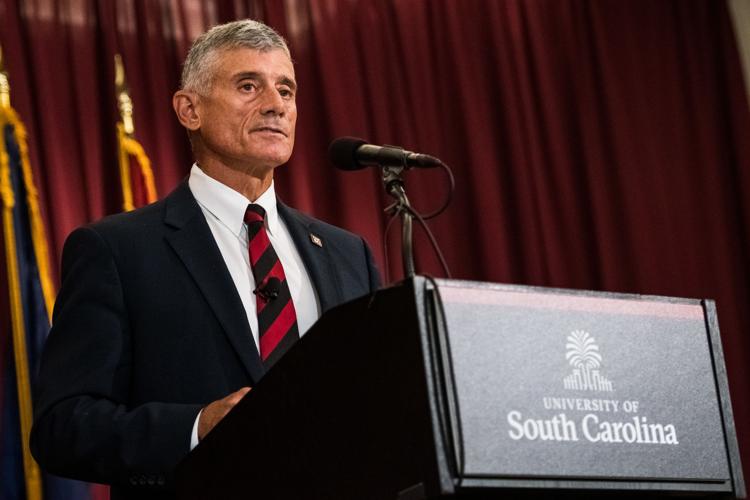 "Protestors outside of the meeting showed their disapproval of the Board's decision with loud chants of 'shame, shame, shame' along with tears of disappointment." — WIS-TV, July 19
Good lord, you'd think Dabo Swinney had just been named president of the University of South Carolina. Tears? Really?
And that's just one of many examples of the over-the-top rhetoric and reaction surrounding the election of retired Gen. Robert Caslen as the 29th president of USC.
I just hope no one passed out from holding their breath and stomping their feet during the protests. Or simply fainted from the emotional toll Caslen's appointment has taken on them.
By the way, if it makes those delicate souls feel better, USC survived the ups and downs of its previous 28 presidents just fine — including the stunning sex and money scandals of James Holderman.
Some might even say the Holderman scandals were worse than Caslen having been a career military officer who commanded troops in Iraq. (OMG!)
Or that he'd been superintendent of West Point for five years and led the school to the No. 1 ranking on US News & World Report list of "Top Public Schools" (OMG!)
Or him accurately saying in response to a question that binge drinking contributes to sexual assault among college students. (OMG!)
But then again, maybe not. Perhaps Caslen's appointment as president really is worse than Holderman hitting on students and misappropriating university funds. After all, it's not facts that matter today, it's feelings.
And the feelings of those anti-Caslen protestors were so real. I mean, they even shed "tears of disappointment." It was on the news and everything.
Another aspect of the anti-Caslen circus I found ironic was its leader on the USC board, Orangeburg attorney Charles Williams, who made a fiery speech attacking Gov. Henry McMaster before the vote.
While the speech was entertaining, it was also sometimes laughable.
"We never had a single problem until the governor created this chaos," Williams said, in spite of the fact that the board itself created the chaos when it failed to name one of the four finalists as president in April.
Among other incendiary comments, Williams went on to politically threaten McMaster, saying, "The governor needs to pay the price."
But here's something you may not know about Williams. He was convicted in federal court in 2016 of trapping and killing red-tail hawks on his 2,000-acre Orangeburg plantation. Those birds of prey are federally protected by the Migratory Bird Act.
That's right student and faculty protestors, turns out your hero on the board may not be your hero on the farm. It seems Williams likes to take quail on that property. So do hawks.
So he got rid of them, first by illegally trapping them, then by illegally killing them. Lots of them.
The State reported that federal prosecutors said during the case that in addition to trapping and killing the birds in "inhumane ways," Williams often left them in cages for days before coming to kill them.
In a 2016 release from the US Attorney's Office, District of South Carolina, former U.S. Attorney Bill Nettles said, "These majestic birds-of prey are an important link in our ecosystem. Killing these hawks in order to improve sporting conditions for weekend hunters in not only unsportsman-like, it is illegal."
By the way, though a learned attorney, major landowner and enthusiastic hunter, Williams told the judge he "had no idea this was a federal offense." We'll have to take his word on that.
In any event, Williams was fined $75,000 and ordered to perform 50 hours of community service at a bird wildlife center. He apparently felt that was overkill (though he had no problem with overkill of protected hawks) and appealed. A more lenient judge reduced the fine to $30,000 and cancelled the 50 hours of community service.
But don't worry, Williams continued his public service as a member of the USC Board of Trustees, where he found himself the right person to lead the attack on McMaster and Caslen.
You just can't make this stuff up.
Fisher is president of Fisher Communications, a Columbia advertising and public relations firm. He is active in local issues involving the arts, conservation, business and politics. Let us know what you think: Email editor@free-times.com.