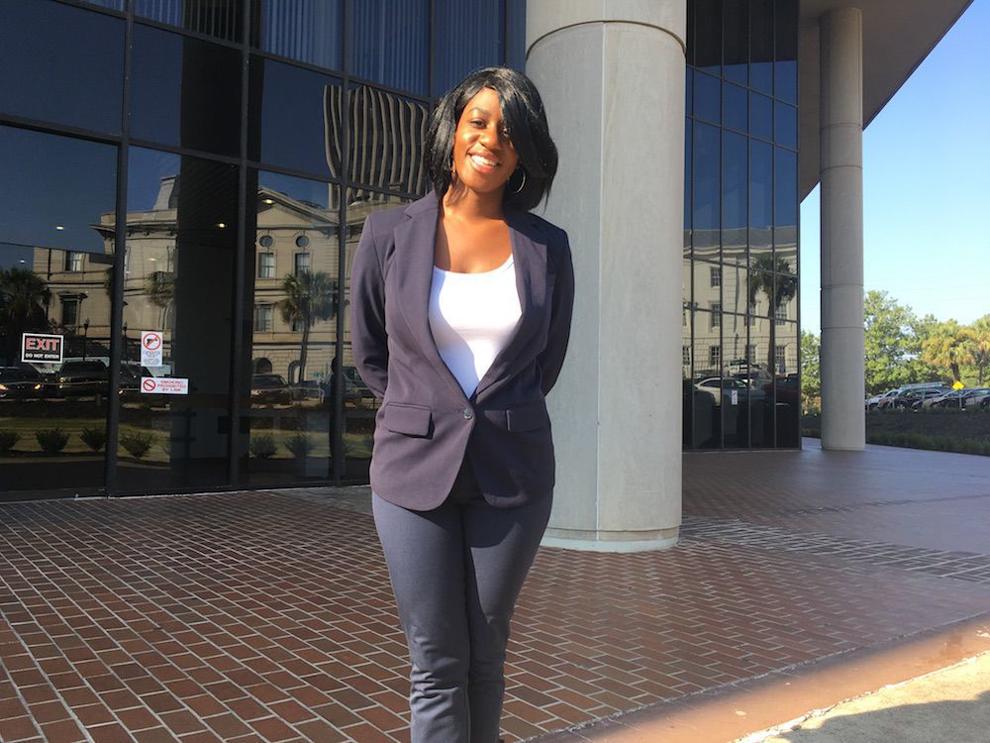 Alexis Williams Scurry watched the slides go by on the projection screen during a presentation on human trafficking in South Carolina. Behind the numbers and statistics about vulnerable people pushed into a form of modern slavery, she saw the faces of victims. She heard their silence. She knew then what she wanted to work on.
"I was looking for a job where I could make a change and difference," she says. "I wanted to make sure I wasn't stagnant. With human trafficking there's no time to remain stagnant." 
Now she's working as project coordinator for the Richland County Anti-Human Trafficking Task Force — or RCAT — a position she was hired into last month. Despite being new to the job, she's ready to stretch her muscles.
"In terms of resources and infrastructure in South Carolina for victims of human trafficking, there are very few," Scurry says. "So there's a lot of work to be done on the task force side because we don't have as many services that we need in place."
Richland County is a hotbed of human trafficking in South Carolina. According to the state attorney general's 2016 South Carolina Human Trafficking Task Force annual report, state courts closed 50 cases of human trafficking with another 28 charges pending at the time of the report's publication. The majority of those cases were in Richland County. Seventy-six reports of human trafficking in South Carolina came to the National Human Trafficking Hotline, an anti-trafficking organization serving victims and survivors of human trafficking. Again, those reports were largely located in Richland County. 
While sex trafficking constitutes many of the cases in Richland County, labor trafficking, forced work with little or no pay, also occurs often in the restaurant industry. 
Children are frequently the victims of trafficking.
Richland County Council created RCAT in 2015 to coordinate the resources and efforts of agencies that work with human trafficking victims, including the Richland County Sheriff's Department, U.S. Department of Justice and state Department of Juvenile Justice as well as a number of nonprofits. Initially the project coordinator position was a part-time job. The problem of human trafficking proved to be beyond part-time in Richland County.
"[Council] started realizing there were more and more cases identified where primarily girls had been trafficked," Councilman Jim Manning says. "[In creating RCAT] it brings everybody together because we don't want our young people trafficked. We want to be known as a place that if traffickers decide they want to move into a new area, we want the word to be out there that there's this place called Richland County in South Carolina and these people are all over being anti-trafficking. I want to be known as a place where you don't want to [traffick people]. And if you happen to be a victim in Richland County you're going to have the best network of services."
Scurry's new job also entails her acting with the county's Court Appointed Special Advocate department — or CASA. She represents minor-aged trafficking victims taken into the Department of Social Services (DSS) system. CASA sees one to two new cases of youth who have been victims of human trafficking every month, according to Scurry. The average age of kids first being forced into sex work is 12 to 14 years old. The majority are female. These crimes remain in the shadows of Richland County. 
"This is definitely an issue that people don't understand how large and prominent it is in Richland County," Scurry says. "Human trafficking is a very underground criminal activity. It's hidden very well. Victims are afraid to speak out and don't speak out most of the time due to fear. So it's hard to identify individuals who have been victimized."
At 28 years old, Scurry prepares to take on one of the county's ugliest and most tragic stories.
"In my previous jobs I worked with adolescents and they looked at me like a big sister or a mom. The youth would come to me. If someone had touched them or raped them they would come to me. That prepared me for coming to this position," she says. "You always have to be willing to learn and adapt to new situations and understand the importance of asking questions."