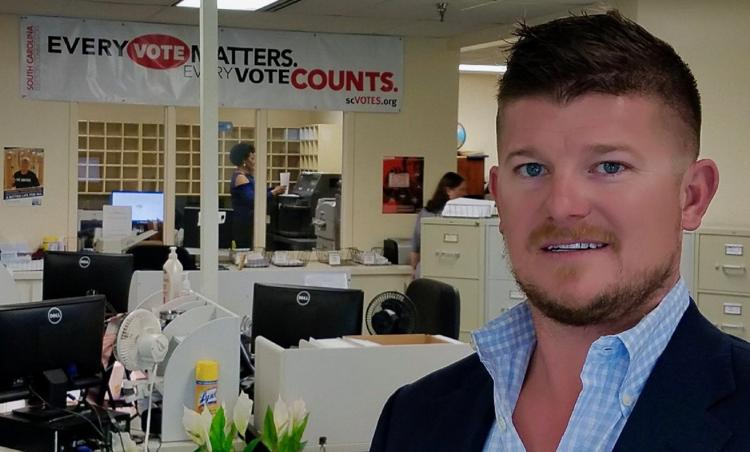 Richland County District 6 has a new candidate who says he's "frustrated" by the bureaucracy and ready to deal with what he calls "corruption issues" with County Council.
Joseph "Joe" Walker III is a resident of Forest Lake and owner of a number of businesses — or, as he calls himself, a "serial entrepreneur." He owns 19 Marco's Pizzas, a set of fitness centers and some furniture stores, as well as a marketing firm, a contracting company and a real estate development company. So, yes, he's leaning on his business experience to tell voters that he's right for the Council job.
"It's team building," Walker says. "I have operating partners that run all of those [companies together] and employ over 500 people as a company. I understand what it takes to motivate a large group of people toward a common objective."
Walker's has already won Roger Sears' vote. Sears, an engineer and former county employee, initially said he would be running for the District 6 seat. Now he's out and backing Walker.
"[Sear] has got a lot of really good opinions having seen inside of the county," Walker says. "We intend to work together for the same mission."
Even with the business experience, Walker, who's running as a Republican, points to his time in the military as what prepared him for County Council. He served in the Army doing tours of duty in Afghanistan and Iraq where he earned a Bronze Star and Purple Heart.
"There couldn't have been a better preparatory school," Walker says. "I took a team that was very diverse and was able to accomplish multiple objectives across 200-plus combat missions in Iraq. So the ability to work with others from all backgrounds, all education levels, all walks of life, it was incumbent in that situation."
The sitting councilman for District 6, Greg Pearce, was first elected in 1998. In February he announced his coming retirement from Council. Encouraged by other business owners and leaders, Walker took Pearce's announcement as a sign that he should take a stab at the seat. But Walker's motivation to run came long before Pearce said he was calling it quits.
"Being a businessman here in Richland, I got frustrated seeing how much easier it was and less expensive it was and less cumbersome it was outside my home county," Walker says. "When I started digging into why, I understood it to be frivolous and wasteful spending of our tax dollars."
What Walker will be emphasizing to voters is that he wants to improve the county's use of tax dollars. He'll cut out that frivolous and wasteful spending, as he sees it, to get a "return on investment" for taxpayers.
"My primary focus is financial responsibility — spending my tax dollars wisely, which I contribute significantly," Walker says. "Across all these retail platforms, you can imagine, I pay into Richland County tax coffers significantly every year. Well into the six-figures range, and that's at the business level. I want to see financial responsibility and transparency exhibited over our tax dollars. I think it takes a business-minded person to execute on that because they know from whence they came. I know where those tax dollars are coming from. They're coming out of someone's pocket."
Walker sees years-long ramifications coming from projects like the back-room-created, $144 million Richland Renaissance county redevelopment, and the penny tax, which the state Supreme Court recently accused of superfluous spending. He wants to mitigate any future negative consequences with tight spending and open government.
"When you apply the lens of fiscal responsibility, and, don't miss this word, transparency … I think it all starts there in bringing back a sense of transparency and adhering to the fiduciary responsibility we have to our constituents to spend their money responsibly, not selfishly," Walker asserts."
Walker also sees conservative tax principles as the way to achieve economic development and public safety. He wants to make sure resources aren't being siphoned from the sheriff's office, the fire department, or the embattled EMS while also ensuring that Richland County's licensing and permitting regulations are streamlined — or even "doing away with a portion of [permitting and licensing processes]" to encourage businesses to come to the county.
"I want to make sure we as Council are working in concert with [public safety officials] and not wasting dollars elsewhere that could go towards an immediate return for our constituents," Walker says. "One of the biggest problems we have right now is that we're trying to squeeze blue from the turnip that is our existing tax base as opposed to concentrate on how to reinvest the existing dollars to grow that tax base. I think that's a big piece of it — shifting the focus to growth."