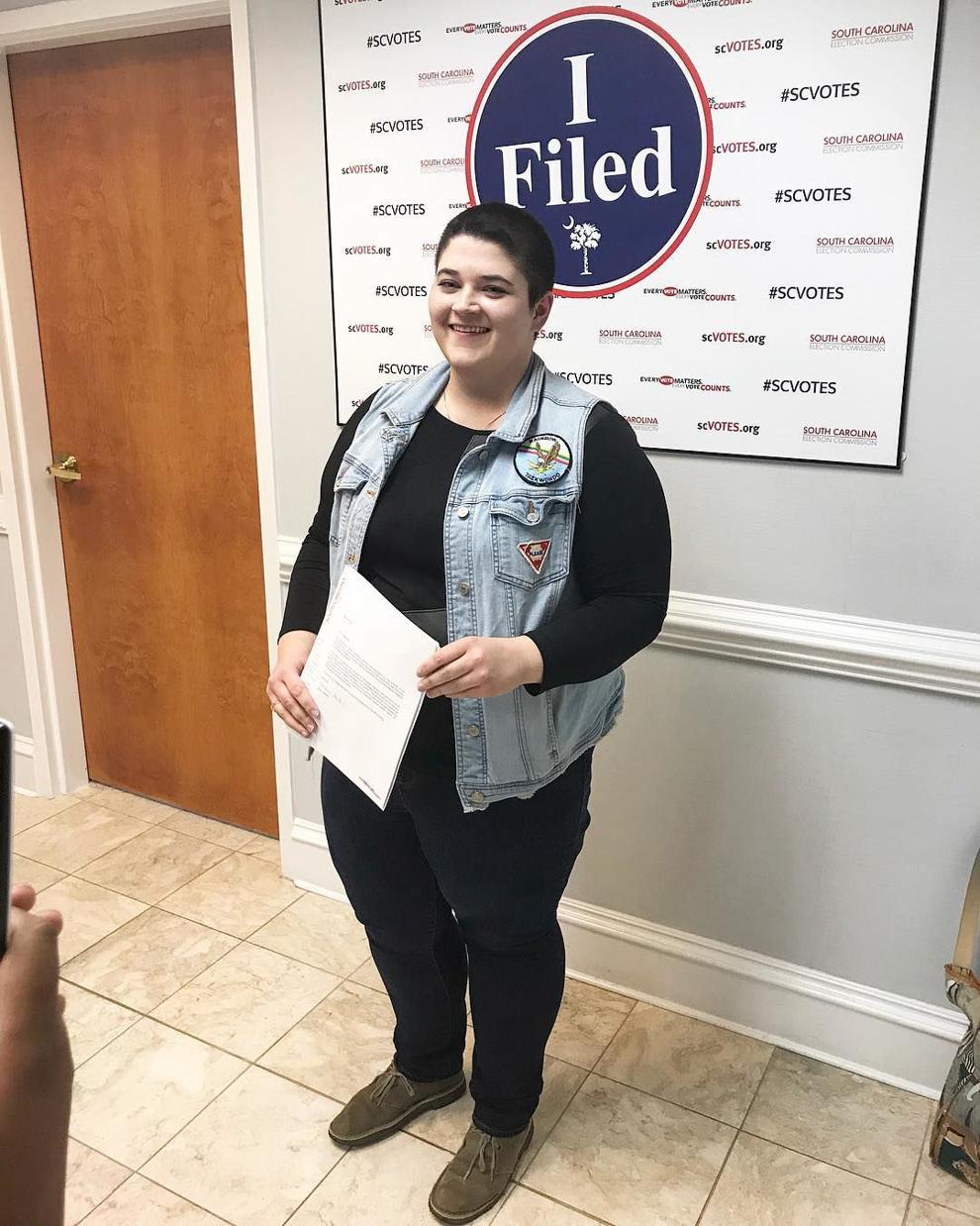 Sam Edwards can think of three recent moments that transformed the way she engaged with politics.
First, there was the confirmation of Betsy DeVos as U.S. Secretary of Education, despite opposition. Then, at a Lindsey Graham town hall last year, Edwards came away believing the U.S. senator felt entitled rather than elected to his political position. But most crucial for Edwards' current political mindset was seeing S.C. Rep. Chip Huggins, a Republican representing District 85, preparing to run unopposed again in this year's election.
"If it's a Democrat incumbent, it should be contested. If it's a Republican incumbent, it should be contested," Edwards says. "For democracy to work the way it should work, where you're hearing from everyone who lives in your community, you have to have an opponent."
So Edwards filed to be that opposition. She'll be running as the Democratic candidate for District 85, which encompasses much of Irmo. And she's not alone, as more Democrats across the state have filed to run for office this year.
This might be Edwards' first time running for office, but she's been politically active since her high school days.
Edwards was a member of the Gay Straight Alliance at Irmo High School and volunteered for the Obama campaign. She canvased during the last presidential race on the Democratic side. She's also volunteered with the Juvenile Diabetes Research Foundation. Giving her time to causes she believes in, she says, "is an important part of my drive to serve."
Since Trump's election, her political activism has ramped up. She was co-chair of Indivisible Midlands, a group through which she and other members stage rallies and protests for public health care and immigration reform. She traveled to D.C. to lobby lawmakers about these concerns while also calling on U.S. Rep. Joe Wilson and other area politicians to have town halls so that Edwards and others could get them on record.
With her campaign for the District 85 seat, she'll be striking deep into conservative territory.
The District 85 seat has been held by Huggins, a Republican who's sponsored anti-abortion bills and has a 100 percent rating by the NRA, since 1999. Since 2012 he's run unopposed in the general election.
Edwards is not alone in her endeavor to unseat entrenched conservative lawmakers and for Democrats to claim local, state and federal positions. Those on the left call it the Blue Wave. Even South Carolina is feeling the rumbling.
According to the South Carolina Democratic Party, 353 candidates have filed to run in the Palmetto State under the banner of the donkey. Of those candidates, 230 are running for local positions like county council or county auditor. That number of Democrats is an increase over previous years, according to party chairman Trav Robertson.
"It's clear that Democrats are ready to fight in South Carolina," Robertson said in a press release. "The electorate is engaged and eager for change. South Carolinians are ready for the Republican culture of corruption in Columbia and Washington to end."
Nationally, the gains of left-leaning candidates have been well reported, with the best known being Democrat Doug Jones' victory over Republican Roy Moore for a U.S. Senate seat in Alabama and Conor Lamb's special election defeat of Rick Saccone in Pennsylvania, which were seen as referendums on President Trump.
In South Carolina, Democrat Archie Parnell is running again in U.S. District 5 after losing by only about three points in a special election to the Republican candidate last June.
"We're fixing to have Democratic primaries in every Republican congressional seat in South Carolina," Robertson says. "That in and of itself is incredible."
At the state level, Democrats are trying to take some digs into deep red dirt. In the Upstate's House District 2, a Democrat is challenging the Republican incumbent for the first time in at least a decade. S.C. House District 11 of Abbeville and Anderson, where the Republican seat holder had no rival in the last election, and typically deep-red District 110 in Charleston, are also seeing opposition from the blue party this time around.
Then there's Edwards in her Lexington County district, another candidate in this swell of Democratic party activity. Still, she sees her run as more localized than partaking of any calls to action.
"I'm running because I haven't been represented in my district and I know I'm not the only one that feels that way here," Edwards says. "I'm not running because across America there's a blue wave. … I really care about my community. I see bills coming before the legislature that will hurt me and hurt my family."
Edwards wants to be in on the decision-making about the state's role in health care — "I want to talk to people about what they think needs to happen," she says — and how lawmakers can do better with education, and infrastructure, as well as examining how the future of dam owners SCE&G would affect people who live near Lake Murray in District 85. All of these are concerns she's heard in the place she's trying to get elected.
She doesn't see her attempt at office being dictated by preconceptions of Lexington's conservatism.
"This district is winnable," Edwards says. "I've come to believe that it's more of a misconception that Lexington is as conservative as people think it is. We've got a plan that we can win here. We'll see a competitive race for the first time in a decade."
At very least, in Edwards' assessment her, her run reinforces what so many activists like her have chanted at rallies and protests over many years: "Show me what democracy looks like."
"It's important for us to have a democracy where people run for office and there is competition," she says. "That's the only way we can assure we're having fair elections where you know how many people in your district actually agree with you."