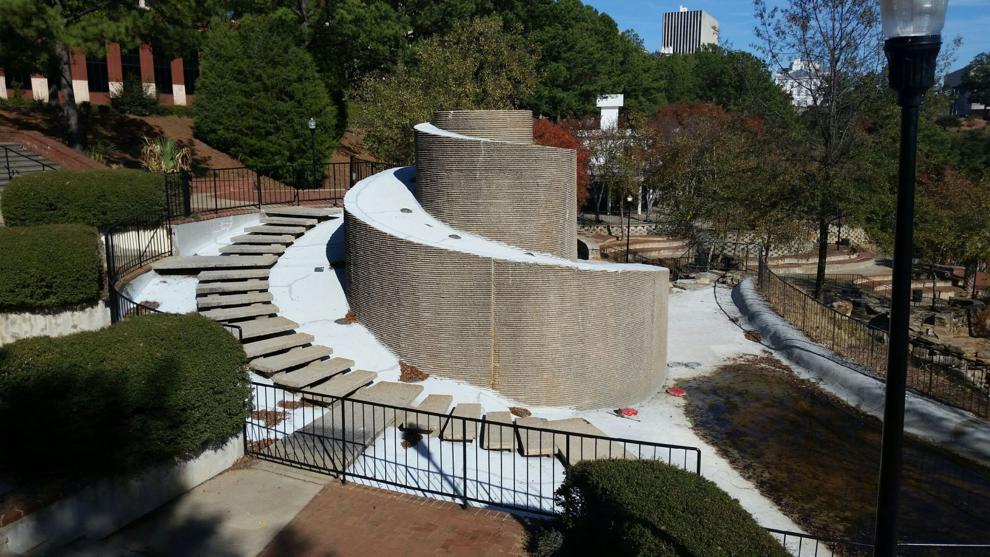 It looks like it could still be a while before the iconic spiral fountain in Finlay Park — so often used in promotional photos and videos of Columbia — is flowing once again. And it appears returning the fountain to its former glory could be nearly double the cost initially envisioned.
Columbia City Council was scheduled to vote during its regular meeting Tuesday night on providing additional money for repairs to various functions of the fountain. However, during a Tuesday afternoon work session, moments before the Free Times print edition went to press, Council decided that a vote on the additional work would be delayed until it could have further discussions about how the fountain repairs would fit into a potential larger renovation of Finlay Park.
According to documents in Council's agenda packet, that extra work could come at a cost of $296,000. That would be in addition to the initial $310,000 in restoration work that has been done for the fountain, bringing the total cost of the restoration to $606,000.
The Finlay Park fountain has been broken for more than a year and a half. In August, Columbia Senior Assistant City Manager Allison Baker told Free Times there have been infrastructure problems with the fountain dating back to at least 1997, when he went to work with the city.
The first round of repairs to the fountain, during the summer, focused on the pumps that power the water through the fountain. Those pumps were brought back to working order and moved from an underground vault to an above-ground area that is safer for workers and more economical. Various cracks in the fountain also were sealed and repaired.
The fountain was supposed to have been back up and running in August, but that hasn't happened. Free Times visited Finlay Park on Nov. 20 and the fountain was as dry as the Mojave Desert.
City documents indicate that the biggest hunk of the proposed $296,000 in additional work on the fountain will center on its waterfall pools. The spiral fountain itself is on the top of the hill near Laurel Street, and it pushes water down a waterfall and into a series of five cascading pools.
The proposed work calls for new surfaces to those waterfall pools. Various materials, oversight and installation of those new pool surfaces would cost $224,000.
The proposal also calls for the installation of two new pumps in the fountain's skimmers, specifically in skimmers that collect the most debris. This would come at a cost of about $38,000. The plan also calls for $33,000 for new intake strainers and associated materials, plus a maintenance platform.
Documents indicate the additional work could take up to nine weeks to complete.
Free Times has reached out to Baker about the additional fountain repairs.
At-large City Councilman Howard Duvall said Monday afternoon that he feels like the fountain is the "centerpiece" of Finlay Park, and said he would like to see it turned back on. However, he admitted he is concerned about work that will essentially double the cost of the renovation to the fountain and its associated waterfalls and pools.
The work on the fountain is happening independently of the long discussed greater renovations to embattled Finlay Park. City Council has entertained a number of options for a larger overhaul, ranging anywhere from $10 million to $20 million. Amenities discussed as possibilities have included a large, multi-use venue building, a "destination" playground and even a manmade beach.
There have been whispers that a tax increment funding district could be sought to help fund the park overhaul and make some needed pedestrian and traffic improvements on Assembly. But a formal push for a TIF hasn't materialized.
Duvall didn't sound overly confident that a major Finlay Park redux would happen anytime soon.
"We are still trying to find a funding source to do a basic remodeling," Duvall says. "The grand remodeling, the $20 million project, I think is beyond us right now. We are looking for something more like $10 million, then we've got to figure out how to pay for that $10 million. Things are tight. But I think the finances of the city are going to improve in the next few years."