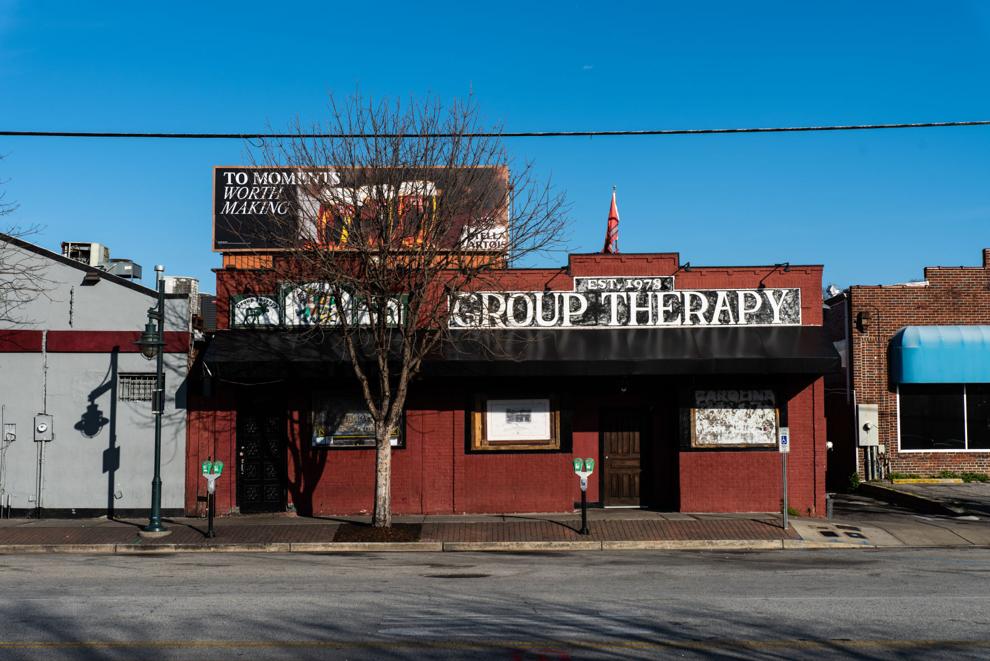 There's a photograph that is legendary and instantly recognizable in Columbia: It shows Steve Taneyhill, then a freshman quarterback at the University of South Carolina, exuberantly raising his arms in Clemson's Death Valley during a 1992 game won by the Gamecocks.
On April 29, the former quarterback could raise his arms in victory once again.
A judge has ruled in favor of iconic Five Points bar Group Therapy, which has been owned by Taneyhill for several years, in a case in which a number of entities were attempting to effectively shut down the establishment. Administrative law Judge Shirley Robinson issued an order saying that Group Therapy, which has been operating on Greene Street for more than 40 years, can renew its licenses to sell beer, wine and liquor.
The renewal of those licenses were the subject of a fierce two-day court hearing in February in which a number of factions — state Sen. Dick Harpootlian's law firm, the University of South Carolina, the Columbia Police Department, the Department of Revenue, and residents of neighborhoods near Five Points — sought to, essentially, have the bar closed, saying it was a nuisance to the nightlife district.
"Based upon the foregoing findings of fact and conclusions of law, the court finds that the location at 2107 Greene Street, Columbia, South Carolina, 29205 is suitable for the renewal of [its] on-premises beer and wine permit and restaurant liquor by the drink license," Robinson wrote in her order.
The judge did put a pair of conditions in the order: Group Therapy will have to purchase additional scanners to verify the identification and ages of people entering the bar, and Taneyhill will have to designate managers who are responsible for the business when he is not present. The judge notes, "To enhance communication with law enforcement and the public, the acting manager must be easily identifiable by all employees during any particular shift."
Taneyhill and Group Therapy were represented in the case by, among others, attorney Bakari Sellers, the former state representative and current author and CNN pundit. Sellers tells Free Times that the longstanding bar plans to be a part of the Five Points community for years to come.
"At the end of the day, Group Therapy has been a good corporate citizen for more than 30 years," Sellers says. "We plan to continue that good citizenship. [Group Therapy] will work with the [neighboring] MLK community, they are going to work with Five Points and they are going to work with the university and law enforcement to make sure it's a safe environment.
"The same Group Therapy that was there for Dick Harpootlian when he was younger, and many of our parents, is going to be there for our kids when they get of age. We're going to make sure it is a place for individuals to enjoy and have fun."
Taneyhill largely deferred comment to Sellers. However, he did indicate he is ready to reopen Group Therapy — which has been closed amid the coronavirus pandemic — as soon as possible.
"When the governor lifts restrictions for [dine-in] restaurants to be open, we will open," Taneyhill says. "I just want to thank Bakari Sellers and John Alphin and the entire Strom Law Firm."
Attorney Chris Kenney, who works for Harpootlian's law firm, handled the Group Therapy court case for the protesters. When reached by Free Times, he says he plans to appeal the case to the state Court of Appeals.
"We intend to appeal it," Kenney says. "I can say that this is consistent with a problem with the administrative law court in that it acts as a facilitator to license industries they are supposed to be regulating. I do not understand, and am mystified by, how you could have the adjacent neighborhoods, two law enforcement agencies, and the largest university in the state of South Carolina pleading not to reissue this license, and then somehow conclude that there's no problem down there."
Group Therapy has operated on Greene Street in Five Points since 1978, and has been a hangout for USC students and alums for generations. The bar — which inspired the name of Hootie & the Blowfish's national tour in 2019 — has, since 2016, been owned by Taneyhill, USC's all-time leader in touchdown passes who went on to a successful high school football coaching career before buying the bar.
Harpootlian, USC and the police have been successful — directly or indirectly — in closing four college bars in Five Points in the last couple years. Some have lost their liquor licenses in court battles, while others have chosen to close when a legal fight seemed inevitable.
But Group Therapy, with its more than four-decade history, significant goodwill among USC alums, and proximity to Columbia stars like Taneyhill and Hootie, is a different animal.
There was perhaps no moment that more signaled the uniquely Columbia-centric nature of the case than a point during the February court hearing when Kenney, the attorney for those wanting to shut down Group Therapy, asked Taneyhill to autograph a copy of Free Times — which had a cover story about the trial that week — while he was on the witness stand. Taneyhill signed the newspaper.
Those entities seeking to shut down Group Therapy argued against its suitability to obtain licenses to serve drinks, saying that it was a key contributor to what they see as an alcohol-soaked party culture in the nightlife district that has long been popular with college students.
In her order, Robinson recognized the points of those who protested the famed dive bar, including that the police department had responded to Group Therapy nearly 20 times over a one-year period because of incidents directly associated with the bar. She also noted that neighbors who live near Five Points offered compelling testimony in regard to their concern about Group Therapy.
But it wasn't enough to sway the judge's decision.
"From testimony at the hearing, it is evident that Group Therapy has maintained a reputation for peace and good order in the community which can be attributed directly to Taneyhill's positive relationship with law enforcement and his willingness to take steps designed to address and mitigate problems at their request," Robinson wrote. "At the hearing, Taneyhill also informed the court of his willingness to meet with concerned neighbors, to implement additional measures to relieve strain on law enforcement, and to operate his establishment according to higher standards."