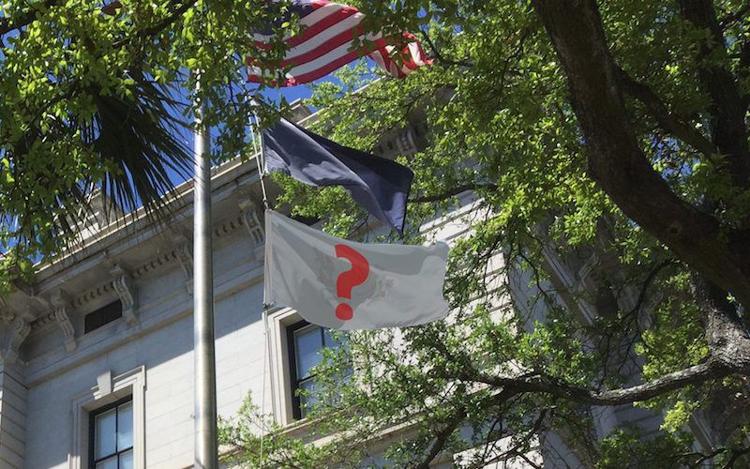 Until the City of Columbia's recent efforts to find a new flag — and Free Times' recent reporting on such — you'd almost certainly never seen the city's flag in your life. 
It's not memorable. It's pale blue and busy, with a corn stalk on the left and a tuft of cotton on the right, and the city's seal featuring Lady Justice in the middle. It sports the city's name and its motto, Justitia virtutum regina ("Justice is the queen of virtues"). If you saw it high up on a flagpole, you'd have no idea what it said, or represented. That's probably why you've never seen it on a flagpole. 
Now the city is looking for a new flag, and in cooperation with One Columbia for Arts and History and the Columbia Design League, asked the public to submit designs. The 18 finalists were chosen by a national association devoted to flag design and rolled out last week. (See Chris Trainor's story for more backstory.)
The online reaction to the finalists has been largely negative. 
And it's been wrong. 
Some of the complaints are about the simplistic nature of the flag designs. And they are simplistic. That's what you want in a flag: something recognizable at a distance, something basic and iconic. Flag design guru Ted Kaye notes, "A three-by-five-foot flag on a pole 100 feet away looks about the same size as a one-by-one-and-a-half-inch rectangle seen about 15 inches from your eye." That's a tiny little box. It should have a really simple design in it.
But honestly, many of the complaints seem to be just knee-jerk grumbling.
In the Midlands, it seems there's an established script for outrage about all things municipal.
That outrage can be warranted. Civic entities do dumb things sometimes. The city has spent hundreds of thousands of dollars trying to shut down a sex-toy store whose worst sin was looking kind of tacky. The visitors bureau decided to replace the locally beloved Famously Hot brand and flame logo in its out-of-town tourism promotions — and OK, fine, their research told them it wasn't working, so try something different — but chose for a replacement an orange-red block-C logo that is soulless and makes for confusing ad copy. 
But if we're going to be cranky about literally every idea just because it came from local government, we're going to miss out on some cool things. Governments build walking trails and run bus systems. They give money to people who put on good events like Columbia's Hip-Hop Family Day and the Jam Room Music Festival. They help catalyze changes like the revitalization of Main Street. 
Not only that, but this flag design process isn't costing us anything. It's being facilitated by people who care about design, with submissions coming from the public. You can't compare this to a $37 million baseball stadium.
Let's pick a cool new flag. Head on over to colaflag.org and weigh in.