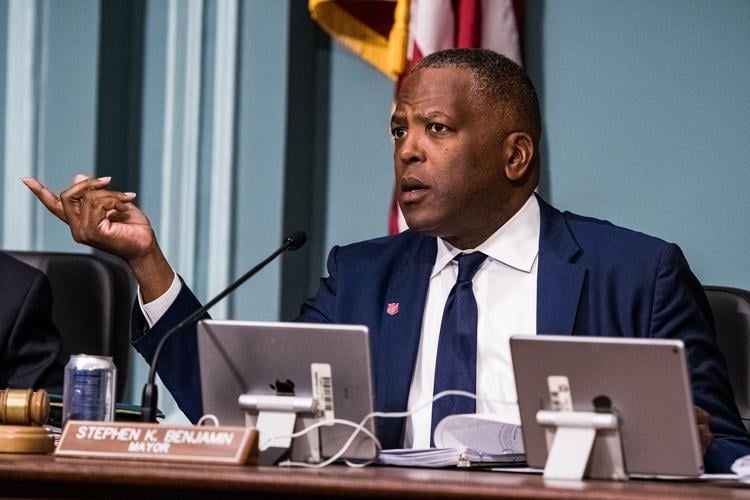 "I didn't want to see it beheaded."
Those were the words of Columbia Mayor Steve Benjamin on June 12 after he instructed city staff to remove — at least temporarily — a statue of Christopher Columbus from its perch in the Capital City's Riverfront Park.
The mayor says the statue of the Italian explorer and colonizer had been damaged multiple times recently.
"It had been vandalized at least twice this week," Benjamin tells Free Times. "We've seen some of the images, like in Boston where they lopped the head off [a Columbus statue there]. These types of things have been happening everywhere.
"It had been vandalized several times recently, and it is in a place where it cannot be easily monitored and protected, unless you have a cop sitting out there all night long or what have you."
The removal of the Columbus statue was first reported by The State.
There has been an uptick in discussion about various monuments across the nation in the wake of the protests against the death of George Floyd in Minneapolis, an African American man who was killed after a police officer knelt on his neck for more than eight minutes.
Much of the monument discussion has centered on statues that have a troublesome history regarding race. For instance, Virginia Gov. Ralph Northam has committed to removing a statue of Confederate Gen. Robert E. Lee in Richmond. Here in South Carolina, state Rep. Seth Rose has renewed the call for the removal of the statue of former Gov. Ben Tillman — who was an unabashed, avowed white supremacist — from the grounds of the Statehouse.
Meanwhile, the Clemson University board of trustees voted Friday to rename its honors college, which had long been named for late former Vice President John C. Calhoun, who was an ardent defender of slavery. Clemson is also asking the state Legislature's approval to rename a building currently named after Tillman.
And there have been instances where the public has damaged or removed statues, such as Columbus. There was the aforementioned incident in Boston, where a Columbus statue had its head lopped off. It was later recovered by Boston Police. Meanwhile, a Columbus statue, according to NBC News, was torn down in Richmond, Virginia, then set on fire and thrown in a lake.
Columbus, long celebrated as an explorer, has been reconsidered as a public figure in recent years, particularly as it relates to his colonization efforts and enslavement and abuse of indigenous people.
Benjamin, Columbia's first African American mayor, says the statue is being stored under lock and key in a city facility. The mayor says it is possible that the statue will be put back up, possibly even in its previous location in Riverfront Park.
However, he says there needs to be community dialogue about the statue, and providing further context about Columbus and his history, and he didn't want the statue to be destroyed before that conversation can happen.
"There's a robust national conversation going on about historical figures right now, trying to contextualize often difficult legacies," the mayor says. "Those are conversations we all need to have, but those are conversations. It was important to me that the future of that statue be determined by the people of Columbia, not by a passionate protester in the middle of the night. So, I asked staff to temporarily move it."
The mayor did not yet have a date for the further discussions or public conversations about the Columbus statue. But he says that will come.
"I just didn't want to wake up one morning and someone had taken a sledgehammer to it, making an independent decision," the mayor says. "It needs to be a community decision."