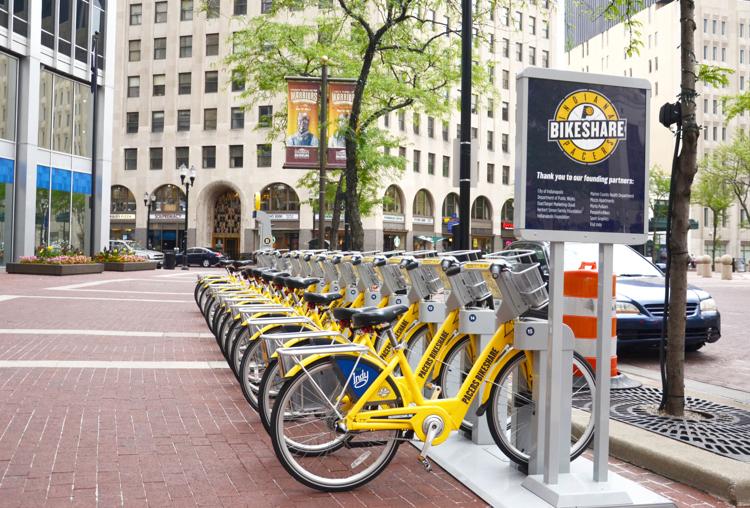 Call it Two Wheel City.
Columbia City Council has entered into an agreement with Canada's Bewegen Technologies to start a bike share program in Columbia. The program, which will allow residents and visitors to rent bicycles, ride them, and return them at stations throughout town, currently is in the planning stages and will likely launch in August or September.
The initial phase of the program will include 15 stations or hubs, which will be located at spots around the city center, and 135 bikes. The second phase of the project, for which a timeline has yet to be identified, would expand the program to 25 stations and 225 bikes.
Of the 135 bikes Bewegen is planning for the first phase of the project, 85 will be regular bicycles, while 50 will be electric-assisted pedelec bikes, which have a motor that gives cyclists a little extra push up an incline.
According to Braunyno Ayotte, director of business development and marketing for Bewegen, the company is operating bike share programs in 18 cities worldwide. Aside from Columbia, the company will be launching a program in Raleigh this summer, as well.
The move to formally establish a bike share program in Columbia is a key component of Walk Bike Columbia, the Central Midlands Council of Governments and City of Columbia plan that was adopted by the city in 2015.
"We're really excited to be at this point," Assistant City Manager Missy Gentry says. "You've heard a lot about walk-bike connectivity throughout the city and the region, and this is a really big step forward."
The contract with Bewegen does not call for any upfront costs from the City of Columbia. Bewegen will be partnering with an as-yet-unnamed title sponsor, as well as secondary sponsors, to help fund the program. The cost to rent a bike has not yet been publicly disclosed.
Per the city's contract with Bewegen, the company will share profits with the city after operations and maintenance costs have been met. Eighty percent of profits will be given to the city, to be used for bicycle infrastructure improvements in town.
In a recent meeting, however, Gentry cautioned City Council that profits might not start rolling in immediately.
"I think we need to also be realistic that it might take a little bit of time to see any of those funds, because there certainly are some upfront costs with rolling the program out," the assistant city manager said.
Longtime City Councilwoman Tameika Isaac Devine told Free Times she is not expecting big money from the bike share program anytime soon.
"The biggest thing is just to get people out of their cars and riding bikes," Devine says. "That's the real incentive for us. But, the way we have it set up, ultimately we hope that there will be some revenue."
City planning administrator John Fellows says he thinks the launch of a bike share program is a "major step" for Columbia.
"For instance, there could be someone who works downtown in an office and they want to go to the Vista for lunch," Fellows offers. "They could check out a bike off Main Street, let's say, ride over to some place in the Vista, probably in 10 minutes or less, and then they can come back on that bike. It will be quicker than walking and it will definitely be more convenient than trying to get your car out of a parking garage, circle down, drive [to the destination], find a parking space and all that.
"From a time perspective, it can be quite beneficial."
Fellows added that many bike share programs in other cities across the country also see a good bit of usage from tourists and visitors.