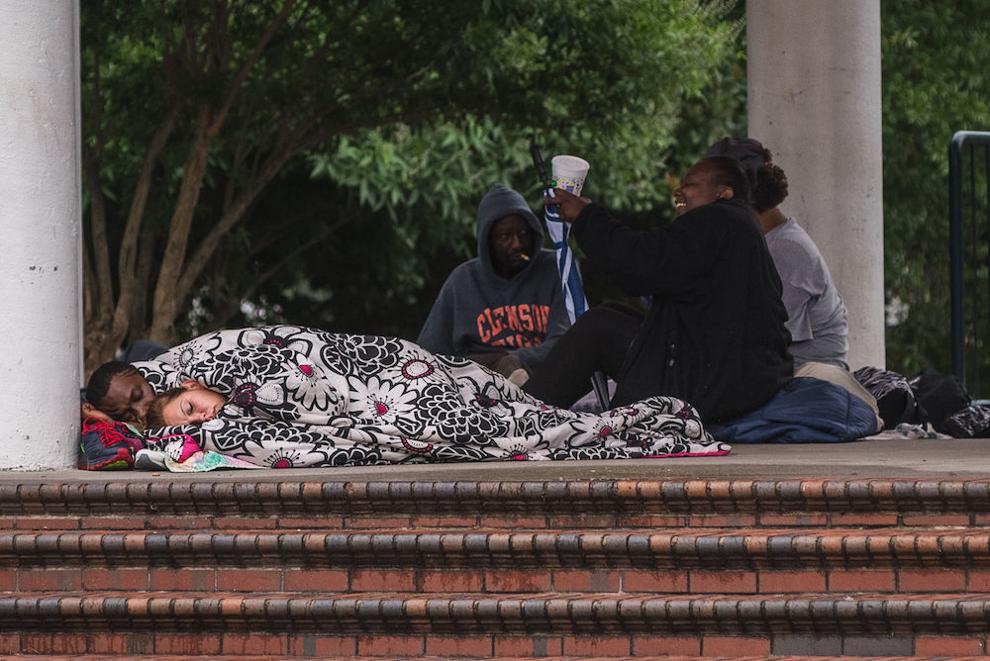 The City of Columbia and the United Way of the Midlands are set to introduce a new scheduling system for agencies who provide meals for homeless citizens in Finlay Park.
According to United Way senior director for financial stability Jennifer Moore, the new system will establish set "blocks" of time for breakfast, lunch and dinner in the park, and will identify which charitable agency is the "lead" agency for providing meals in the park during a given time block.
The United Way of the Midlands has been contracted for homeless services coordination with the city since 2014.
Organizations that provide meals for homeless citizens in Finlay Park must have a permit from the City of Columbia, one that can be obtained free of charge. Moore indicates there are currently 11 groups that are permitted to provide meals in the park, and they do so on assorted days of the week.
As just one example, the organization Food Not Bombs provides lunch for the homeless each Sunday afternoon in Finlay Park, and has been doing so for well more than a decade. Meanwhile, other organizations, like Project 153 Columbia and Kingdom Outreach Fellowship, serve meals there on different days and times.
Now it appears there will be a more time-specific coordination of those meal share efforts in the 18-acre park, which stands at the corner of Assembly and Laurel streets and has long been a popular gathering spot for the city's homeless population.
"Basically, what parks and rec will start doing on April 30 is they will have different blocks of time [available for permitted organizations to serve in the park]," Moore told Free Times. "So, Monday through Friday there will be an established dinner shift from 6 to 8 p.m. On Saturday and Sunday there will be a breakfast shift from 8 a.m. to 10 a.m. There will be a lunch shift from 12 to 2 and a dinner shift from 4 to 6.
"What they will do is issue one permit per [time block] to a primary meal share provider. Then, up to three additional groups can work with [that primary provider]."
The primary meal provider for a given block of time will then be responsible for assuring the site is cleaned up after the meal is completed.
Moore says the city, United Way and various meal share providers have been discussing the scheduling plan for about nine months.
City officials also are stressing that groups need to be permitted to serve meals in Finlay Park.
"They need to be permitted and coordinated," at-large City Councilman Howard Duvall says. "The problem we are having right now is what we call the pop-up feeders. They'll pull up to Finlay Park and pop up the back of a station wagon and try to feed. That creates chaos down there. It's much better if they can get under the umbrella of a group that is trained in how to efficiently feed the homeless population."
Mayor Steve Benjamin shared similar sentiments during a recent City Council work session.
"With permitted food providers there's an extra level of accountability there, too," the mayor said. "You know who you are dealing with, that they are responsible with what they feed people, that their food is nourishing. ... You can't just have random people showing up passing out mass amounts of food to a vulnerable population."
Moore stressed that she understands and admires the spirit of people who want to help feed the homeless. She simply wants them to go through the permit process if they want to do so in Finlay Park.
"We appreciate the compassion and the amazing generosity that people have in wanting to give food to people," Moore says. "That's an amazing thing. But in Finlay, you are supposed to have a permit. So, call the City of Columbia and ask for a permit if you don't have one. They will connect you with us. We would love for them to work with us in the meal share collaborative so we can coordinate resources.
"We admire the spirit of wanting to help other people, we just want to do it in collaboration with everybody else."
Homelessness has been an enduring issue in Columbia, though statistics have looked better recently. As noted in a lengthy Free Times cover story in September, each year, for federal reporting purposes, a group of agencies conducts a census of people across South Carolina living in homeless shelters or on the streets. In 2017, these "point-in-time" data showed 778 homeless people in Richland County. That is down 11 percent from 2016, when there were 876 homeless people identified in the county, and down a whopping 48 percent from 2013, when there were 1,518 homeless people counted in the county.