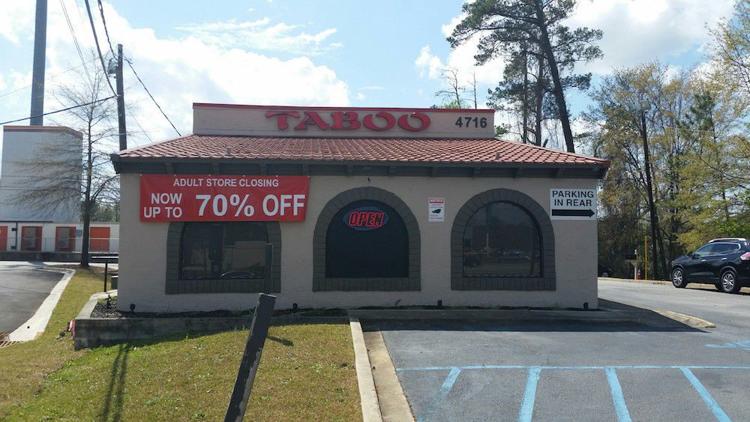 Since 2011, the City of Columbia has paid more than a quarter of a million dollars to try to shut down Taboo, a sex toy store on Devine Street.  
The bulk of that money, $234,928, was paid to Tennessee attorney Scott Bergthold, who specializes in helping cities and counties regulate adult business. Another $21,540 was paid to local lawyer Pete Balthazor, a former city attorney. Free Times obtained the information through an open records request. 
Taboo opened in December 2011 in a former Taco Bell, causing an outcry from some nearby neighborhoods. The city responded by hiring Bergthold, who helped overhaul Columbia's adult business ordinance, severely limiting where strip clubs, sex toy shops and adult bookstores can locate. Taboo was grandfathered in for two years to allow it to recoup its investment. It was — and remains — the only sexually oriented business in the city limits. 
After those two years were up, Taboo's owner appealed the zoning ordinance — and eventually sued in federal court, where the store has proceeded to lose several rounds of court battles. Bergthold has continued to help represent the city. 
The war could soon be coming to an end: Taboo owner Jeffrey White says he's working on his final appeal, preparing to ask the U.S. Supreme Court to take up his case. Unless the court agrees, which is unlikely, he'll be converting the store to something akin to a Spencer's novelty store, without "anatomically correct merchandise."
"We are nearing the end of the good old days of selling realistic dicks and vaginas," White says. 
He suggests the city wasted the money it spent on Bergthold.
"They could have just gave me that; I would have probably closed my doors," White says, laughing. "That's how stupid the city is."
Mayor Steve Benjamin says it was money well spent, though.
"The fight certainly cost more than anyone expected but it was still a fight worth fighting," the mayor tells Free Times.
"A growing city's ability to use zoning laws to enhance quality of life is essential," Benjamin adds. "So whether we are discussing more liquor stores, SOBs [sexually oriented businesses], nightclubs or certain industrial uses, the goal is to make sure that we promote and enhance neighborhoods and vibrant commercial corridors by regulating within reason anything that could harm property values and overall quality of life. "
White has long disputed the idea that his store is harmful to Columbia.
Most of his customers are couples, he says. He sells a lot of lubricants and jellies. Since he opened, he's done close to $1.5 million in sales.
"If the citizens of the city of Columbia did not want me there, I wouldn't have any sales," he says. 
He also points out that stores like Walmart and CVS sell things like cock rings and vibrators. The difference is they're not selling anatomically correct merchandise. 
Yet White seems at peace with the coming end of Taboo's run as Columbia's only sexually oriented business. 
"I'm very angry at what the City did to me," White says. "I'm a Christian man, believe it or not. I believe in Jesus; I try to recite the 10 commandments. Not one single commandment says, 'Thou shalt not own an adult business.' I try to follow God's laws. I love my enemies, just like Jesus said — I love the City of Columbia."