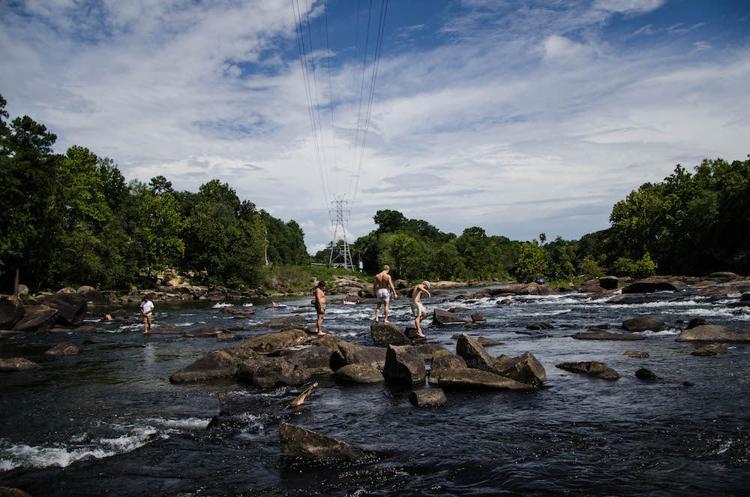 Some of the ideas for fixing Columbia's infamous Malfunction Junction could threaten the area's rivers, says a local environmental watchdog group.
The South Carolina Department of Transportation is in the early stages of weighing options for fixing the traffic snarl where Interstates 26, 20 and 126 come together just north of the city.
To ease congestion, SCDOT is looking at 14 interchanges in the area that could be revamped to take some strain off Malfunction Junction. For each of those interchanges, they've presented multiple ideas for redesign.
But Bill Stangler of Congaree Riverkeeper, a local organization that advocates for the area's waterways, says several of the ideas are a no-go.
For example, three competing proposals to create an east-west connector between I-26 and I-126 would run a new length of freeway along the Lower Saluda River.
In fact, those proposed connectors would run right along or across the future Saluda Riverwalk, the next phase of the Three Rivers Greenway, which is currently out for bid and should be completed sometime next year.
Meanwhile, two proposals to build an "outside connector" — a road that would connect I-26 and I-77 well north of I-20 — would require new bridges across the Broad River.
Concerns about these projects range from "impacts to recreation — the greenway, trout fishing, kayaking" to protecting endangered species like the shortnose sturgeon, which migrates through the area to spawn, Stangler says. One of the east-west connector proposals would put an overpass over a key rapid, which could hurt recreation.
Stangler also notes that the Lower Saluda — the stretch of the Saluda that runs from Lake Murray down to the confluence with the Broad — is a designated State Scenic River.
"There's so many concerns that DOT needs to look at before they make these decisions," Stangler says.
SCDOT says it's planning to do just that.
Heather Robbins, director of environmental services for SCDOT, says the department is required under federal law to examine a wide range of ideas.
That helps explain why some of the proposals for what SCDOT calls Carolina Crossroads seem extreme, like widening Broad River Road or St. Andrews Road — which would affect 999 or 705 properties, respectively, according to SCDOT calculations.
"From now until the summer of 2017, [the department] is going to go through all those alternatives, evaluate how they work for traffic, big impacts to properties and communities, also to the tax base and economics," Robbins says.
They'll also do environmental analysis of all the proposals.
Some of the proposals would put new stretches of road in the floodway, she acknowledges.
"You have to do a lot of hydrology analysis to show that we would not be increasing neighboring properties' chances of flooding," she says. "A lot of [the new road] would have to be on bridges to minimize those impacts."
Noise is also a potential concern, and Robbins says SCDOT has formed a noise advisory board to vet the proposals.  
After analysis, Robbins says, the department will pare down the list to a set of workable Malfunction Junction fixes and will seek public input again on those.
"It's hard to get people involved until they see lines on maps," she says.
Other environmental groups in the state — Conservation Voters of South Carolina and Coastal Conservation League — say they're letting Riverkeeper take the lead and haven't dipped their toes into the Malfunction Junction discussion.
Meanwhile, Riverkeeper isn't the only group raising concerns about some of the proposals. Residents of the Quail Hollow neighborhood in West Columbia worry some of the proposals would cut right through their community.
Those concerns led to state Sen. Nikki Setzler, D-Lexington, asking SCDOT to extend the current comment period. It now runs through Friday, Nov. 18.
All the proposals can be viewed at scdotcarolinacrossroads.com.