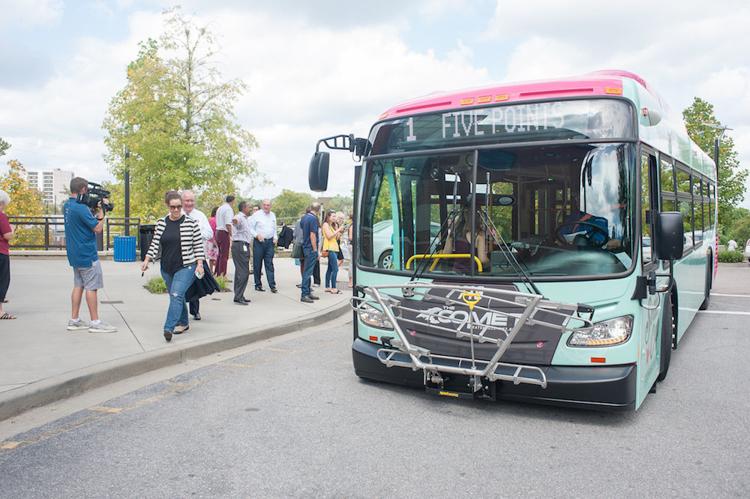 On Sept. 1, the Soda Cap Connector pulled up to EdVenture for its inaugural ride up Gervais Street while the new Blythewood Express Route took its first passengers from the northern Richland County hamlet to downtown Columbia. 
Public transit leaders and Columbia area movers and shakers are making music over the two new bus routes. 
County Council Chairwoman Joyce Dickerson seemed almost ready to break into song at a press conference as she said about the duo of new COMET lines, "This is perhaps one of the most exciting times in my life, seeing lots of little things come together."
The Soda Cap Connector brings together a long-envisioned plan for a bus route that spans Columbia's entertainment districts. The route includes two lines. Both pick up near the State Museum then proceed through the Vista before making a stop at Main and Hampton and continuing on Gervais towards Five Points. One line eventually veers north, with stops on Barnwell Street, Taylor Street and Harden Street near Benedict College and Allen University. Meanwhile, the other line veers south on Harden Street and make several stops in Five Points. 
The Soda Cap Connector will be free to ride for the next six months and runs from Tuesday to Saturday, 10 a.m. to 6 p.m.
"This COMET line, it's going to shatter any preconceived notions and improve the image of public transportation here in Columbia," said Heather Cooper from Soda City Market, the popular Saturday Main Street hub. The new connector makes a stop in the middle of the market.
Five Points Association executive director Amy Beth Franks added, "We're looking forward to not only what this means for the citizens of Columbia but for our merchants. … They're more excited than I can tell you."
The Blythewood Express will pick up in two locations, one on Elizabeth Hagler Boulevard near Doko Meadow Park and the other at The Pointe on the town's Main Street. It picks up twice in the morning, at 6:15 a.m. and 7:15 a.m., then heads to downtown Columbia with stops at Palmetto Health Richland, the Department of Transportation and the University of South Carolina's Horseshoe, among others. The route departs downtown at 4:30 p.m., 5:10 p.m., and 5:50 p.m., picking up at different locations along the way before heading back to Blythewood. It's $2.50 for a one way trip.
"There's all sorts of benefits from the service," said Blythewood Councilman Malcolm Gordge. "We talk about reducing our dependency on fossil fuels and reducing congestions … but the bottom line is it's a service for our community for those who don't have transport or don't want to be dependent on a car for all of their lives."
A couple of new bus lines were such a thrill for local leaders their emotion could only be manifested in song. So interim executive director of the COMET Ann August rolled out the Soda Cap Singers, a quartet of three church-grown vocalists who hold down jobs with the public transit system, plus a COMET ringer on the ivories. 
They did takes on the disco exemplar "Ain't No Stopping Us Now," by McFadden and Whitehead, and The Staples Singers' "I'll Take You There" peppering the tune with all the places people who ride the bus can be dropped off or picked up. The lead, Angela Lewis, belted it out enough behind EdVenture that people might have raised an ear at the end of the Soda Cap line in Five Points. 
"They used to call me The Singing Bus Driver," said Curnie Hargrove, one of the vocalists, after he moved off the stage. "I grew up in a family of singers. My moms would sing for us. I would ask my moms a question and she had a song for everything I asked her."
A couple rehearsals over the last couple weeks was enough.
"I only know gospel, so this was something totally new," singer Tammy Osby said. 
The Soda Cap Connector pulled up and gave the gathered group a ride on the new lines. More song broke out in honor of someone's birthday as the bus traveled through Five Points. 
Back at the press conference, Columbia City Councilman Howard Duvall reminded people that despite the accomplishment of connecting parts of Columbia and Richland County, areas of the Midlands are yet to be bridged by public transit. 
"There's one more dot that I want to see us figure out how to connect," he said. "We need to cross the river. We need to connect Lexington County and Richland County to make it one transportation system that serves the Midlands of South Carolina."