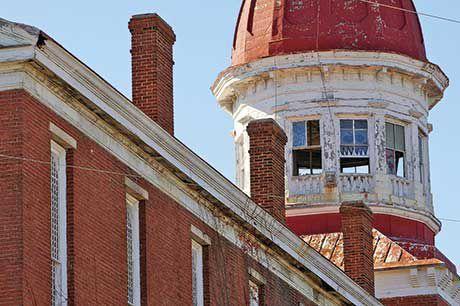 "Forty-one stores and restaurants have signed letters of intent to locate at the former S.C. State Hospital property on Bull Street in Columbia, developers said Tuesday." — The State
To be clear, that was Tuesday, Nov. 15. In the year 2014. 
Over two years later, exactly zero of those forty-one stores and restaurants have opened. Or started construction. Or even been identified. 
The sad fact is that what is now known as the Commons at BullStreet has been uncommonly unsuccessful to date in living up to its public announcements when it comes to the shopping and dining mecca we were promised.
That 2014 article continued: "The 41 tenants represent everything from 1,000-square-foot coffee shop size retailers to 60,000-square-foot national retailers."
"That includes some exciting retailers new to this market," BullStreet developer Bob Hughes told the paper at that time.
The article's next sentence may have been an omen of things to come: "Hughes declined to name any of the probable tenants."
Regardless, Hughes didn't stop there. The story continued: "Hughes at first predicted it would take 20 years to build out the entire 165-acre site. He says now he has gotten so much interest from retailers, hoteliers and residential and office developers that it could take just half that time."
If so, time's a wastin' Mr. Hughes.
Naturally, Mayor Steve Benjamin chimed in with his own hyperbole at that 2014 news conference announcing the 41 restaurants and retailers, calling it "a defining moment in this city's history."
The mayor went on to praise the "vibrant new retail environment" that was imminent, and proclaimed "the citizens of Columbia and the Midlands are going to be very excited about developments over the next several months."  
Yes, the enthusiasm runs high when politicians are spending taxpayers' money. The public is underwriting some $30 million for the minor-league baseball stadium and another $40 million or so for infrastructure at the site, "public investments" that were supposed to ignite the Commons at BullStreet development.
But those "next several months" have turned into the next several years, with citizens having little to be excited about when it comes to shopping and dining at Commons at BullStreet — except for ballpark food and baseball souvenirs, both of which have their charms but neither of which is what was promised.
Of course, we do now have a very nice baseball stadium at Commons at BullStreet. Kind of like the other very nice baseball stadium that sits empty all summer a short distance away on the opposite edge of downtown, USC's Founders Park.
But we just couldn't have the Gamecocks and a minor-league team sharing a stadium. You know, like they do in Charleston with The Citadel and the RiverDogs sharing "The Joe" (Joe Riley Park). That would have made way too much sense.
Speaking of making sense, I've always been baffled by the placement of Spirit Communications Park. While it is indeed a fine facility, only the fans who find their roundabout way to the back of the property have ever actually seen it.
Stadiums, especially impressive ones, are meant to be seen, and essentially hiding this one from the heavy downtown traffic that should be viewing it while riding by was a mistake in my view, both for the team and the Commons at BullStreet development.
But we are where we are, and it's not like no progress has been made. The First Base Building (offices) is completed and partially occupied, as is the renovated State Hospital Bakery (also offices), the first piece of historic renovation at the site. A movie theater development has been announced, and hopefully will come to pass.
Indeed, I wrote this in September 2009 and stand by it today: "Bob Hughes is the key developer who rescued downtown Greenville from its 1980s woes … he is exactly who we should want in charge at the State Hospital Campus."
But I also wrote this in January 2015, and stand by it as well: "Hughes needs to stop being coy about the 41 retailers, restaurants, service providers etc. he claims are coming to [Commons at BullStreet]. This does nothing but undermine confidence in him and the project."
It's time – past time – for Mr. Hughes and Mayor Benjamin to give taxpayers an honest and forthright update about what is, and what is not, happening at Commons at BullStreet.        
Fisher is president of Fisher Communications, a Columbia advertising and public relations firm. He is active in local issues involving the arts, conservation, business and politics.