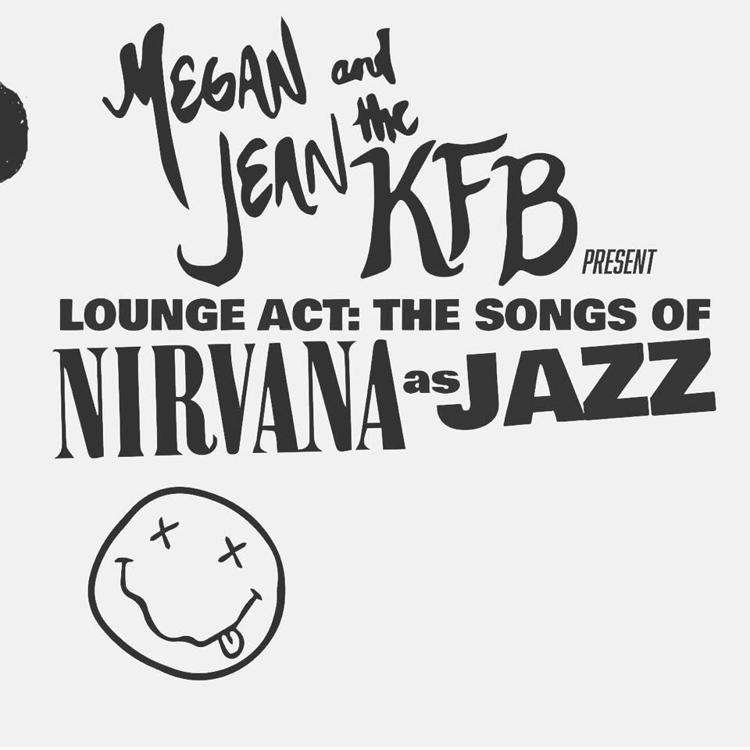 Megan Jean is the enigmatic frontwoman backed by the Klay Family Band — aka the KFB, aka her husband, Byrne Klay. She has a commanding presence and sings with a voice that will raise hairs on your arm. She is every bit the valkyrie she describes herself as with pride. 
Anyone who has seen the Charleston-affiliated nomads live is familiar with her firebrand wit, equal parts entertaining and enlightening. For the past 13 years, it's helped them make a name for as a roots-leaning alternative rock band, as on last year's Tarantistas, which features lush arrangements and the kind of soul-folk made famous by contemporary crooners such as Lake Street Dive. 
Speaking to Free Times, there's a fluid and earnest immediacy in how she extrapolates on topics of feminism and jazz — and Nirvana, all three of which will be incorporated when she and Klay bring their Lounge Act: The Songs of Nirvana as Jazz back to Columbia this week.
"I grew up in the Pacific Northwest." Jean offers. "I was 11 years old when Kurt Cobain died, but I was really into Nirvana." 
Jean grew up 26 miles from Seattle. Although when she was a child, Seattle was far from the forward-thinking utopia it is nowadays. 
"It was a mix of logging and working class peoples," she adds.  
As a kid, Jean found comfort in the regional celebrity of Cobain and his mates. Even as a child, the landscapes of Cobain's songs were present in her everyday.
"They weren't rich kids," she notes, "and that was a big thing for me." 
"We would go to vacations on the Washington coast," she continues, "and I would hang out under the bridge in Aberdeen that he wrote 'Underneath the Bridge' about. 
Her love of Nirvana — and music at large — drew her to study at New York University's renowned Tisch School of the Arts, where she met Klay and began to study jazz while working on her degree. 
Last year, as the album cycle for Tarantistas slowed, Byrne and Jean began to feel artistically constrained by the regimented expectations of Americana. With their next album already written, they had some time between releases. Feeling at a crossroads, they sought another avenue. 
"Here we are 13 years into our own band, we have another album written and I just thought, you know I'm going to revisit jazz," she explains. 
Still, while Jean was excited by the prospect of playing jazz again she felt apprehensive about approaching its traditional modes. 
"I'm a white woman, I'm not going to sing 'Strange Fruit,' I'm not going to sing Nina Simone," she offers. "I didn't want to appropriate the work of black artists that I admire so much."
At the same time, she mulled the idea of doing something Nirvana-related. Eventually, she and Klay had their epiphany.
"We were just kind of toying with these two separate projects," Jean says. "And [Nirvana has] this song called 'Lounge Act' and it all kind of snapped one day." 
And though it might seem counterintuitive, she reports that it wasn't much of a challenge to take Nirvana's music and bring out it's implied jazz. 
"You just add more notes, you complicate the voicings but the actual changes, the melodies — those are jazz," Jean explains. "We haven't changed the lyrics, we haven't changed the melody, the chord progressions remain the same but the voicings are different."
"And lo and behold it is one of the headiest jazz sets I have ever performed in my life." 
The result is an exciting opportunity for the band to flex their chops, taking the show to more listener-oriented rooms allow them to demonstrate dynamic range that traditional rock clubs don't allow. 
The band plans to soon record at Columbia's Jam Room, knocking out its next album of original material along with two Nirvana jazz records.
And it's unlikely that they will slow down after that. Jean is insistent on continuing to push her musical ambitions.
"I have no designs on eternity or fame," she says. "I'm just trying to the best that I can with my artistic life and my personal life while I'm here on this planet." 
---
What: Megan Jean and the KFB's Lounge Act: The Songs of Nirvana as Jazz
Where: Curiosity Coffee Bar, 2327 Main Street
When: Friday June 14, 7 p.m.
Price: $5
More: curiositycoffeebar.com