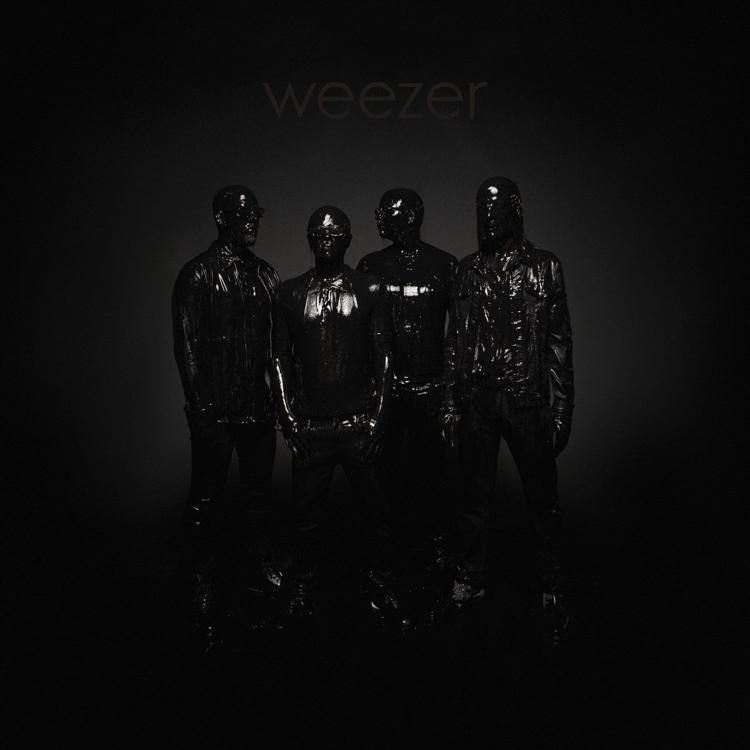 If there's one thing Weezer's 2019 output makes clear, it's this: The band is in on the joke.
"Walk into the venue, you slipped me your CD," Rivers Cuomo describes with his ubiquitous sad-sack-Buddy Holly moan on "I'm Just Being Honest," the seventh song on the Black Album, the band's sixth self-titled, color-coded effort. He's propelled by polished and percussive power chords and drums and Edge-y electric guitar shimmers as he continues, "Asked me if I'd listen, give you my critique / I listened to it, but halfway through it / I had to quit, your band sounds like s#!t."
"So, here we go," he cries in the chorus. "Don't get mad at me, I'm just being honest / I should have lied / Don't get mad at me, I'm just being honest."
For two decades, Weezer has shown that making records people think are just OK can be just as advantageous — maybe more so — as delivering ones that fans think are great. Starting with 2001's the Green Album, every new LP has arrived with the same built-in intrigue: Is this the album where Weezer finally equals the power pop mastery of 1994's Blue Album and 1996's Pinkerton? 
It's such a well-trod topic that Saturday Night Live featured a skit in December where a holiday dinner devolves into a bitter argument about the group's latter-day recordings — "'Pork and Beans' is better than 'Buddy Holly,'" Matt Damon declares; "Oh, I'm sorry, you're dumb!" Leslie Jones retorts.
And love them or hate them, Weezer's two self-titled albums from this year have excelled at piquing curiosity. Pouncing on the viral success of a 2018 cover of Toto's "Africa," it surprise-released the Teal Album, an oddly earnest and straightforward covers collection that features wedding band standards such as "Sweet Dreams (Are Made of This)" and "Billie Jean." Graced by a cover that finds Weezer rocking some fine yacht rock wares, it's worth a laugh if not a second listen.
And it boosted curiosity ahead of the Black Album's release last week. The new record is beguiling but fascinating. Produced by Dave Sitek (TV on the Radio, Yeah Yeah Yeahs), it pairs slickly processed performances with songs that often seem to poke fun at the fervor of the group's fans and critics: "Leave a five-star review and I'll leave you one, too," Cuomo smirks in the opening chorus. "Can't knock the hustle."
Ahead of Weezer's co-headlining Columbia date with the Pixies, Free Times caught up with founding drummer Patrick Wilson to discuss the band's odd place in modern music. The interview has been edited for length and clarity.
Free Times: How did the Teal Album come about?
Patrick Wilson: It all starts with "Africa" becoming this insanity on the internet. Just on a whim, we decided to cover this nice girl's request, to cover "Africa." That blows up. And Rivers says, "Well, let's make a whole record of songs like this, but let's not tell anybody and let's just release it right before we release the Black Album." And that's how it happened. There was a list of, man, probably close to a hundred songs that we were considering for this record. But we whittled it down to these ones.
How did you pick the songs?
It's all, I think, vibe, and somewhat mechanical choices — like, that song is too hard to sing, or this one we wouldn't play it well, or it's not a good fit. It's a feel thing. And these ones all felt pretty good.
It strikes me as a very earnest covers album. They're all played straight.
When we first started it I had this grand reinvention of "Take On Me," and very quickly it was just like, "No, that's not — let's just play it straight. And we'll just be Weezer playing these songs." And that's pretty much what we did.
How much do you think about trying to release singles and videos and albums that can have this kind of impact?
We don't think about it at all. I'm constantly surprised that people seem to notice in a big way. It's honestly a mystery to me. It's just a complete gift to us, really. 
Black and Teal are your fifth and sixth self-titled efforts. Those albums definitely have a certain mystique for you all. How do you decide when a new record is going to be a color album?
One of my regrets is I wish we had just done colors the whole time, and then at some point when we stop making records, people would feel compelled to have an OCD full collection of them all. Like, you couldn't just have some, you'd have to have them all. I don't know. The ones that are self-titled sort of feel more like statements. And some of the other ones might — I don't even know. I have no idea. (Laughs)
What did Dave Sitek bring to the Black Album?
Well, Dave Sitek is just a character, and I had so much fun going up to his place. We would shoot the s#!t for a couple hours and then play for like 25 minutes. He has such a fun ability to pull out what was musically valid from whatever we were doing. And it's a very modern approach to making records. It's really not about four guys in a room somewhere. But I think it's the only way you could make this type of record. I don't see how you could get there in a very organic fashion. Although, I suppose the bits he took from each of us were quite organic, but the way he assembled them is, I think, something only he could do. 
That's a long winded way of saying he's about a hundred times more responsible for the record than I am. (Laughs)
How did you feel seeing that SNL sketch?
When I saw it, I couldn't understand what was happening. It seemed such inside baseball that I was like, 'Is this really happening? This is what NBC is putting on the air right now? About us?' I saw it late at night, and I woke up, and it took me at least half a day to figure out how to think about it. And now I think it's hilarious.
Obviously, people argue a lot about your work. How does that make you feel?
I think I'm a lot more introspective about the whole thing now because I think about all my favorite bands, and most of them didn't even make it to 10 years of making records, and we've been around now for like 27 years. And so I think you just have to zoom out and say, "No four humans are ever going to keep doing the same thing over and over and not start thinking about how other people have taken ownership of it." I mean, really, Weezer doesn't even belong to us anymore. We just try and make things that are appealing to us, and hope that however — I hate saying this — our brand is viewed is compatible in some way. Honestly, I don't give a s#!t one way or the other. I just find it fascinating to be around this long. I mean, what are we going to do, make the Blue Album every time? That would just be so — I mean, I don't see how that would work either.
And these are like moments in time. That's the big takeaway, I think. It's like, "Look, this is what we did this year. This is what happened. If you like it, that's super cool. If you don't, well, maybe you'll like something else we do."
Was it a struggle at all to make your peace with it?
You get a little older and you recognize which way the wind is blowing. And you're like, "Look, this is what we're doing right now." Because it feels lame to go try and be a cover band of yourself, like, "Oh, we're going to make another Blue Album." Or, "We're going to make another Pinkerton." You can't do that, because you're not in your early 20s with that type of mindset, and also, you're competing with nostalgia, which is impossible. It just doesn't make any sense to do anything except what is exciting for you right now. 
Touring with the Pixies, another band where every new album is judged against lofty past achievements, do you feel a camaraderie there?
Yeah, I mean, every person's different and every band's different, but hanging out — I hang out with Joe [Santiago], I hang out with Paz [Lenchantin], I hang out with Charles [Thompson, aka Black Francis] a little bit, and I hang out with David [Lovering], and I think we're all kind of in the same place of we're not done, but we've done some things. And it's kind of fun to sort of savor it in a way that you couldn't when you were younger. It's just not possible.  
Let us know what you think: Email editor@free-times.com.