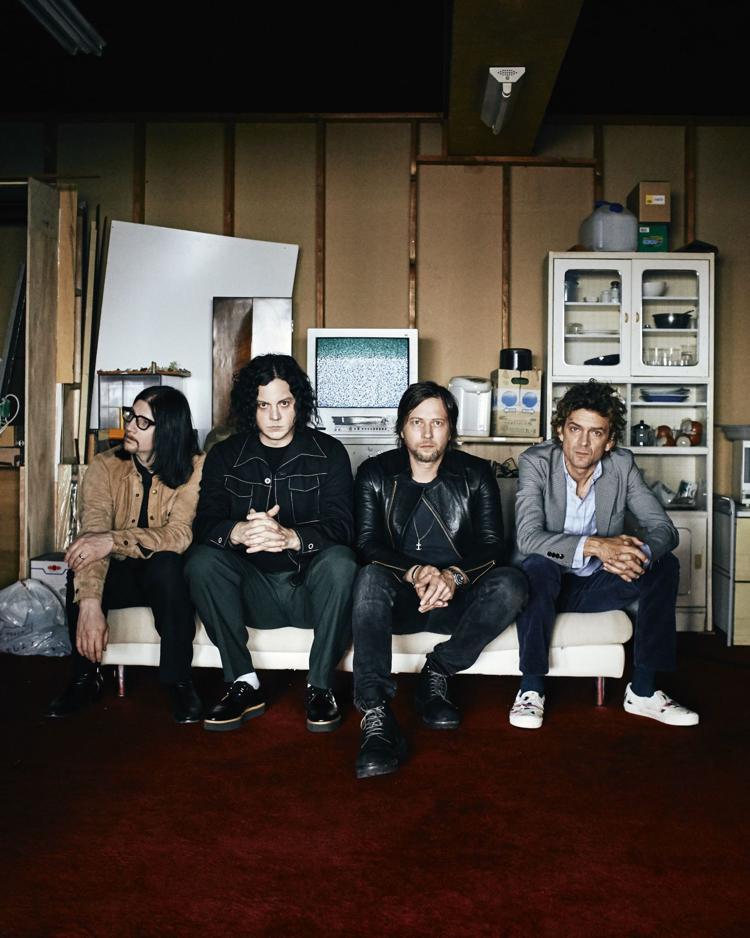 In the opening to his mildly scathing assessment of Jack White's 2018 solo album Boarding House Reach, Pitchfork's Jayson Greene touches on an essential rock 'n' roll paradox.
Winding up his 4.7-out-of-10 review, Greene looks back on the guitarist's early-2000s heyday with The White Stripes, postulating that the duo's antics were "good ridiculous": "Play-acting, dress-up, making up fake blues songs: These were ingenious, even courageous ways of engaging with the big, terrifying world on your own terms." He then moves forward to the White-starring 2009 rock-doc It Might Get Loud: "I watched White gaze out a limo, en route to a summit with fellow guitarist millionaires The Edge and Jimmy Page, and gravely prophesy a 'fist fight.' This, I thought, was bad ridiculous — pointless, embarrassing, self-serving."
The problem, of course, is that from a certain point of view, all variations of rock can seem pointless, embarrassing, self-serving. Back when White bashed away on plastic guitars in absurd, peppermint-motif getups, plenty grumbled about the gimmicky nature of The White Stripes' forced minimalism and confusing divorced-couple-turned-brother-and-sister backstory. When you're shouting feelings and fantasies over cranked guitars, wearing whatever makes you feel most cool, not everybody is going to dig it as much as you do.
Help Us Stranger is an album that seems entirely fed up with the tangled nature of critical assessment and personal opinion, and the seriousness with which listeners in the indie sphere take the words of writers like Jayson Greene. It's White's first album since 2008 with The Raconteurs — his "supergroup" with Greenhornes Patrick Keeler and Jack Lawrence and talented singer-songwriter Brendan Benson — and with every loose-limbed, classic rock-indebted melody and casually clever lyric, it seems to shrug at those who would quibble about the band's importance to modern rock, and say, "Yeah, well, you know, that's just, like, your opinion, man."
White's public statements leading up to the record certainly jibe with this impression.
When he felt Spin misrepresented his quip about starting to do heroin, a joke he delivered in an Irish Times interview in which he and Benson discussed how the latter gave up alcohol during the group's hiatus, White posted an angry note on Instagram. In addition to clarifying that he's "never done heroin or any other illegal drug in my life," he took aim at some major music publications:
"dear pitchfork, stereogum, noisey and the rest of the trash 'music' cough 'journalism' sites: though i realize that you work in the business of sound-bites and clickbait, and that you're pissed third man records didn't send you a free copy of the new raconteurs album because of how nasty you regularly are, here's a couple other notes: i don't hate people who own cell phones, or never allow one near me, or hate ALL technology etc. stop painting with such a wide brush."
It was worth at least a chuckle or two watching White, who spent the most famous stretch of his career turning himself into a caricature, rail at writers for failing to grant him proper depth. But it's also easy to see how having every song you write and word you say considered under such a microscope would grow tiring.
It's unclear exactly how much Benson's journey to semi-sobriety (per that Irish Times interview, he still enjoys marijuana) impacted Help Us Stranger, or how big an influence the chilly response to White's inscrutable, electro-convoluted Boarding House Reach had on his getting back with The Raconteurs for some de-stressed rock 'n' roll. But it does feel like a steadying return to familiar territory.
"Don't Bother Me" leans into White and Benson's still-pleasing vocal similarities. With White sounding a little gruffer and snarlier, and Benson coming across cleaner and sweeter, their back-and-forth lands like a variation of the old devil and angel on the shoulder bit. Riding one of his familiar supercharged-Zeppelin riffs, White rants about things that clearly (and unsurprisingly) bother him — "All your clicking and swiping / All your groping and griping" — and Benson punctuates his points with infectious denial — "Don't bother me, bother me."
The rest of the album breaks freer from such hang-ups. 
"I've got so much to give / I got a lot of heart," Benson sings on "Somedays (I Don't Feel Like Trying)," as swaying, country-tinged balladry gets repeatedly subsumed by fuzz-bomb swells. "Yeah, only trouble is / It's doomed from the start." But he remains unbowed, repeating a mantra ("I'm here right now, I'm not dead yet") during the song's extended coda, which finds stark and stately acoustic backing slowly expanding into resilient full-band chaos. 
These days, it seems like everybody has a hot take on everything, one they're determined to argue about every chance they get. This applies to music and pop culture as much as it does politics and the state of our world (White's waded into that fracas, too, releasing "Icky Trump" White Stripes T-Shirts when our current president used the band's "Seven Nation Army" without permission during the 2016 campaign). But Help Us Stranger chooses to revel instead in the agreeable catharsis of tuneful, traditionalist rock 'n' roll.
It breaks no new ground. It challenges no preconceptions. But it feels damn good. And it seems like that's what White and Benson and company need right now. 
And perhaps it's what we need from them, too. 
---
What: The Raconteurs
Where: Township Auditorium, 1703 Taylor St.
When: Tuesday, Aug. 20, 7:30 p.m. 
With: Jacuzzi Boys
Price: $35 and up
More: 803-576-2350, thetownship.org