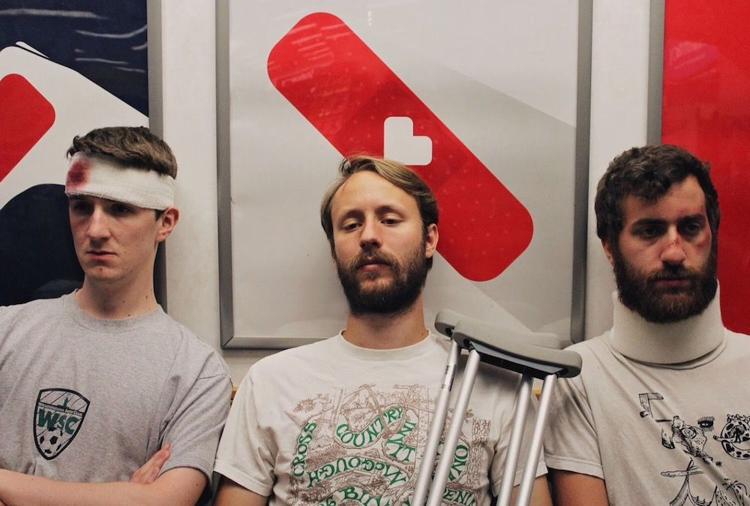 This year has been big for Dear Blanca. The rootsy, rumbling Columbia indie rock trio released two EPs this year and are already working on new material. March's I Don't Mean to Dwellwas tracked last year. The idea for September's To Tell a Half-Truth had been gestating for years and finally came to fruition with inspiration from bassist Cam Powell's late uncle and his last collection of poetry. I Don't Mean to Dwell is full of catchy rock anthems. To Tell a Half-Truth comprises grungy folk ballads. And while those divergent sounds were a creative decision, they may also point to the two albums' producers. 
I Don't Mean to Dwell was recorded in Durham, North Carolina, with Scott Solter, who has worked with the likes of Spoon, St. Vincent, and The Mountain Goats. The experience with Solter was unique, not only because Dear Blanca hadn't previously worked with a producer it didn't directly know but also because of his tested techniques and out-of-the-box ideas. 
"With Scott, it might have been slightly more rigid at first, because we had never met him," offers singer/guitarist Dylan Dickerson. "We were breaking the ice as we were hitting record, but the mood lightened as we progressed. Scott's an eccentric guy with wild stories, and after a couple of hours, the tension was dropped, and we were able to be a little more candid with each other.
"As far as the actual recording process, it was much different because we were recording on tape. That added a layer of nervousness, because we didn't want to mess up. Digital can be wiped away, but with tape, we didn't want to make him turn the reels back each time."
There were some overdubs, but the rhythm section is live and so are many of Dickerson's vocals. Solter's rule during the recording process was that if you forgot to play something on one instrument, you had to play it again on a different instrument. He even recorded one part of a song through a broken speaker to add a gnarly effect. Solter also suggested using a dremel brush instead of a pick for the acoustic guitar on "Temporary Solution," which created a lighter, lazier feel to match the song's breezier tone.
While Dear Blanca was waiting to release I Don't Mean to Dwell, it was already working on To Tell a Half-Truth, which would become its most challenging project yet. The concept EP retells the stories in the poetry of Powell's late uncle. 
"The book of poetry is really heavily shaken up by the end of a particular relationship in his life," says Dickerson, Dear Blanca's primary songwriter. "I feel like his head isn't on completely straight throughout the whole writing process. I tried to search for the moments of clarity where he produced his most poignant lines and take those and provide my own interpretation on top of that. There are plenty of lines that are verbatim from the book and more that are conceptually adapted. The goal was to make it feel as collaborative as it could be even though his uncle is deceased."
With the heavy subject matter and a distinct vision, Dear Blanca chose to enlist the skills of Charleston's Wolfgang Ryan Zimmerman, a producer the band knew but had never worked with.
"He's able to have his sonic stamp without taking away from the aesthetic of the bands he works with," Dickerson describes. "All the albums I've heard that he's worked on sound alike but sound just like I wanted that record from that band to sound like. He really grasps the feel the band is going for and has a hand in it but without taking away from the initial vision of the project."
The recording process was more straightforward with Zimmerman, but the producer still pushed for some subtle nuances and collaborations. These included piano and guitar tracking from Andrei Mihalkovic and Brett Nash of Charleston band Secret Guest. 
"Next thing we knew, we had nylon string duos being tracked and a heavy contribution of piano on each song," Zimmerman says. "I think we really used anything we had available to tell the story behind the album. Overall, this was new territory for them, and myself, because of the usual loud rock nature of Dear Blanca and my unfamiliarity with them going into the session. It led to a general openness for exploration and experimentation."
Both recording sessions only took a couple days, something Dickerson says is typical for Dear Blanca.
"I'm not an artist that struggles when to know something is complete," he explains. "I'm not the type of person that needs years to make a record. I just need the amount of time it takes to put on paper."