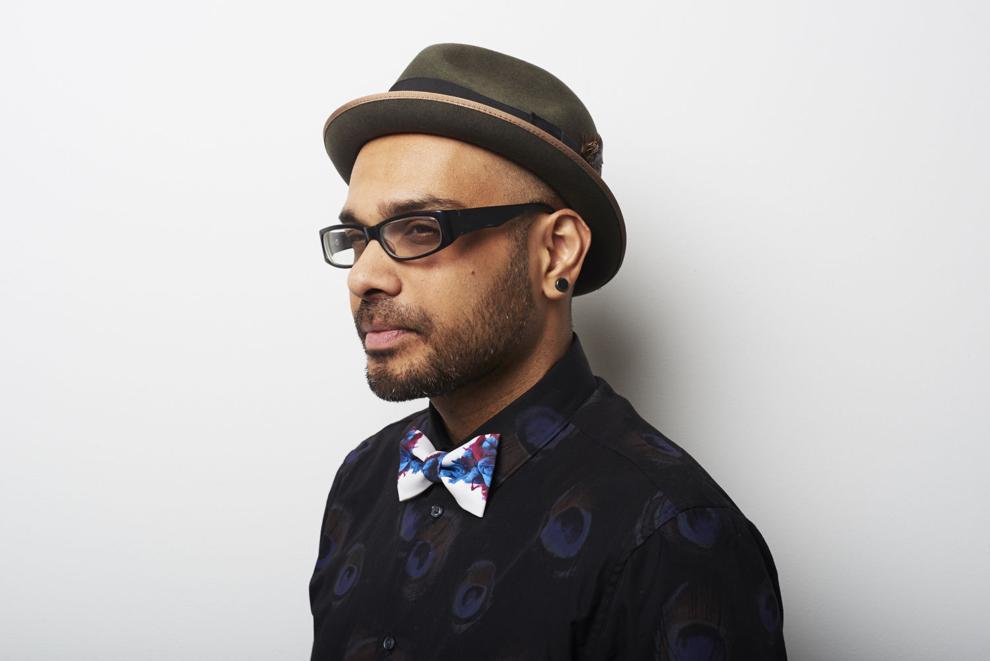 Watching Ravish Momin play is a bewildering experience. Drums are supposed to be a non-melodic instrument, yet as he sits alone onstage playing his kit, you can hear eerie, spectral tunes emanating from somewhere. There are vocal samples and looped beats flying through the air, too, but by now the average music fan knows what a musician can do with effects and pedals to create those elements. This is something different. It's a percussionist creating his own musical world, triggering electronic effects in a way that works them into his relentlessly propulsive playing. 
"I just got really tired of hearing regular drum sounds and electronic sounds, and they'd never mix," he explains. "I wanted to find a way to kind of blend them. So I started to create triggers and run them through this drum synth, which is a brand new piece of hardware. I'm digitizing the acoustic drums and I'm very improvisational in how I do it. It's not like I hit the snare and it gives me this preset electronic sound. It's a blend that I've created with triggers and some electronic mesh drum heads, which go beyond a regular electronic drum pad."
This solo work is a world away from the work Momin has done with Tarana. Occasionally working as a three-piece but typically a duo, the project combines a more straightforward jazz-funk approach from Momin on acoustic drums with either a violinist or a trombone/synth player, working hints of Middle Eastern and North African rhythms into the songs.
Momin was born in India but now lives in New York, so this synthesis of genres makes sense. It's a distinct playing style that he's been developing since the late '90s, and that style put him on the radar of a lot of different musicians, from Latin pop star Shakira to more avant-garde jazz players like violinist Skye Steele, saxophonist Sabir Mateen and trombonist Steve Swell. By the time Momin began doing sessions, he'd developed his hybrid sound to the point that people wanted him to play in that specific style, rather than adapting to their music.
"I made a big push to play with everybody I could and do different things," Momin says of his session days. "I actually thought at first that my music was so idiosyncratic that it wouldn't translate to being a session drummer or someone who could play different styles. It was a unique approach, but people were calling me for my sound. But the more I did it, the more I wanted to explore my own compositions."
In the mid-2000s, Momin couldn't ignore that pull towards his own material anymore. He decided to stop doing other people's sessions and concentrate on Tarana and his own songwriting — a big decision, especially for someone as busy as he was playing for other people.
"[It] was a vehicle not just for showcasing my own instrumental approach, but my own compositions," he says of starting Tarana. "I'd been an active player since the late '90s, but I hadn't done a lot of my own songs. So I kind of cut out all my other projects, except for the Shakira gig that kind of fell in my lap."
Momin played with the pop star in 2009, appearing with her on The Tonight Show with Jay Leno and The View. Once again, Momin was picked because of his unique style, but during that time he also learned that it was something he didn't want to do again.
"I think the performance aspects of playing with someone like Shakira are kind of rigid," he says. "A song has to be performed the same way every time. It felt like a dead end for me. That's not what I do. I can't do the same thing every time, and so I found it personally frustrating."
Which brings up an interesting point: Momin essentially learned everything he did and didn't want to do with his own music through other performers, which means that their influences occasionally bled into his work, for better or worse. 
"I learned from everyone I played with, whether I was trying to play certain Latin beats or trying to hold down a backbeat or a groove," he says. "And it's not like I'm trying to imitate them, but over time it does come out, in a drum pattern or something like that. It's not like I'm appropriating or stealing it, but I was just inspired by everything around me."
That's why the break from session work was ultimately necessary for Momin to develop his own voice, and right now, that search has led him to the blend of electronics and acoustic drums he'll play in Columbia this week.
"I just felt like it's not as dry and more exciting," he offers. "Visually I wanted to play something that looked like a regular drum set, so I still have the feel of an acoustic drum set but let me get electronic sounds out of them." 
---
What:Ravish Momin
Where:Infinite Room (Tapp's Arts Center), 1644 Main St.
When:Sunday, May 21, 8 p.m.
With:Philip Snyder
Price:$6
More: infiniteroom.org