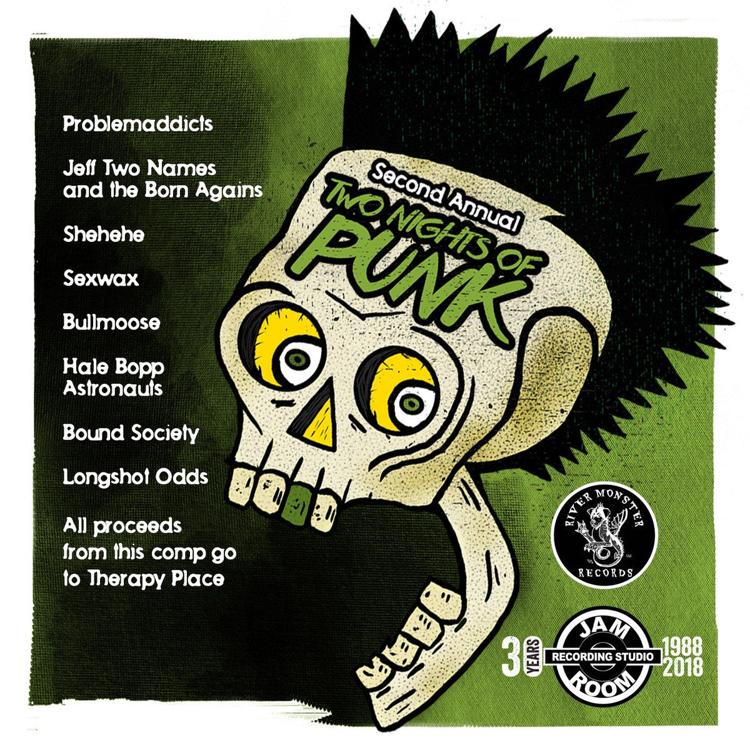 What does "punk rock" actually mean these days?
Does it mean loud, hard and fast bands playing short, attitude-laden songs? Does it mean making music with a a general disregard for what others do or think? Does it mean a grass-roots community of musicians who support each other's sneering styles? Is it just a fashion statement?
According to Billy Ray — guitarist for Soda City Riot, a punk rock band of Columbia music veterans — all these answers are correct, except maybe the fashion one. 
Which explains the variegated lineup at this weekend's Two Nights of Punk, the second annual event that Ray started at the State Street Pub. Some of the bands on the double-evening bill, like Charleston's Hale Bopp Astronauts, are exactly what most people think of when they think of punk rock: They play fast, melodic songs that are loud and angry as hell and rush by in a couple of minutes. Others, like Augusta's BullMoose, which plays tighter, more complex songs that prioritize instrumental proficiency, bust the mold entirely.
"I don't really know what a lot of people think punk is now," Ray says. "Back in the day, you could see people walking around with purple hair and you'd automatically identify them as punks. But that style rubbed off on other styles a long time ago, so it's really branched out."
This year's Nights Of Punk joins Hale Bopp Astronauts and BullMoose with Charleston's Sex Wax, Athens' Shehehe, Florida's Problemaddicts, Savannah's Jeff Two-Names and the Born Agains, Greenville's Bound Society, and the Columbia Misfits tribute Wolfsblood. For Ray, these eight bands represent just how widely the term "punk rock" can be applied.
[Update: Wolfsblood is no longer on the lineup. Longshot Odds will play instead.]
"When people can walk into State Street and hear that music for two nights in a row, they can hear many different levels of it," he offers. "They'll hear shallow, simple street-punk stuff, or something more technical, because BullMoose has these crazy riffs. I'm just trying to find different things people can identify with. That title, Two Nights of Punk, just helps stamp it."
One connection that virtually all of these bands do have is that they've worked with Soda City Riot before in some capacity.
"We've either worked with everybody onstage, or networked shows with them," Ray says, "and the idea was to pull everybody together in one place, rather than do it separately throughout the year. I wanted to get a bunch of bands together so everybody could meet each other and network. Because I'd noticed that some of these bands would be great with other bands, but they'd never talked. It's kind of cool because so many people met last year and so many different shows have happened because they collided at the festival."
Broadening punk's horizons and hooking bands up with each other are great reasons for this event to exist, but there's another that's closer to Ray's heart. Proceeds from the shows will go to The Therapy Place, a Columbia nonprofit that provides physical, occupational and speech therapy to special-needs children, along with therapeutic preschool programs and family support.
"I have a big heart for that because I lost my daughter back in 2010," Ray says. "My heart is in it for families with special needs children, so I thought maybe we could get a whole community of people together and raise money for that and help a good cause. It's a great way to keep her memory alive."
As he did last year, Ray also rallied to produce a compilation featuring the bands on this year's bill, this time working with South Carolina's River Monster Records. The collection is available for $5 at rivermonsterrecords.bandcamp.com, with all proceeds going to The Therapy Place.
Ray says hopes to grow Two Nights of Punk into something bigger. But for now, he's fine with keeping punk alive at State Street Pub.
"Last year, we walked away with some good money going to The Therapy Place, but mostly people were just talking about how great those two nights were," he recalls. "All in all, it just really left a good taste in people's mouths and I want to do that again. I'd love to have it expanded and do something outside, but until that option is there, I'm comfortable with where we are now." 
---
What: Two Nights of Punk
Where: State Street Pub, 136 State St.
When: May 31-June 1, 7 p.m. (both nights)
With: The Problemaddicts, Jeff Two-Names & The Born Agains, Shehehe, Sexwax (Friday) Bull Moose, Hale Bopp Astronauts, Bound Society, Longshot Odds (Saturday)
Price: Free (donations encouraged)
More: 803-796-2006, facebook.com/statestreetpubcolumbia