No matter what year it actually is, it's 1997 in Columbia.
That joke, or close to it, has been a running gag for decades here, at least when it comes to the kinds of bands that were so regularly booked in mid-sized rock clubs and populated local festivals like the Rosewood Crawfish Festival and St. Pat's in Five Points.
But like all seemingly evergreen bits, the line got tired after a while, particularly as time moved on and Columbia evolved.
That's not to say that the '90s nostalgia market disappeared — Hootie & the Blowfish's three-night hometown stand this September with the Barenaked Ladies at Colonial Life Arena isn't exactly happening in a vacuum — but slowly, things have changed.
The way things are changing, though, is still really more of an extension of the dynamics that gave us our '90s fixation rather than a repudiation, even as the local arts and culture scene has steadily grown larger and more sophisticated. We're still a tertiary market that exists as a vague afterthought to larger and more established music cities like Atlanta, Charlotte and the Triangle in North Carolina. We still live in a city that gets a huge chunk of its population from college students and Fort Jackson, populations that are alternately often too transient or too insular to engage substantively with the culture of the city.
And, perhaps most of all, we're a city where nostalgia is the only thing that dependably sells. That's why you have Nelly and Ludacris headlining the first concert at Segra Park, why New Found Glory stops in for its 20th anniversary show, and why aging alt-rock institutions like Weezer and the Pixies touch down at Colonial Life Arena (as they did last Sunday).
What these names suggest, and what's further crystallized by St. Pat's 2019 headliner Dashboard Confessional, is that the nostalgia net is now being cast firmly into the 2000s, which means different kinds of bands and genres are now part of that calculus, whether that means the first generation of true rap-pop crossovers, nü-metal radio juggernauts or, in the case of Dashboard, third wave emo bands that found surprising commercial success.
The latter case is particularly instructive of how the 2000s seemed to beget even stranger rock stars than the grunge and post-grunge backlash days of the '90s. While the band now has a respectable collection of more pop-rock-indebted hits that soften the bleeding-heart edges of its core appeal, Dashboard Confessional started out with a sound that, until its success, made more sense in a DIY punk performance space than on the VMA stage.
Initially a solo project for the sensitive singer-songwriter-isms of Chris Carrabba, the music borrowed the intensely personal diaristic lyricism of '90s emo in all of its vulnerable bravado and cathartic glory, but stripped away the electric guitars and most of the drums in favor of barebones arrangements.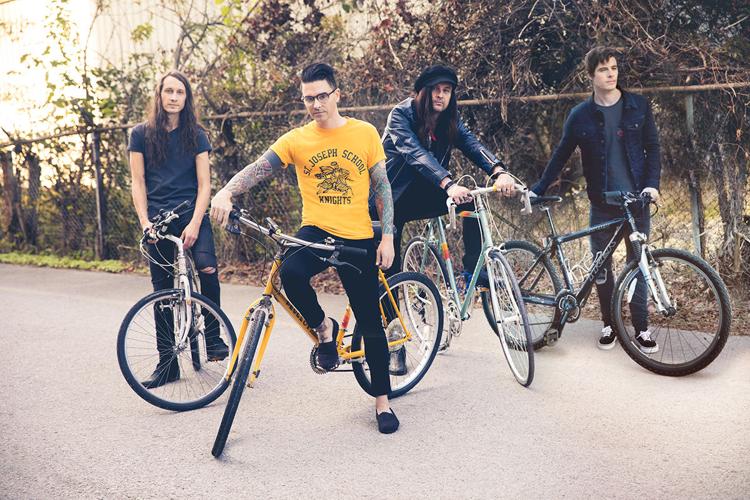 Like many other pointedly indie bands during this time period (Death Cab for Cutie and Modest Mouse most prominently), Dashboard found success both in spite of and because of its DIY cred. "Screaming Infidelities," the group's first big hit, used the rollicking energy of pop-punk, but with a purity of earnest purpose that felt (at least for the band's emotionally overwrought teenage fans) undeniable. And even when the band embraced more formal rock trappings and experimented with name producers like Daniel Lanois, the core of that earnest emotionalism never left.
In one way, this makes for an awkward festival headliner. I mean, there's already enough crying and uncomfortable vulnerability among the drunken late-day crowds at St. Pat's, right? But in another way, it's kind of lovely that the nostalgia gates have opened to this kind of left-field version of popular music. While Dashboard is a very white male band, the emotional sensitivity at least hints at the kind of diversity that might be possible with this more expansive nostalgia market.
Ultimately, it's always going to feel like a bit of a cash-in when an aging pop act trades on decades-old popularity for a headlining spot, particularly when it seems so tied to a particular moment in time. But for a market like Columbia, there's clearly something to be gained — or at least gleaned — from it.
And hey, maybe that's just millennial bias on my part. Maybe this is just what it feels like when a generation fully comes into its own adulthood, no longer cool enough to need contemporary edges so long as the salves of nostalgia can pour over you with emotional excess and youthful exuberance.
But that was kind of Dashboard's thing all along. And, really, the history of rock and pop in general. When you get right down to it, there's not a lot of difference in sentiment between Dashboard's "Hands down, this it the best day / I can ever remember" and The Who's "I hope I die before I get old." So maybe just rock on?
Dashboard Confessional performs at 5:40 p.m. on the Greene Street Stage.
Let us know what you think: Email editor@free-times.com.
More St. Pat's in Five Points:
Shifting Focus: St. Pat's in Five Points Continues Its Push to Be Music-First
Music Review: Fat Rat da Czar's Exposed