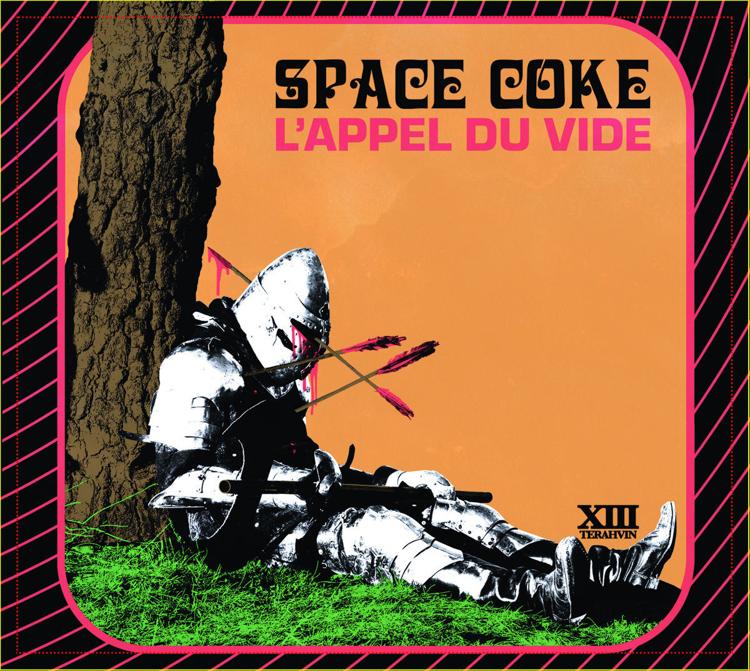 For listeners drawn as much to the idea of a given band as the music itself, it's easy to see why Space Coke has been able to maintain the unique space it carved out for itself after forming in 2008. Among Columbia's heavy bands, and likely local rock in general, only Space Coke — Reno Gooch on guitar and vocals, Jay Matheson on bass, Brandon Johnson on drums — makes the pairing of potentially combustible elements seem not just reasonable but natural. Passion mingles with parody, genuine chops with crust-punk charm, and sly humor with a procaliber poker face. It seems like a tricky thing to pull off, but there's really no trick at all. Space Coke simply adheres to the common sense principle, too often overlooked, that you should take your work seriously but not necessarily yourself.
"A lot of the time in the beginning, people would consider us a parody band because I was wearing my wig as a joke," says Gooch. "I would do funny things when we played, but I was serious about the music from the start."
A shaggy, shoulder-length piece secured with a bandana, the wig Gooch refers to has become something of an unofficial symbol for Space Coke and is a key part of his onstage get-up, along with a zealous amount of denim. The look may have begun as a way of grabbing attention, but those who accused the band of trafficking in gimmicks jumped the gun. While the music was always the point, Space Coke's approach to its live performances is integral to the total picture. When playing live, Gooch isn't so much embodying any specific character as he is presenting an over-the-top character type, and this swaggering showboat persona epitomizes the conceptual game the band has played for the better part of a decade.
Space Coke has been around long enough that most local audiences recognize the gag for what it is, but someone seeing the band live for the first time couldn't be blamed for taking the whole presentation at face value. In any given city on any given night, there are long-haired, denim-clad dudes so blindly committed to putting on a rock show that they forget to actually rock. By taking the ultra-macho posture others adopt in earnest and turning it into performance art, Space Coke invites audiences and critics to reassess who really qualifies as a joke band.
The endgame, in theory, is to empty a hard-rocking image of any meaning, leaving the music to stand on its own. This is where Space Coke drops satire and puts in real work. And it shows. As far as I can tell, nobody has ever paid a cover charge because they heard the band knew its way around a wig.
For the past decade, Space Coke has remained more or less faithful to its signature sound — a comfortable blend of psychedelic heavy metal and caveman stoner rock that's given the band plenty of room to explore, evolving at a natural pace. With December's L'appel du Vide, the trio's first full-length, it embraces the opportunity to renew its focus without compromising its core strengths.
"When Space Coke first started," Gooch says, "I was basically writing jams and then improvising my way through shows. There was a lot of wondering if the show itself was more unique that way than if I were to actually write an album of songs and then play those songs. There's still a lot of improv in our performance, but right now I'm definitely in more of a song-based mode."
The result is Space Coke's most fully realized release to date, paying off the escalating promise of previous singles and EPs. The first of the band's efforts to be available as a physical product, L'appel du Vide comprises eight songs, two of which are covers — The Velvet Underground's "Venus in Furs" is done plenty of justice, and singer Deborah Adedokun takes the lead vocal on a scorching version of "Evil" by Stevie Wonder. The remaining five are a testament to Gooch's long-dormant songwriting prowess. The hallmark Space Coke jams are still in healthy supply, but they're leaner now, reined in to serve the song rather than the other way around.
As a concept, Space Coke got it right from the start. But L'appel du Vide is a reminder of the power in subtle adjustments, with the band hitting a stride that bodes well for music yet to come. Denim optional.
Let us know what you think: Email editor@free-times.com.