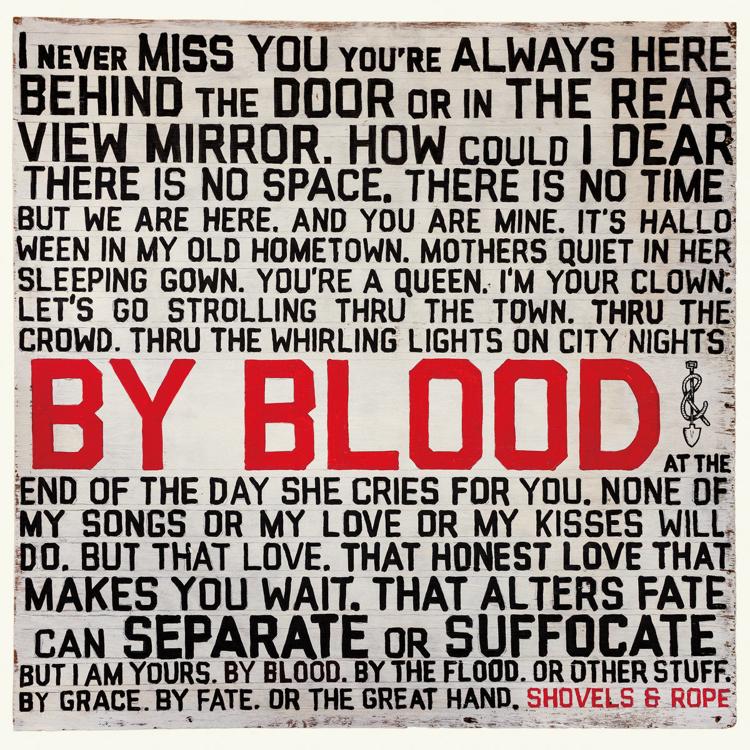 Shovels & Rope, By Blood (Dualtone)
Find it: shovelsandrope.bandcamp.com
At this point in the Shovels & Rope experience (between four and nine albums in, depending on how you count), we know what this band is. The married Charleston duo of Cary Ann Hearst and Michael Trent have built a sound and career on their homey yet expansive vision of Americana, a Basement Tapes world filtered through their DIY ethos and garage rock hearts. And they've proven they can work magic under their own self-imposed constraints, with their two inimitable voices — hers brashly country, his tortured troubadour — often chasing each other more than harmonizing, as they flitter against all matter of propriety, honoring tradition mostly by forging ahead with their own. 
They've also reached the point where much of their power is curiously pro forma, where the worn guitars, pawn shop organs and makeshift drum kits have lost much of their novelty, and the flow of songs, once so inexhaustibly great, starts to suffer from a sense of familiarity. 
All that said, the new By Blood is by no means a failure of an album, but it does seem acutely aware of the challenges it faces. 
There aren't major changes here so much as evolutionary tweaks. The two vocal parts are often more consciously offset, either sung in a room together or faded back to suggest it. Trent seems more comfortable letting the creak and noise of his equipment in, with harsh electronic elements, long a part of their live sound, put on record for the first time. But other than that, it's a Shovels & Rope record.
What's more telling is how the songs themselves toy with the conventions and expectations that are so tied to them. Lead-off track "I'm Coming Out" is about being wracked with uncertainty and finding the verve to chug along, while the following "Mississippi Nuthin'" is a classic bit of Shovels & Rope self-mythologizing that serves as a parable for how the group's creativity strains against their self-imposed limitations. In fact, that element of self-mythologizing, so key to the group's early success, is rife throughout the album's best songs, including the opening cut's sister song, "The Wire," and the explosive folk song revision "Hammer," all of which feel like a psychological update on the characters of their biggest hit, "Birmingham," seven years later.
Ultimately, By Blood is another fine entry in the Shovels & Rope catalog, but one that will likely be looked back at as the band marking time, in both the most mundane and most poetic ways possible.