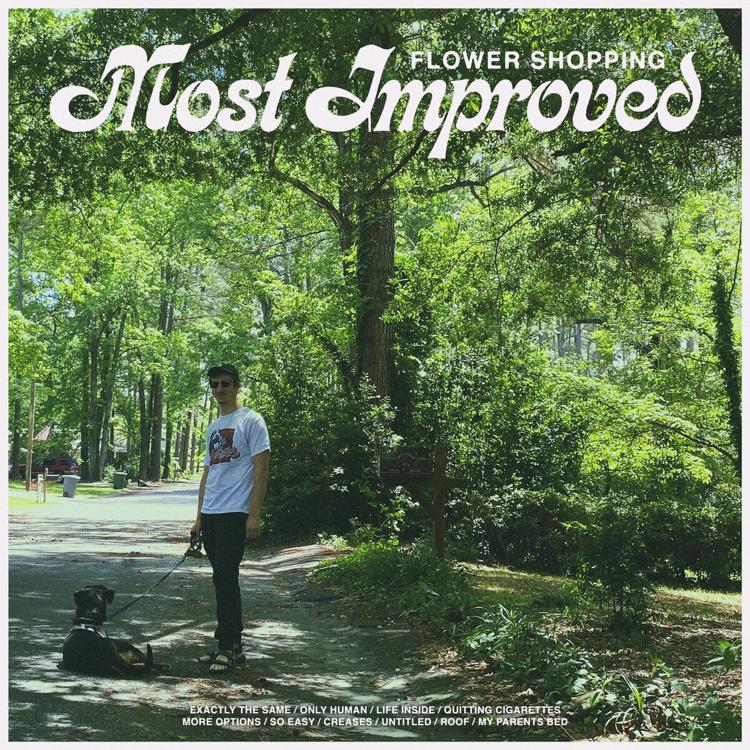 Over a long enough timeline, everyone changes. Our likes, our dislikes, our dreams, our desires, our political opinions, the ways in which we perceive and interact with the world — these things evolve as we age. Who we are, who we've been and who we'll be are but are points on a continuum. Whether the changes we undergo are for the better — well, that's sort of on us, isn't it?
Ross Swinson's preoccupied with the notion of change, with trying to improve on Most Improved, the second release from his sure-footed, sepia-tinged indie rock outfit Flower Shopping. That stands to reason: Swinson just hit 30, and he just became a father. And it tracks with the denouement of Flower Shopping's self-titled debut EP, "Good Reason," wherein Swinson seems to bid goodbye to old bad habits in search of being a better person.
But growth is hard, and victories can be hard to come by. As a title, Most Improved is a bit of a riddle: Is "most" here a matter of degree or amount? Is it a boast or a jape — or both? On one hand, Swinson turns a critical eye on people set — or stuck — in their ways: the drunken, boorish louts of "Exactly the Same" and "Quitting Cigarettes"; the immature, entitled manchild at the center of "Untitled." But he also affixes his invective inward, lamenting his proclivity for overthinking in "So Easy" and cursing his anxieties in "Creases." That these songs glide at graceful moderatos and are thick with twang and hazy modulation effects amplifies their pensive tension.
The victories, for Swinson, come in the small moments. In the poppy, peppy "Only Human," Swinson can't remember a person's name and embarrasses himself trying to save face — an ignominy he brushes off by owning up to his fallibility. On the swaying "More Options," a midtempo alt-country waltz, he sloughs a toxic friendship he's spent too long fixating on. "If there was some crucial detail," he shrugs near the song's end, buoyed by bandmates Desiree Richardson and Tyler Gordon, "I guess I missed it." (Swinson still tracks most of Flower Shopping's songs by himself, but Most Improved is, well, improved by contributions from Swinson's live crew — Nate Puza's drums, in particular, but Gordon contributes a solid solo to "Creases.")
For a record seemingly focused on growth, Most Improved closes on a note that, outwardly, scans as nostalgic. "My Parents' Bed" is a graceful lullaby buttressed by a powerful memory: Sick (or maybe just sad), Swinson's nestled in the titular bed; his mother's brought him soup, some Gatorade and a Nintendo game. (Bonus musical joke: In the song's middle eight, Swinson slips into several bars of the Koji Kondo-penned theme from the Great Fairy's Fountain in the Legend of Zelda series.) But the memory's just that. It's a relic in amber.
It makes the ending a little bittersweet, acknowledging that one day you'll have to fend for yourself in a world beset by troubles. But, hey, growth is hard.