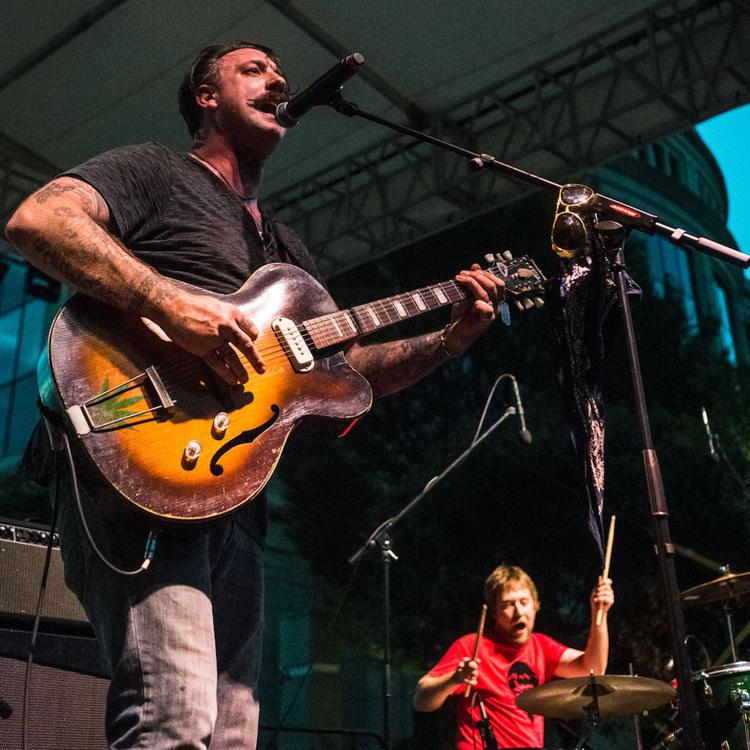 In some ways, it's an act of chutzpah to try and reinvent the conventions of the garage rock duo. Noisy guitar riffs and raw vocals with only a primitive drum kit to support them have been a path to greatness — or at least infamy — for any number of groups, from 1980s cult favorites Flat Duo Jets to the quirky mainstream success of The White Stripes. What makes such a duo great, though, is clear — an unmitigated, unfiltered vision of primal rock 'n' roll.
And that's Boo Hag in a nutshell. Formed casually by singer/guitarist Saul Seibert and drummer Scotty Tempo (a nickname and rock band pseudonym), the group briefly featured bassist Reno Gooch before emerging as a distinctly finalized two-piece. For proof, check out June's The Further, the band's debut full-length following a 2016 EP.
"It wasn't too much of a bump in the road," says Seibert of the decision to forge ahead as a duo. "It was terrifying for me, because a lot of the songs had huge spaces in them that were no longer there. Scott to his credit has always had a tremendous amount of confidence in what we do. I don't know if I would have the confidence to go on as a two-piece outside of Scott."
It's clear from both words and music that the two musicians' rapport is one of the driving forces of the band, but there's also something more intrinsic to the music that allows them to work as a duo. Seibert isn't a technically brilliant guitarist, but he has a slash and burn charisma on his instrument, wielding big punk riffs that aren't afraid to slide into Motörhead territory and eschew blues-rock convention. The drums, rarely showy but crackling with intensity, are the wild-animal heartbeat of the operation, driving the music forward despite the unsettling sense of uncertainty. On top of it all, Seibert's crazed carnival barker howls punctuate heady, often macabre lyrics that are delivered with the intensity of a mad shaman.
"I think that's why it works," offers Tempo, whose unflagging support for the project extends far past the music. "It's not what you're used to hearing, and sometimes that space is uncomfortable, but that adds a mystique to the guitar sound of whatever's going on. Something's a little different about this."
"We get weird, man. We get very ritualistic," explains Siebert. "There's something very primitive to taking raw material — wood and metal — and bending it and contorting your body over it unnaturally, really. Beating on shit, bending metal — there's nothing more primal and tribal than that, and it's very easy for me to get lost in [that]."
There are times when Boo Hag almost feels like a statement of purpose. For as gritty and unvarnished as their recordings and performances are, they are also intersected with creepy samples and sirens. Live, Seibert will sometimes shout through bullhorns and megaphones that tear and distort the façade even more, seemingly desperate to bring a little bit of destruction into the mix.
"I think rock 'n' roll has become very safe, and that scares the f!k out of me," the singer contends. "Rock 'n' roll needs to be dangerous again, people need to stand and go, 'What the f!k? Is it safe to stand in the front row?'"
The recording process isn't much different. All of their efforts thus far have been captured by Jay Matheson at Columbia's Jam Room with mostly live takes that are imbued with the wild, almost manic energy that makes the group great.
Boo Hag further entrances listeners with bits of dark mysticism, embracing a bit of a voodoo swamp aesthetic and the mythos of New Orleans, where Seibert lived for much of his life, having moved to Columbia two years ago. These themes are further teased out by The Further — in the foreboding Tarot cards that dominate the album cover; in the liner notes, which include a cryptic and creepy evocation of the duo's supernatural namesake. 
Seibert takes the songs quite seriously. He says he's up every day around 4 a.m. writing; it's as necessary to him as breathing. He has a checkered past, having taught theology for over a decade and having also contended with fits of mourning and self-destructive tendencies. He eschews specifics.
"I think I'm ideologically promiscuous, that probably plays into it," Seibert says after considering his relationship to the various mysticisms and spiritual references that dot his songs. "I don't overthink it. If you try to dissect the rose, you lose the beauty of it, for me. And some of it is private, to be sure. I'm not willing to throw my heart on the table and show everybody everything."
And, in the end, he prides Boo Hag on bringing primal passion to the stage.
"For me, every live performance is a ritual. It's going to church," Seibert says. "There's a lot of blood, sweat and tears on the stage, and that's real. And that translates, because that's what people want. That campfire experience, man, beating on the drums with our friends and going some place."  
---
 What: Boo Hag
Where: Art Bar, 1211 Park St.
When:Friday, Aug. 18, 9 p.m.
With: King Vulture, Soda City Riot
Price: $5
More:803-929-0198, artbarsc.com