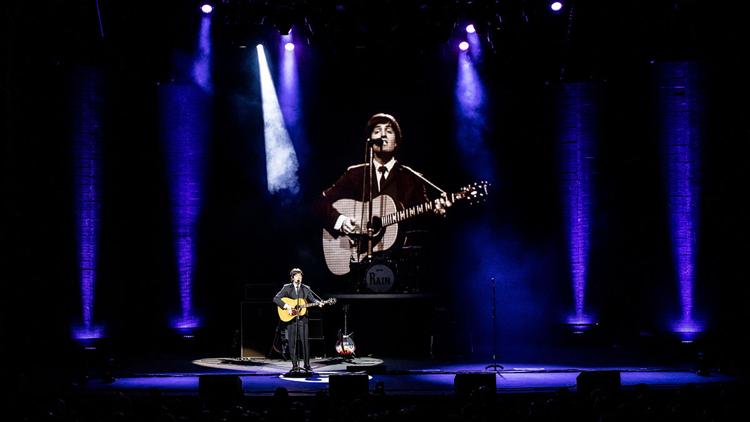 It seems inevitable that Paul Curatolo would grow up loving The Beatles.
His dad, Joey, grew up in Brooklyn listening to The Beatles; he'd teach himself how to play the guitar and piano by studying Beatles songs. Paul McCartney was his favorite Beatle; the elder Curatolo even won a McCartney sound-alike contest as a teen.
Like his dad, Paul Curatolo — who, yes, is named after Sir Paul McCartney — taught himself how to play several instruments: first the drums, then guitar and piano. There is one thing Paul can do that his dad can't, though: play bass left-handed.
You see, the Curatolo clan's family trade is performing the music of The Beatles: Both Joey and Paul have portrayed McCartney in the multimedia Beatles tribute act Rain: A Tribute to the Beatles, which performs at the Township Auditorium on Thursday. Joey joined Rain in 1978 after a stint with the Broadway hit Beatlemania; Paul took over for his paterfamilias a few years ago.
Free Times caught up with Curatolo and chatted about what it's like to play a musical legend, and what it's like to play a musical legend when your father played the same musical legend.
Free Times: Rain's sort of turned into the family business for you. Did you ever think you'd follow in your dad's footsteps?
Paul Curatolo: I didn't, really, to be honest. I had my own bands back home. And I'm actually a drummer, so I thought that if I joined Rain, it'd be as a Ringo surrogate. I never thought I'd step into my dad's shoes — literally — and be Paul McCartney. [laughs]
Wait, they're literally your dad's shoes?
Oh yeah. [laughs] At least one pair are actually his, that he gifted me.
What was it like growing up around the show?
My dad joined Rain in 1983, and I was born in 1989, so I was born into this band of brothers. It's always been the same group of guys doing it until recently; there's a new band that we've put together here. You know, I was always my dad's assistant. I would carry his basses, I'd carry his makeup and stuff like that, and I'd be in the wings watching the show. I was always around the environment, so stepping into it was kind of seamless.
Why did you end up joining the show?+
You know, I still have stuff back home that I do, but to be able to be a part of this show was just such an opportunity. Plus, I have the same level of obsession for The Beatles and Sir Paul McCartney that my dad has. [laughs] He's the music director of the show now, and we get to share that [obsession] together.
You're just genetically predisposed to it.
[Laughs] Yeah. Full bred.
The impressive thing about Rain is that just how accurately you guys are able to capture and portray The Beatles throughout their career. For you, just how much work went into learning not just the words and bass lines and chord progressions but the intricacies and idiosyncrasies of Paul McCartney?
It's a labor of love, to be sure. It was challenging, but it's a fun challenge when you're trying to perfect your craft. A lot of study went into the character, watching a lot of their movies, interviews, performances, that kind of stuff. It came along quite nicely, but it's never-ending. I always see something new that he's done or a new move or a new riff or speaking inflection that I haven't noticed, and I think, "Oh, I've got to use that."
And you're going a step further than your dad did and playing the bass left-handed.
Yeah, that was one of the things they asked me when I was joining; they said, "Can you flip it?" and I said, "Well, I'll try." Within one summer, it started to come pretty easily. So now I'm pretty glad I did it.
It does give that added visual authenticity.
Yeah, the audience loves it. It adds to that iconic look.
The Abbey Road rooftop concert notwithstanding, The Beatles stopped performing live in 1966, meaning a lot of the songs that Rain is doing — like the ones on Sgt. Pepper's Lonely Hearts Club Band — were never performed by The Beatles. Do you ever think about that? Is that weird?
It is odd. It's weird to think, you know, how would they go about doing this now? What would their mannerisms be like in this era? Because nobody has any footage or anything to work with. So at that point, it kind of becomes our own interpretation. Luckily, we have a fifth member on stage with us, so everything's performed live; it's kind of something that The Beatles wouldn't have been able to do, given their technology at the time. So it's kind of cool to give the audience an opportunity to see what The Beatles possibly could have been like had they been able to perform these albums live.
Well, you're performing to a lot of people who would never have gotten to see The Beatles perform those songs anyway.
Yeah, I call a lot of 'em the YouTube generation. They're coming out in droves, and it's great to see young people coming out, my age and younger. I mean, they know more about The Beatles than your parents. They have the Internet, so they're able to study every move The Beatles made. They have this endless knowledge of The Beatles. It's great to share that with an audience that's younger.
What do you think it is that keeps The Beatles — and for that matter, I suppose, Beatles tribute bands — so popular?
It's the music. The music is timeless. It'll always be relevant. They're still just the coolest thing ever. Their fashion was the coolest. Their writing style was the coolest. Their innovation and recording technology — nothing about The Beatles will ever go out of style. 
---
What: Rain: A Tribute to the Beatles
Where: Township Auditorium, 1703 Taylor St.
When: Thursday, Feb. 22, 7:30 p.m.
Price: $32–$58
More: 803-576-2350, thetownship.org