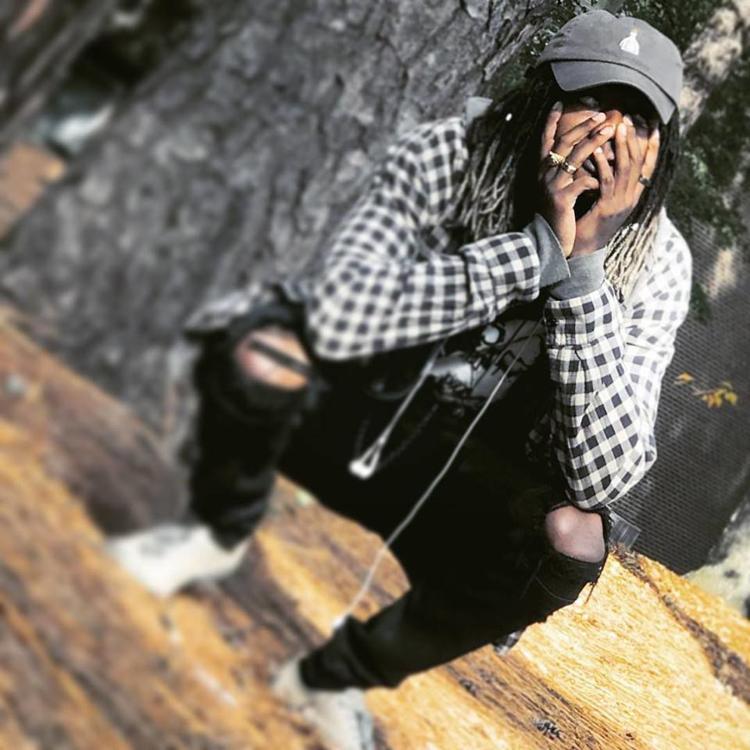 PATx's 2018 debut album I Used to Go to Chuch [sic] is a marvelous collection of rap songs with many powerful textural embellishments. The Columbia rapper (AKA Patrick Rutledge) has a lyrical flow with a frequently varying cadence, as apt to deliver a profound soliloquy as he is to slip in a dirty turn of phrase. The album touches on themes of family, religion, isolation and growing up. It's next level stuff, filled with the kind of self-produced bangers that elevated artists Kendrick Lamar and Travis Scott — even if Rutledge isn't quite on their level just yet.
The rapper meets Free Times for a noon coffee in Five Points. He's unassuming in person, different from the bombastic hype of his recorded persona. When he speaks he chooses his words carefully, with thoughtful pauses in his sentences. He orders a grilled cheese with a side of fruit and tells me about growing up in the church and learning about music through the choir. 
"I'm no longer religious," he interjects, "I can speak about something that someone is thinking about internally that they don't really want to express."
A solid example of this comes over the hypnotic piano vamp of Chuch's "Rejoice" —  "Church folks kind of messy / Tell these people money ain't the only type of blessing / Cash out, they can'a start a rumor in a second / Spread the word that the pastor been sleeping with the reverend."
Exploring the tension between the freedom of faith and the hypocrisies he sees within organized religion shapes much of Chuch. From the smooth organ shuffle of "Early Mourn" to the trap headrush of "John 14:27" the album utilizes an imaginative cavalcade of sounds, characters, and warped syntax to deliver its bracing revelations, incorporating ample touches of organ and piano to keep PATx's bars grounded in the sanctuaries that helped inspire them.
Take "Young & Stupid." The tongue-in-cheek swagger anthem is emblematic of PATx's imaginative scenarios, propelled by cutting organ stabs to match the holes it pokes in rap's rampant braggadocio. "I wanna go up to Toyota, ask me, 'What I can do for ya,'" he spits, "Tell them that I'm looking for the Maserati lot / And when I go to Maserati / I'mma trade in my Bugatti / Just to downsize back to a Honda;" a disembodied voice replies, "Way to be smart even though you got figures," before Rutledge claps back "Well now I got more bills to throw at the strippers."
On songs like "Tithes and Offerings," he ruminates on bleak themes of familial incarceration, internalized hatred and suicide. It's a sobering portrayal of the black male experience punctuated by PATx's closing thought — "I came a long way and the devil didn't get me."
Like many of his songs, it leans on vivid autobiographical recollections to discuss the effects of racism. 
"I feel like a lot of times people shy away from certain topics, whether that's like political views, social inequality, or things like that," the rapper reasons. "But I feel like music is definitely an outlet to express that. For example, I feel like I have a position to speak on the black condition in America."
"That doesn't have to be my magnum opus," he adds, "but I feel like if I have the platform and the assertiveness to speak on that, I think I have the obligation to speak on certain things."
It's a little past noon now. Rutledge pops a grape in his mouth, stares out across the street and muses on the path forward for him and similar musicians. 
"Making it isn't that record deal, it isn't a million views, those are just pieces of the puzzle," he says. "So for up and coming artists — hone your craft, work on it and be a student of whatever genre you're working in. And make sure you're enjoying the process and giving yourself credit. 
"Prioritize that you're from Columbia. There's starving artists out there that could really benefit from the world knowing we exist."  
Let us know what you think: Email editor@free-times.com.