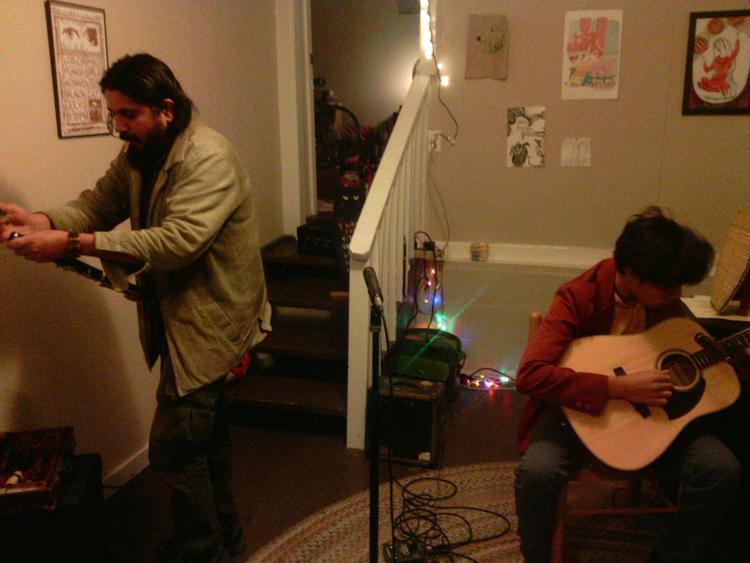 Outwardly, John and Kiran Fernandes seem like any father and son. They both punctuate their sentences with giggles. They both have long dark hair and gregarious natures.
However not many people's fathers are right hands to indie rock royalty. John made a career as a multi-instrumentalist for The Olivia Tremor Control. He's a founding member of Elephant Six, the collective famous for incubating groups like Neutral Milk Hotel, The Apples in Stereo, and Of Montreal, and he's a co-owner of the record label Cloud Recordings.
But in some ways, their appearance is spot on. Like father, now very much like son — the Fernandes family make abstract instrumental pop together. 
Kiran's forthcoming album seadust mercury dream is a whirlwind of pianos, mellotron and organ. On the track "of witches, dealers and countrymen" Kiran and company paint a mind-bending brocade of bubble-gum pop with a soupcon of chaotic impulse. While seadust was made in New Mexico with some of Kiran's friends, Kiran and John are now touring together. 
The Fernandeses started making music together about three years ago when John brought home a loop pedal. Kiran found himself drawn to it. Previously, he had considered himself primarily a visual artist, but he was moved by the ability to create endless music. 
"Music has been more appealing to me lately because it's like fluid and it's always changing." Kiran laughs. "With making music — at least if it's not recorded — it's flavoring the air, then it's gone. You don't have to feel too attached to it." 
The loop pedal presented the family with the opportunity to collaborate. Making music together was easy.
"He's really good at leaving space," Kiran says of his father, "and I like to fill space. We're really compatible in that way."
Kiran calls their process a series of islands and bridges. The islands, the big compositional structures he creates, need to be connected. He and his father work together to create bridges between.
"We don't know how that's going to happen, but it eventually will. And the bridge is often more minimal and spacey and more like water," the elder Fernandes explains. "There's certain things that we write, and there's a lot of improvisational elements as well. We work with things and when we get something we like we hit record." 
And on their recordings you can hear a shared sense of whimsy between the two. Check out their record Live at The Morris Museum which lolligags between modal centers and electronic tintinnabulations. You can hear the inherent joy in the jump of a clarinet line, or other times it's the gauzy woosh of an organ part. There's an intentional sharing of sonic space that contributes to overall listenability of the music.  
To retain the music's sense of spontaneous wonder, they don't practice with each other before a show.
"That sounds like, 'How can you do that? Or 'That's unprepared.' Or 'That's lazy.' But I've found that for this collaboration it's the most fruitful if we have no expectation, we have no preparation and we just kind of go in to it," Kiran offers. "You start making sounds and you listen to one another. And bounce ideas in a very fresh way."
At the end of the day, cerebral music like this may be off-putting to casual listeners. But Kiran and John don't expect everyone who shows up to be an indoctrinated fan.
"Just come with an open mind," John says. "Our music isn't very abrasive. But it is kind of entrancing. Like I kind of go in to a trance when I play and time will just kind of flow by. Come prepared to get taken away for a little while."
"Come with the intention to listen," Kiran concludes.  
Let us know what you think: Email editor@free-times.com.